Automatic sleep staging using ear-EEG
BioMedical Engineering OnLine
2017
16:111
Received: 11 May 2017
Accepted: 2 September 2017
Published: 19 September 2017
Abstract
Background
Sleep and sleep quality assessment by means of sleep stage analysis is important for both scientific and clinical applications. Unfortunately, the presently preferred method, polysomnography (PSG), requires considerable expert assistance and significantly affects the sleep of the person under observation. A reliable, accurate and mobile alternative to the PSG would make sleep information much more readily available in a wide range of medical circumstances.
New method
Using an already proven method, ear-EEG, in which electrodes are placed inside the concha and ear canal, we measure cerebral activity and automatically score the sleep into up to five stages. These results are compared to manual scoring by trained clinicians, based on a simultaneously recorded PSG.
Results
The correspondence between manually scored sleep, based on the PSG, and the automatic labelling, based on ear-EEG data, was evaluated using Cohen's kappa coefficient. Kappa values are in the range 0.5–0.8, making ear-EEG relevant for both scientific and clinical applications. Furthermore, a sleep-wake classifier with leave-one-out cross validation yielded specificity of 0.94 and sensitivity of 0.52 for the sleep stage.
Comparison with existing method(s)
Ear-EEG based scoring has clear advantages when compared to both the PSG and other mobile solutions, such as actigraphs. It is far more mobile, and potentially cheaper than the PSG, and the information on sleep stages is far superior to a wrist-based actigraph, or other devices based solely on body movement.
Conclusions
This study shows that ear-EEG recordings carry information about sleep stages, and indicates that automatic sleep staging based on ear-EEG can classify sleep stages with a level of accuracy that makes it relevant for both scientific and clinical sleep assessment.
Keywords
EEGEar-EEGMobile EEGSleep scoring
Background
Sleep [1] and the quality of sleep has a decisive influence on general health [2–4], and sleep deprivation is known to have a negative impact on overall feeling of well-being, and on cognitive performance such as attention and memory [5]. However, sleep quality is difficult to measure, and the current gold standard, polysomnography (PSG) [6] requires expert assistance and expensive equipment. Moreover, characterizing sleep by means of conventional PSG equipment will inevitably have a negative impact on the sleep, and thereby bias the sleep quality assessment. Because of the need for professional assistance in PSG acquisition, and because of the laborious process to evaluate PSG data, sleep assessment is in most cases limited to a single or a few nights of sleep.
Due to these circumstances, there is an ongoing effort to explore other options for high-quality sleep monitoring [7, 8]. A very promising candidate in this field is ear-EEG [9], due to its potential portability and the fact that it conveys much of the same information as the PSG, namely EEG data [10]. It is likely that the ear-EEG technology will have a much lower impact on the quality of sleep, giving a more accurate picture of the sleep, and also be suitable for sleep assessment over longer periods of time. Recently, the feasibility of ear-EEG for sleep assessment has been studied in a few exploratory papers [11–13], all indicating that ear-EEG is a very promising candidate.
This paper is based on a new dataset comprising nine healthy subjects recorded simultaneously with both PSG and ear-EEG for one night. This is significantly more sleep data than in previous studies. Trained clinicians manually scored the sleep following the guidelines of the American Academy of Sleep Science (AASM) [14]. The sleep staging based on ear-EEG was based on an automatic sleep staging approach, where a statistical classifier was trained based on the labels from the manual scoring (for other examples of this, see [15–17]). The automatic sleep staging was chosen for two reasons: (i) there was not any established methodology for sleep staging based on ear-EEG, while the machine learning approach provided rigorous and unbiased sleep staging. (ii) The question of whether a given method can also be used without manual scoring is important whenever wearable devices for long term monitoring are discussed.
In the "Results" section below, additional support for this reasoning is presented, based on waveforms.
Results
Measurements
All nine subjects managed to fall asleep wearing the PSG and ear-EEG equipment. One subject (number 5) reported having removed the right ear plug before falling asleep. When asked to judge their quality of sleep between the categories: unchanged–worse–much worse, 1 subject reported "unchanged", 5 reported "worse" and 3 felt they slept much worse than usual. The subjects were not asked to describe whether their discomfort was caused by the ear-EEG device, the PSG, or both. The subjects slept (or attempted to sleep) between 2.4 and 9.6 h with the equipment on, an average of 6.9. This means that in total, 61.8 h of sleep were recorded and scored by the sleep scorer, resulting in 7411 30-s epochs. In Table 2 are shown the number of useable electrodes and scored epochs for each subject.
In the analysis below, the one-eared subject was not removed, instead all three derivations were identical for that subject.
A first comparison
Figure
3
shows characteristics of conventional EEG and ear-EEG, during sleep. Figure
3
a shows power spectra for REM, NREM2 and NREM3 for two scalp derivatives and a left-right ear-EEG derivative. A large degree of similarity is observed for the scalp and ear derivatives, in particular REM and NREM spectra are clearly separated for all three derivatives. Figure
3
b shows characteristic sleep events (sleep spindle and K-complex) for the same two scalp derivatives and the left-right ear-EEG derivative. Clear similarities in the waveforms are observed across all three derivatives.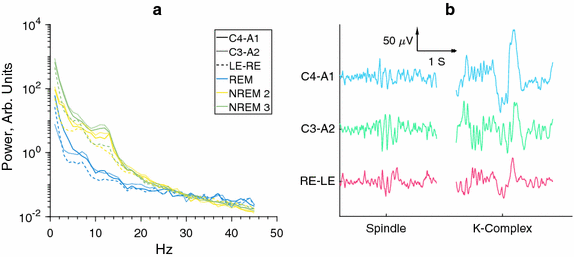 However, despite these similarities it cannot in general be assumed that sleep stage signatures will be exactly equal in conventional EEG and ear-EEG. Further, it should be stressed that not all sleep events are as clearly visible in ear-EEG as those shown. As was mentioned in the introduction, this is part of the reason why a machine learning approach is suitable for this study. More precisely, while we deem it likely that sleep experts could be trained, with some level of success, to score sleep based on ear-EEG data, it would likely require a significant amount of retraining, not suitable for this study.
Classification results
For comparison, our classifier performs somewhat worse than the ones presented in [15] (\(\kappa \approx 0.85\)) and [16] (correlation coefficient \(\approx 0.84\)), though their studies did use scalp electrodes instead of ear-EEG.
When comparing the numbers shown in Fig. 4 to those found elsewhere in other studies, it is valuable to keep in mind that the 'neighbour effect' stemming from scattered test data, as was discussed above (see "Cross validation" section), may not always be accounted for in the literature. In our case, using scattered test data increased the percentagewise agreement between manual and automatic labels by an average 6% points across 'Total' and 'Individual'.
Discussion
We have seen that ear-EEG as a platform for automatic sleep staging has definite merit, especially if problems related to inter-subject variability can be addressed. Compared with other studies [15, 27, 28], the subject cohort in this study is rather small at only nine individuals. However by resampling the cohort, it is possible to estimate the classifier performance for larger cohorts; following the procedure outlined in [29] we find that a cohort size of 30 would likely have increased the 5-stage 'Leave-one-out'-\(\kappa\) to 0.5.
An intriguing question which was not addressed here is intra-subject variability. In other words, how well does a classifier trained on data from Tuesday perform on data from Wednesday? It seems safe to say that it will at the very least be comparable to the 'Leave-one-out'-scheme described here, but possibly much closer to the 'Individual' scheme. Based on studies concerning individual differences in physiological measures during sleep [22–24], it seems likely that intra-subject variability will be low. In this scenario, one could imagine uses where a single night (possibly just a day-time nap) with both PSG and ear-EEG could be used to calibrate a classifier to each individual user. One example could be a clinical setting where the usual one night of PSG could be supplemented with a longer ear-EEG study spanning several weeks or more.
All data in this study was obtained from healthy individuals, and thus the study does not provide any information as to how ear-EEG would perform in the presence of pathology. However, given the demonstrated ability of ear-EEG to reliably classify sleep staging, it is likely that a specialist could utilize the technology to detect abnormal sleep.
A surprising issue during the study was that of user comfort. As soon as user discomfort was reported, a parallel investigation was initiated into possible remedies. These will be applied in a future study, where we expect the level of discomfort to be substantially reduced.
An additional benefit of the ear-EEG platform is the ease with which the electrodes remain attached to the skin. Whereas conventional electrodes need adhesives and/or mechanical support to ensure a reliable contact, ear-EEG benefits from the precise fit of the ear piece within the outer ear, largely retaining the connection through geometry alone.
Conclusions
The study makes the valuable contribution of having more participants than previous ear-EEG sleep studies, as well as being the first study to make a quantitative comparison to simultaneously recorded PSG.
Through the machine learning approach, the study amply demonstrates that ear-EEG contains sleep-relevant data, in line with previously published studies. However, the need for a comfortable sleep-monitoring solution is also highlighted. We are convinced, based on developments taking place after this study was conducted, that the comfort problems discussed here will be solved in future studies.
In summary, we consider the findings of this study very positive regarding the continued development of ear-EEG as a mobile sleep staging platform.
Sleep monitoring with ear-EEG will be particularly interesting in cases where it is relevant to monitor sleep over extended periods of time. In such cases automatic sleep staging turns out to be even more important and is probably a necessity. The findings in this study are also very positive in this regard.
In future studies, it would be interesting to add additional ways to compare measurements, for instance one in which the training and test sets were matched according to age and gender. This would most likely require a substantially larger pool of subjects.
Declarations
Authors' contributions
KBM was responsible for writing the manuscript. KBM, DBV and PK were responsible for data analysis and algorithmic development. DBV and MO were responsible for planning and carrying out the measurements and clinical scoring. PK was responsible for overall planning of the study. All authors read and approved the final manuscript.
Acknowledgements
Not applicable.
Competing interests
The authors declare that they have no competing interests.
Availability of data and materials
All sleep measurements described in this paper are available for download at URL: http://www.eareeg.org/SleepData_2017/sleep.zip6. Bad channels have been marked by 'NaN'-values. The code used to sleep score automatically is available from the corresponding author (KM) upon request.
Consent for publication
At the time of their initial briefing, all study participants were informed of the likelihood that the data would be part of a publication.
Ethics approval and consent to participate
All subjects gave informed consent, and were briefed both verbally and in written form before their ear impressions were taken, in accordance with the regulations of the local ethics committee (Committee on Health Research Ethics, Jutland Central Region).
Funding
The work presented here was funded by Project 1311-00009B of the Danish strategic research council, and 110-2013-1 of the Danish national advanced technology foundation.
Publisher's Note
Springer Nature remains neutral with regard to jurisdictional claims in published maps and institutional affiliations.
Open AccessThis article is distributed under the terms of the Creative Commons Attribution 4.0 International License (http://creativecommons.org/licenses/by/4.0/), which permits unrestricted use, distribution, and reproduction in any medium, provided you give appropriate credit to the original author(s) and the source, provide a link to the Creative Commons license, and indicate if changes were made. The Creative Commons Public Domain Dedication waiver (http://creativecommons.org/publicdomain/zero/1.0/) applies to the data made available in this article, unless otherwise stated.
Authors' Affiliations
(1)
Department of Engineering, Aarhus University, Aarhus N, Denmark
(2)
Department of Clinical Medicine, Aarhus University, Aarhus C, Denmark