Three-dimensional cardiac computational modelling: methods, features and applications
BioMedical Engineering OnLine
2015
14:35
Received: 6 October 2014
Accepted: 2 April 2015
Published: 17 April 2015
Abstract
The combination of computational models and biophysical simulations can help to interpret an array of experimental data and contribute to the understanding, diagnosis and treatment of complex diseases such as cardiac arrhythmias. For this reason, three-dimensional (3D) cardiac computational modelling is currently a rising field of research. The advance of medical imaging technology over the last decades has allowed the evolution from generic to patient-specific 3D cardiac models that faithfully represent the anatomy and different cardiac features of a given alive subject. Here we analyse sixty representative 3D cardiac computational models developed and published during the last fifty years, describing their information sources, features, development methods and online availability. This paper also reviews the necessary components to build a 3D computational model of the heart aimed at biophysical simulation, paying especial attention to cardiac electrophysiology (EP), and the existing approaches to incorporate those components. We assess the challenges associated to the different steps of the building process, from the processing of raw clinical or biological data to the final application, including image segmentation, inclusion of substructures and meshing among others. We briefly outline the personalisation approaches that are currently available in 3D cardiac computational modelling. Finally, we present examples of several specific applications, mainly related to cardiac EP simulation and model-based image analysis, showing the potential usefulness of 3D cardiac computational modelling into clinical environments as a tool to aid in the prevention, diagnosis and treatment of cardiac diseases.
Keywords
Cardiac modellingThree-dimensional (3D) modellingComputational modellingFibre orientationCardiac conduction system (CCS)Cardiac image segmentationBiophysical simulationPersonalisationPatient-specific modelling
Introduction
Some decades ago, three-dimensional (3D) cardiac computational models were only used for very simple computational simulations of cardiac electrophysiology (EP) or cardiac mechanics analysis. Nowadays, 3D cardiac models are becoming increasingly complex and are currently used in other areas such as cardiac image segmentation, statistical modelling of cardiac anatomy, patient risk stratification or surgical planning. These models are starting to be used in clinical environments for 3D image analysis or therapy guidance in procedures such as radiofrequency ablation (RFA). Due to the intensive research in this field and the evolution of computing resources, the introduction of 3D advanced computational simulations of cardiac EP and/or mechanics and model-based cardiac image analysis in clinical environments are becoming more feasible.
This paper presents a review of the methods used to construct 3D cardiac computational models since their earliest developments (about fifty years ago) until today, and discusses their advantages and applicability to different areas. To carry out our systematic review, sixty representative computational models were taken from the literature and were analysed in order to explore the evolution of the methods used to develop 3D cardiac models over the last fifty years. As a main result, we crafted a wide summary table (see Additional file 1: Table S1) that provides information about the main features of the reviewed 3D cardiac models and the particular methods used to build each of them.
This article is organised as follows. We first discuss the information contained in (Additional file 1: Table S1) and its intended usefulness for the readers. Later, we outline the evolution of 3D cardiac models from the "early era" to the present days, highlighting the methods used for the computational reconstruction of cardiac anatomy. The next section addresses the different stages of the development process of a 3D cardiac model (3D reconstruction of cardiac anatomy, meshing, etc.) and reviews the available methods to construct a model and to include certain heart features (fibre orientation, cardiac conduction system, ischaemic scars, etc.) in a computational model aimed at biophysical simulation with especial attention to cardiac EP. The following section briefly describes the available personalisation approaches in cardiac computational modelling. Finally, the paper addresses the main applications of 3D cardiac models by presenting examples related to several specific applications, focusing on cardiac EP simulation and model-based image segmentation.
Table of 3D cardiac computational models
Reviewing the entire literature related to the development of 3D cardiac models would be virtually impossible. For this reason, we chose sixty models from the literature as a representative set suitable to outline the evolution of 3D cardiac computational modelling from its beginning. In order to show this evolution we list them in chronological order in (see Additional file 1: Table S1).
Additional file 1: Table S1, crafted as a main result of this review work, was designed to provide a complete summary about the reviewed models. It shows information about the data source and methods used to develop each of the sixty reviewed 3D cardiac models as well as their main features, final application and online availability, in case the reader is interested in downloading any of them. The information provided by each column of Additional file 1: Table S1 is later addressed in a specific subsection of the Elements of a 3D cardiac computational model section, discussing why certain features or methods are needed or convenient for particular applications. We intend for readers to use Additional file 1: Table S1 as a reference tool along the entire article since it contains examples of models including the different cardiac features addressed or models that were developed using some of the methods mentioned in the text. Therefore, it can be used to find several models sharing a particular purpose or certain feature/method in which the reader might be especially interested or to compare different models in a quick and straightforward manner.
Evolution of 3D models of cardiac anatomy
The first step of the development process of a 3D cardiac model is the computational reconstruction of the anatomy of the heart by generating a 3D cardiac geometry. In this section, a brief survey of the evolution of 3D cardiac models is presented focusing on the methods used to build the computational reconstruction of cardiac anatomy and the achieved level of anatomical detail.
Generic models
The first developed 3D computational models of cardiac anatomy were simplistic models based on geometric shapes. Most of them only included the left ventricle (LV), represented by two concentric ellipsoids truncated at the base level to roughly approximate the shape of the LV [1-5]. However, this approach is still in use for specific applications in which the anatomical realism is not crucial for the purpose of the model [6,7].
Later, anatomical models were established. They aimed to represent cardiac anatomy in a more realistic fashion but still with a low level of anatomical detail due to the poor quality of the data used to build them. They were usually constructed by manual drawing from histo-anatomical slices [8-11] or from measurements taken on explanted hearts [12,13] or by segmenting pictures of histo-anatomical slices [14-17]. The most representative ones are two bi-ventricular models highly referenced and reused: the rabbit model from University of California San Diego [11] and the canine model from University of Auckland [12]. Their main contribution was the inclusion of realistic fibre orientation obtained from experimental measurements.
The development of computer-aided design (CAD) tools enabled the construction of 3D cardiac models without any direct source of anatomical information [18-21]. Some anatomical details, such as chambers volumes or wall thickness were just taken from the literature in order to virtually generate the geometry of the model.
3D atrial models began proliferating later than ventricular ones for several reasons, such as the higher lethality of ventricular disorders or the challenges associated to its 3D reconstruction due to the high complexity and inter-subject variability of atrial anatomy. Nevertheless, all kinds of model described above are present among reviewed 3D atrial models: geometric models [22], CAD models [19,21] and anatomical models from histo-anatomical slices [23-25].
Medical image-based models
The evolution of medical imaging technology gave the possibility of building realistic 3D cardiac models from either in-vivo or ex-vivo images, as demonstrated by early works [26] and [27], respectively. Medical image-based 3D cardiac models have proliferated over the last 15 years due to the advance and consolidation of techniques such as magnetic resonance imaging (MRI) [28-34] and computed tomography (CT) [35,36], leading to the rise of 3D cardiac computational modelling. As will be discussed below, the development of new imaging modalities capable of providing structural and functional information of cardiac tissue was also a major breakthrough in 3D cardiac computational modelling.
The increasing availability of
in-vivo
cardiac images together with the rising trend towards personalised medicine resulted in the definition of
patient-specific models
. They model the cardiac anatomy of a specific human subject from
in-vivo
images, usually MRI [
37
-
39
] or CT [
40
,
41
]. Figure
1
shows a
patient-specific
bi-ventricular model built from
in-vivo
MRI [
39
]. Building this kind of model requires imaging techniques synchronised with the ECG and breathing in order to overcome the noise and motion artefacts due to the cardiac cycle and breathing movements. This has also enabled building
dynamic models
that include the intra-subject anatomical variations of the heart due to the cardiac cycle [
37
,
38
].

Cardiac atlases also emerged thanks to the increasing availability of in-vivo images. They are assembled by averaging several 3D cardiac image datasets from a population of subjects, thus generating a mean 3D cardiac image or shape (for further details about cardiac atlases see Cardiac image segmentation section). For instance, the cardiac atlas developed in [42] was constructed from 14 manually segmented cine-MRI images and in [43] in-vivo multislice-CTs (MS-CT) from 100 subjects were used.
There are a few
highly-detailed bi-ventricular models
built from very high resolution
ex-vivo
MRI datasets (~25 μm per slice) from small mammalian hearts, which show an outstanding level of anatomical detail including papillary muscles and endocardial trabeculations. Some of them even take into account detailed information at tissue level provided by histological slices with specific staining [
44
,
45
]. Figure
2
shows an example of a highly-detailed rabbit bi-ventricular model [
46
].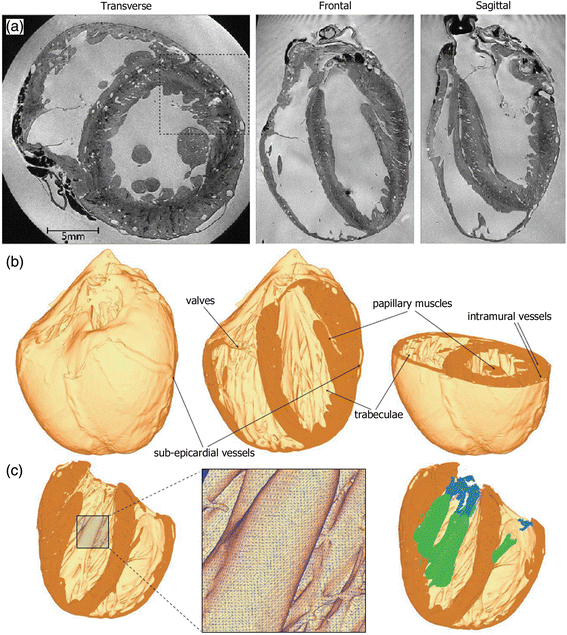 Elements of a 3D cardiac computational model
In addition to the 3D geometry representing part of the cardiac anatomy, every 3D cardiac computational model may also require other elements, such as the structure of the cardiac tissue, biophysical models of the heart (EP and/or mechanical), pathologies that affect the myocardium, etc. In this section we review the data sources and computational methods used to include those elements into a model, also specifying which of them are necessary depending on the final purpose of the model. Figure
3
shows a flowchart depicting the full development pipeline of a 3D cardiac computational model aimed at biophysical simulation, showing the main stages of the building process and the relationships between them. These steps will be addressed in the following sections, mainly focusing on cardiac EP simulation and providing an extended diagram specific to each step.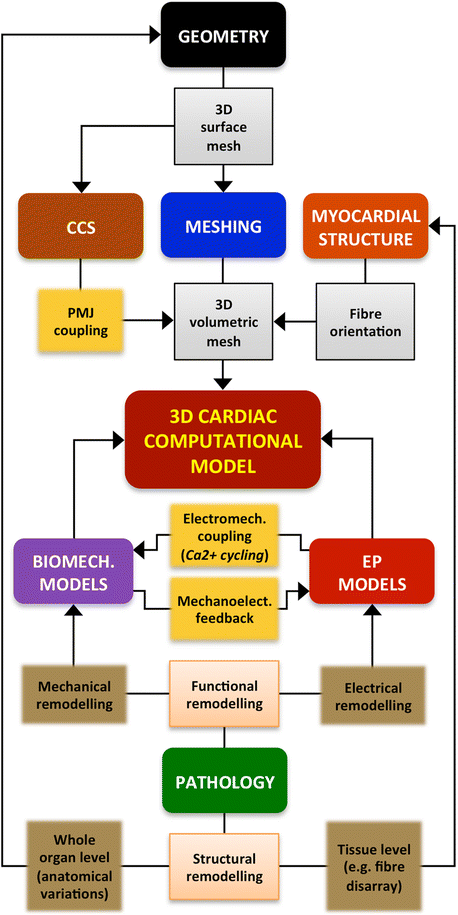 Personalisation of 3D cardiac computational models
Patient-specific
models can open up a new avenue of possibilities in cardiology since they are able to integrate anatomical and functional information of a given patient provided by a variety of techniques (different imaging modalities, invasive electrical recordings, etc.) in a very comprehensive fashion. This could be very helpful in therapy planning, guidance and follow-up. However, currently only a few cardiac features can be completely personalised. Table
1
summarises the current personalisation possibilities in cardiac computational modelling, which are discussed below.
Table 1
Current personalisation possibilities in 3D cardiac computational modelling
Features

Technique

Invasiveness

Anatomy

Segmentation of in-vivo image

Non-invasive

Fibre orientation

Image-based estimation (in-vivo DTI)

Non-invasive

Cardiac conduction system

PMJs from EAMs

Invasive

Pathology (Structural remodelling)

Anatomical variations

Clinical image-based

Non-invasive

Localised fibrosis

Image-based (e.g. DE-MRI)

Non-invasive

EAMs

Invasive

Diffuse fibrosis

Image-based (T1 mapping MRI)

Non-invasive

Electrophysiology

Action potential

NO

Heterogeneity

NO

Electrical remodelling

NO

Genetic mutations

NO

Conduction velocities

Global:

ECG

Non-invasive

Local:

EAMs

Invasive

APD restitution curve

EAMs

Invasive

Extracellular ion concentrations

Blood test (electrolyte concentrations) (time-variant)

Invasive

Activation pattern

ECG or BSPM

Non-invasive

EAMs

Invasive

Cardiac mechanics

Biomechanical model

Dynamic image-based

Non-invasive

Material properties

NO

Boundary conditions

Dynamic image-based

Non-invasive
The anatomy, including pathological anatomical variations, can be personalised for a specific subject by developing a patient-specific model from in-vivo images. Some types of structural remodelling at tissue level can also be personalised, such as the location and extension of infarct scars which can be reconstructed from in-vivo images (e.g. DE-MRI) [143] or from EAMs recorded during RFA procedures. T1 mapping is an emerging MRI modality able to quantitatively assess in-vivo the level of diffuse fibrosis [149,150]. This novel technique could allow including the patient-specific level of diffuse fibrosis in a 3D cardiac model in a quantitative fashion.
There are two important features that cannot be completely personalised yet: the CCS and the fibre orientation. EAMs can provide the location of some PMJs allowing an inverse estimation of a CCS model that tries to reproduce the patient-specific electrical activation pattern [99,100]. Nonetheless, currently there is no in-vivo image modality with enough spatial resolution to enable a detailed visualisation of the CCS structure. For fibre orientation, only sparse 2D DTI slices can be acquired in-vivo to estimate the patient-specific fibre orientation of the LV [78,79].
Regarding cardiac EP, the patient-specific transmembrane current dynamics cannot be measured and hence the mathematical models (e.g. ionic models) that reproduce the AP at cellular level cannot be personalised. Due to the same reason, the electrical heterogeneity between different regions (e.g. transmural heterogeneity in ventricular walls), the electrical remodelling or the effects on cardiac EP of a genetic mutation cannot be personalised. However, the EP model at cellular level that best matches the patient's pathology can be chosen from the existing models, obtaining a patient-group instead of a patient-specific personalisation [151,152]. The patient-specific electrical activation patterns and wave propagation conduction velocities (CV) in ventricular myocardium can be estimated for the Eikonal model either globally from ECG or body surface potential maps (BSPM), or locally (as spatially varying parameters) by means of EAMs [153], even taking into account the uncertainty due to the sparsity and noise of clinical data [154]. In [122] an approach to personalise CV and APD restitution curve for bi-ventricular models was proposed by estimating certain EP parameters of a simplified AP model [117] from the patient's ECG and the isochrones provided by in-vivo non-contact endocardial LV mapping [155]. EAMs can also allow locating electrical pathways for a certain subject, such as the main inter-atrial connection [151,152] or the reentrant channels responsible for an infarct-derived ventricular tachycardia (VT) [156,157]. Finally, extracellular ion concentrations can be estimated and set into a model from the measurement of blood electrolyte concentrations, although they are highly time-variant [151,152].
For cardiac mechanics, the most feasible personalisation approach consists of adjusting some parameters of a biomechanical model using the information obtained by segmenting dynamic images (e.g. cine-MRI, tagged-MRI, dynamic-CT), so that the model is adapted in order to reproduce the patient-specific cardiac motion as accurately as possible [153]. Boundary conditions can be estimated from dynamic images as well.
Applications of 3D cardiac computational models
Computational clinical cardiology is currently a rising field of research with a large number of potential applications. Cardiac image analysis/segmentation and computational simulation of cardiac physics are two well-established applications of 3D cardiac models. Cardiac EP simulation, for instance, is becoming a powerful tool to gain insight into the electrical cardiac disorders at tissue/organ level. It allows performing in-silico experiments by computational simulation in which all variables are under control and that, in many cases, cannot be carried out in-vivo due to unacceptable risk for the patient, ethical reasons, inability to control all variables, etc. In this section we expose the usefulness of these applications by presenting several examples from the literature mainly related to cardiac EP simulation and model-based segmentation.
Conclusions
3D computational models of cardiac anatomy and function have benefited significantly from the revolution of medical imaging systems. The development of techniques able to build 3D personalised cardiac models is expected to have an impact on diagnosis, therapy planning and prevention of cardiac disorders. The advances on patient-specific modelling have enabled the use of 3D heart models reconstructed from clinical MRI or CT scans. Current 3D cardiac models have a remarkable structural and biophysical detail, and provide a multi-parametric source of information that integrates multimodal images (ex-vivo and in-vivo), one-dimensional signals and biophysical data into a common spatio-temporal coordinate system, which will help to gain insights into several cardiac disorders, e.g. into mechanisms of arrhythmia in many disease settings. Incorporation of critical cardiac structures, such as the CCS, fibre orientation and the coronary tree, will facilitate further biophysical modelling. The next steps towards the translation of this technology into clinical environments are the automation and scalability of model-building procedures, allowing to easily process large-scale image databases, and the evolution of computing technologies such as graphical processing units (GPUs) to speed up the solving process of biophysical simulations.
Abbreviations
2D:

bi-dimensional
3D:

three-dimensional
AP:

Action potential
APD:

Action potential duration
BSPM:

Body surface potential maps
BZ:

Border zone
CAD:

Computer-aided design
CCS:

Cardiac conduction system
CRT:

Cardiac resynchronisation therapy
CT:

Computed tomography
CV:

Conduction velocity
DE-MRI:

Delayed enhancement-magnetic resonance imaging
DTI:

Diffusion tensor imaging
DT-MRI:

Diffusion tensor-magnetic resonance imaging
EAMs:

Electroanatomical maps
ECG:

Electrocardiogram
EM:

Electromechanical
EP:

Electrophysiology or electrophysiological
FEM:

Finite element method
GPUs:

Graphical processing units
HH:

Hodgkin and Huxley
LBBB:

Left bundle branch block
LV:

Left ventricle
MRI:

Magnetic resonance imaging
MS-CT:

Multi slice-computed tomography
ODEs:

Ordinary differential equations
PCA:

Principal components analysis
PDEs:

Partial differential equations
PDM:

Point distribution model
PMJs:

Purkinje-myocardium junctions
RFA:

Radiofrequency ablation
RV:

Right ventricle
SD:

Standard deviation
VT:

Ventricular tachycardia
VV:

Interventricular.
Declarations
Acknowledgements
This work was partially supported by the "VI Plan Nacional de Investigación Científica, Desarrollo e Innovación Tecnológica" from the Ministerio de Economía y Competitividad of Spain (TIN2012-37546-C03-01 and TIN2011-28067) and the European Commission (European Regional Development Funds – ERDF - FEDER) and by "eTorso project" (GVA/2013-001404) from the Generalitat Valenciana (Spain). ALP is financially supported by the program "Ayudas para contratos predoctorales para la formación de doctores" from the Ministerio de Economía y Competitividad of Spain (BES-2013-064089).
Authors' Affiliations
(1)
Centre for Research and Innovation in Bioengineering (Ci2B), Universitat Politècnica de València, València, Spain
(2)
Computational Multiscale Physiology Lab (CoMMLab), Universitat de València, València, Spain
Copyright
© Lopez-Perez et al.; licensee BioMed Central. 2015
This is an Open Access article distributed under the terms of the Creative Commons Attribution License (http://creativecommons.org/licenses/by/4.0), which permits unrestricted use, distribution, and reproduction in any medium, provided the original work is properly credited. The Creative Commons Public Domain Dedication waiver (http://creativecommons.org/publicdomain/zero/1.0/) applies to the data made available in this article, unless otherwise stated.