sEMG feature evaluation for identification of elbow angle resolution in graded arm movement
BioMedical Engineering OnLine
2014
13:155
Received: 26 June 2014
Accepted: 17 November 2014
Published: 25 November 2014
Abstract
Automatic and accurate identification of elbow angle from surface electromyogram (sEMG) is essential for myoelectric controlled upper limb exoskeleton systems. This requires appropriate selection of sEMG features, and identifying the limitations of such a system.
This study has demonstrated that it is possible to identify three discrete positions of the elbow; full extension, right angle, and mid-way point, with window size of only 200 milliseconds. It was seen that while most features were suitable for this purpose, Power Spectral Density Averages (PSD-Av) performed best. The system correctly classified the sEMG against the elbow angle for 100% cases when only two discrete positions (full extension and elbow at right angle) were considered, while correct classification was 89% when there were three discrete positions. However, sEMG was unable to accurately determine the elbow position when five discrete angles were considered. It was also observed that there was no difference for extension or flexion phases.
Keywords
EMG signalPattern recognitionFeature extractionAngular positionArm flexion/extension
Background
Exoskeleton systems of the arm have number of applications such as support for the elderly, defense personnel, and people with skeletal injuries [1–3]. For effective application of these devices, the user should be able to control them naturally and intuitively. While there are number of options for commanding such systems such as the use of mechanical sensors, brain computer interface and use of surface electromyogram (sEMG) of the associated muscles, sEMG provides a natural and intuitive interface for the user [3–9]. This can also offer the user with proportional control where the exoskeleton device can follow the body movement. However, the difficulty with such sEMG based controlling strategies is the poor sensitivity and specificity, leading to poor reliability.
The angle of the elbow is an important command of the exoskeleton of the upper limb. To obtain this from sEMG recording requires the appropriate selection of sEMG features which then have to be classified to identify the elbow angle. Different researchers have used different features [10–14]. However, none of the researchers have performed a comparative between all of these features.
Proportional control requires the system to identify the position of the body based on the sEMG of the effective muscles. While some simple systems provide binary resolutions such as flexion and extension commands, this does not offer proportional control, and is not intuitive [15–18]. There is the need for higher resolution where the user is able to give finer commands to the exoskeleton device for performing the upper limb actions. Higher resolution requires the classification system to have larger number of classes. However, there is a tradeoff between the number of classes and the system accuracy and reliability, and there is the need for determining the relationship between the number of classes and the system accuracy.
The aim of this research was to determine the relationship between the classification system sensitivity, specificity and accuracy for different resolutions of the elbow angles (number of classes or number of arm positions), and determine the feasibility of high resolution identification of the elbow angle. A comparison was performed between the commonly used features of sEMG to select the most suitable feature set for the proposed classification system. The accuracy, sensitivity and specificity of each of these features in the recognition of the elbow angle were obtained. The relationship between resolution (number of classes) and the accuracy, sensitivity and specificity of recognition of the position of the arm was studied.
Methods
The experimental protocol was approved by the Research Ethics Committee from São Judas University, São Paulo, Brazil, by letter; COEP-USJT-No.076-2010, and in accordance with the Helsinki accord (modified 2004). Seven able-bodied volunteer subjects (4 men and 3 women), average age 34.6, participated in the experiment. They were verbally and in writing explained the purpose of the experiments and the experimental protocol, and experiments were performed after obtaining their verbal and written informed consent. Before recording the data, the participants were allowed sufficient time to familiarize themselves with the equipment and the protocol. Multiple trial runs were performed till the volunteers were comfortable with the experiment.
Results
The average accuracy, sensitivity and specificity achieved by each feature, for each movement phase, and for each resolution (class set up) are shown in Table
3
. From this table it is observed that for resolution = 2 classes, PSD has the highest accuracy, sensitivity and specificity for both movement directions (flexion and extension), while ZC has the lowest.
Table 3
Performance metrics (Se – sensitivity%; Sp – specificity%; Acc – accuracy%)
2-class set up

3-class set up

5-class set up

Se

Sp

Acc

Se

Sp

Acc

Se

Sp

Acc

PSD-Av

Flex

95

95

95

89

94

89

64

91

64

Ext

100

100

100

84

92

84

62

90

62

PSD

Flex

100

100

100

89

94

89

48

87

48

Ext

100

100

100

76

88

76

52

88

52

MAV

Flex

81

78

93

79

87

79

48

87

48

Ext

100

86

98

86

89

86

65

88

65

WL

Flex

100

78

95

76

88

76

50

88

50

Ext

100

86

100

79

90

79

51

88

51

RMS

Flex

85

79

88

62

81

78

51

87

51

Ext

100

86

100

75

87

79

62

88

62

AR

Flex

86

90

88

81

90

81

45

86

45

Ext

100

95

98

73

87

73

55

89

55

PSD-Mo

Flex

100

88

93

68

84

68

41

85

41

Ext

100

100

100

63

82

64

38

85

38

WAMP

Flex

59

50

64

46

72

46

27

82

27

Ext

75

73

79

57

76

57

27

82

28

ZC

Flex

75

68

81

52

73

52

33

82

33

Ext

45

45

50

41

67

41

24

81

24
From this table it is also observed that PSD-Av also has high sensitivity, specificity and accuracy for classification of 2 (full extension and 90° flexion) and 3-class (including a half-way position class) set ups. However, for the configuration using 3 classes, during extension phase, the accuracy is 84%, sensitivity = 84%, and specificity = 92%. Such a system may not be suitable for applications where any error in recognizing the command may cause injury to the user.
The results also show that the response of the system to classify 5-class set up decreases, which shows that no sEMG feature of the biceps and triceps is suitable for accurately identifying the elbow angle for exoskeleton control for higher resolutions. The results were also confirmed by the Kappa based comparative statistics [
23
] to show the interobserver variation and reported in Table
4
. Based on the Cohen's Kappa statistic value from Table
4
and the study by Viera and Garret [
23
] it is shown that the Kappa value above 0.60 suggests the substantial agreement with the predicted and actual observation.The scatter plots of the normalized PSD-Av of the triceps vs biceps are shown in Figure
3
. PSD-Av is a feature which consists of 16 parameters for each muscle, and was selected because statistical analysis confirmed it to have the lowest error.Figure
3
(a) is a plot for 3 classes; 0°-10°, 40°-50° and 80°-90° while, Figure
3
(b) is a plot for 5 classes; 0°-10°, 20°-30°, 40°-50°, 60°-70° and 80°-90°. From these plots, it is observed that there are significant differences in the 0°-10°, 40° -50° and 80°-90° classes, but there is significant overlap when two additional classes; 20°-30°, and 60°-70° are added. This demonstrates the limitation of such an approach for myoelectric exoskeleton systems.
Table 4
Kappa statistic results
Cohen's Kappa statistics

2 class

3 class

5 class

PSD-Av

Flex

0.90

0.83

0.55

Ext

1.00

0.76

0.60

PSD

Flex

1.00

0.83

0.35

Ext

1.00

0.64

0.40

MAV

Flex

0.59

0.60

0.37

Ext

0.85

0.67

0.40

WL

Flex

0.74

0.64

0.38

Ext

0.85

0.69

0.41

RMS

Flex

0.73

0.42

0.33

Ext

0.84

0.62

0.42

AR6

Flex

0.76

0.71

0.31

Ext

0.95

0.60

0.43

PSD-Mo

Flex

0.86

0.53

0.26

Ext

1.00

0.45

0.23

WAMP

Flex

0.09

0.17

0.08

Ext

0.48

0.29

0.08

ZC

Flex

0.43

0.19

0.12

Ext

0.10

0.01

0.05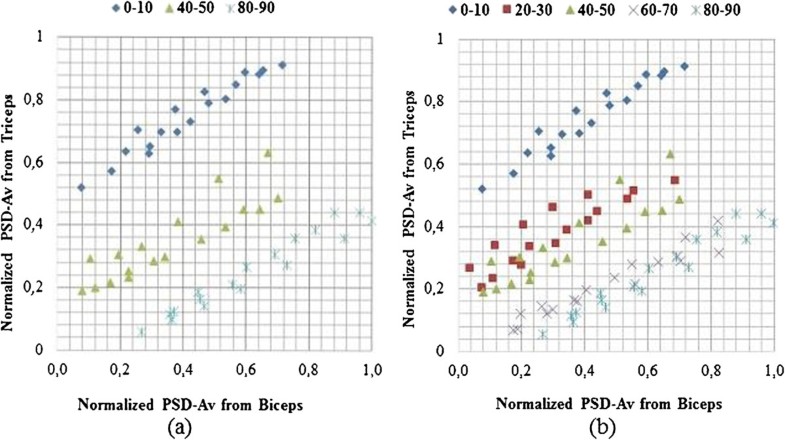 Discussion and conclusions
The results show that sEMG system can be used effectively to identify the flexion and extension of the elbow when we consider two state situations; arm at full extension, and arm at 90° flexion. This work has also shown that when the number of classes of classification increased to 3 classes, the system accuracy dropped, with sensitivity = 84% and specificity = 92%. Such a system may be suitable for limited applications due to the relatively low sensitivity, which could cause injury to the user.
When the number of classes was increased to 5-class set up, the error was higher compared with the situation of 2 and 3-class set ups, with sensitivity = 64%, and specificity = 91% in the best case. This indicates that sEMG classification is suitable for the identification of small number of elbow positions but unsuitable for being used for high resolution conditions. Poor sensitivity will frustrate the user and make the system non-functional. One reason for poor sensitivity may be due to the narrow window of 200 ms. However, this is essential because earlier studies have identified that delays greater than 250 ms causes observable delays to the user, and can be the cause of errors. The other reason is the similarities between consecutives positions due to its discretization.
The results also showed that at small number of elbow positions, the performance of most features was similar, but as the number become higher, none of them achieved reasonable results. While relating sEMG with angles in between the extreme flexion and extension did not give good results, however, it should be noted that nil error in detecting full flexion and extension levels is not comparable with relatively higher errors during the in-between steps. But the relatively large error highlights the relatively limited applications of such an approach.
There are other options that may be considered as an alternate to a classification of small number of sEMG channels; high density myoelectric recordings, mechanical sensor system, a hybrid system, or the use of an intelligent myoelectric system where model based approach may be used. While mechanical sensor systems have number of shortcomings, the hybrid system that combines the sEMG with the mechanical sensors may reduce the errors while providing the user with natural and intuitive control. Another approach, where the mechanical sensing may not be possible, is to develop an intelligent system modeling the movement, such as is trained to estimate the speed of the action of the user. In this approach, the system would be trained to estimate the time of the action for an individual and assuming the movement to be continuous. Such a system could provide an alternate for a myoelectric based proportional controller system also known as tracking systems.
Declarations
Acknowledgements
The authors would like to thank Centro Universitário da FEI, FAPESP and RMIT University for their support in this project.
Authors' Affiliations
(1)
Electrical Engineering Department, Centro Universitário da FEI, São Bernardo do Campo, Brazil
(2)
Computer Science Department, Centro Universitário da FEI, São Bernardo do Campo, Brazil
(3)
Biosignal Lab., School of Electrical and Computer Engineering, RMIT University, Melbourne, Australia
Copyright
© Castro et al.; licensee BioMed Central Ltd. 2014
This article is published under license to BioMed Central Ltd. This is an Open Access article distributed under the terms of the Creative Commons Attribution License (http://creativecommons.org/licenses/by/4.0), which permits unrestricted use, distribution, and reproduction in any medium, provided the original work is properly credited. The Creative Commons Public Domain Dedication waiver (http://creativecommons.org/publicdomain/zero/1.0/) applies to the data made available in this article, unless otherwise stated.