Sleep/wake estimation using only anterior tibialis electromyography data
BioMedical Engineering OnLine
2012
11:26
Received: 28 November 2011
Accepted: 7 May 2012
Published: 24 May 2012
Abstract
Background
In sleep efficiency monitoring system, actigraphy is the simplest and most commonly used device. However, low specificity to wakefulness of actigraphy was revealed in previous studies. In this study, we assumed that sleep/wake estimation using actigraphy and electromyography (EMG) signals would show different patterns. Furthermore, each EMG pattern in two states (sleep, wake during sleep) was analysed. Finally, we proposed two types of method for the estimation of sleep/wake patterns using only EMG signals from anterior tibialis muscles and the results were compared with PSG data.
Methods
Seven healthy subjects and five patients (2 obstructive sleep apnea, 3 periodic limb movement disorder) participated in this study. Night time polysomnography (PSG) recordings were conducted, and electrooculogram, EMG, electroencephalogram, electrocardiogram, and respiration data were collected. Time domain analysis and frequency domain analysis were applied to estimate the sleep/wake patterns. Each method was based on changes in amplitude or spectrum (total power) of anterior tibialis electromyography signals during the transition from the sleep state to the wake state. To obtain the results, leave-one-out-cross-validation technique was adopted.
Results
Total sleep time of the each group was about 8 hours. For healthy subjects, the mean epoch-by-epoch results between time domain analysis and PSG data were 99%, 71%, 80% and 0.64 (sensitivity, specificity, accuracy and kappa value), respectively. For frequency domain analysis, the corresponding values were 99%, 73%, 81% and 0.67, respectively. Absolute and relative differences between sleep efficiency index from PSG and our methods were 0.8 and 0.8% (for frequency domain analysis). In patients with sleep-related disorder, our proposed methods revealed the substantial agreement (kappa > 0.61) for OSA patients and moderate or fair agreement for PLMD patients.
Conclusions
The results of our proposed methods were comparable to those of PSG. The time and frequency domain analyses showed the similar sleep/wake estimation performance.
Keywords
Sleep/wake estimationElectromyographySleep efficiencyPolysomonography
Background
Polysomnography (PSG) has been regarded as the gold standard for sleep monitoring. In PSG recording, sleep stages and wakefulness are determined by electroencephalogram (EEG), electrooculogram (EOG) and chin electromyogram (EMG). PSG recording requires well-trained sleep experts, a controlled hospital environment, and a relatively long setup time, resulting in high costs. To overcome the disadvantages of PSG, in recent years, the need for home-based sleep monitoring has been specifically proposed [1–3]. In order to be successful, home-based sleep monitoring systems should be sensitive and sufficiently reliable to detect awake or sleep stages without depending on EEG.
In general sleep monitoring systems, the results include sleep stages, sleep disorders, sleep duration, sleep fragmentation, sleep efficiency, sleep quality, etc. Among them, the continuous low sleep efficiency (numerous sleep disturbances) can lead to daytime fatigue [
4
], diabetes [
5
], headaches [
6
], and psychiatric disorders [
7
]. Therefore, it is important to precisely monitor sleep/wake patterns and sleep efficiency. In sleep efficiency measurement, actigraphy is the simplest device and has been used to estimate sleep/wake patterns in recent studies [
8
]. However, the validity of actigraphy to measure sleep efficiency is uncertain due to its limited ability to detect wakefulness [
9
]. The low specificity (around 50%) to wakefulness is basically caused by the assumption of the sleep state when subjects are simply inactive. Because of this drawback, other studies have proposed alternative ways to estimate the sleep/wake pattern without using an accele-ration sensor. These include the use of a heart rate measuring device [
10
], a mattress [
11
], a photographic monitoring device [
12
], mandible activity signals [
13
] and under-bed accelerometers [
14
]. In general, waking from sleep can be identified using physiological signal changes such as an abrupt increase in anterior tibialis EMG activities or heart rate [
15
,
16
]. The wake stage is usually accompanied by a relatively high tonic anterior tibialis EMG (shown in Figure
1
). Also, a gradual diminution of the anterior tibialis EMG signal amplitude occurs during the transition from light to deep sleep [
17
]. However, use of anterior tibialis EMG signal changes to estimate sleep or wake patterns has rarely been studied.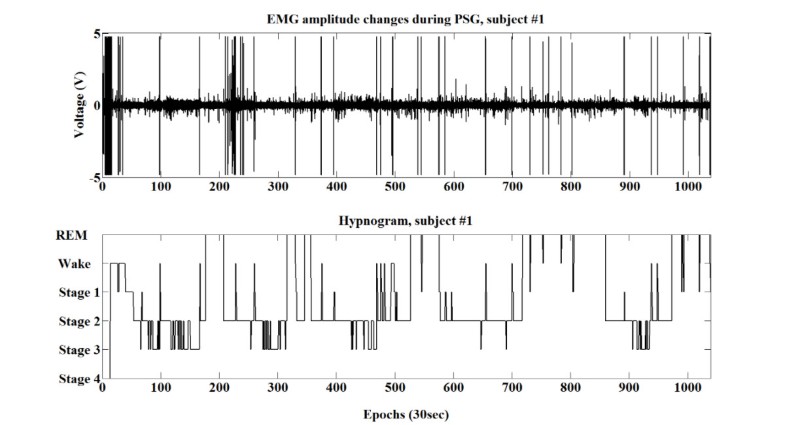 In this paper, we assumed that sleep/wake estimation using actigraphy and EMG signals would show different patterns because the actigram is a collection of mechanical signals, whereas EMG signals are electrical. So we analysed EMG patterns in each state (sleep and wake during sleep).
This study was administered in two steps of sleep/wake pattern estimation. The first step was to establish methods for sleep/wake pattern estimation using only anterior tibialis EMG signals without EEG recordings. The second step was to confirm that the result of our methods is comparable to that of PSG.
Methods
Subjects and PSG data collection
Seven healthy subjects and five patients with sleep-related disorder participated in our study. Two patients (1 mild and 1 moderate) were diagnosed with obstructive sleep apnea (OSA) and the others were patients with periodic lime movement disorder (PLMD). A summary of the subject- and sleep- related parameters is shown in Table
1
. Healthy subjects were free from any sleep-related disorders and it was verified by sleep physicians. All subjects reported no use of drugs or caffeine that could affect sleep and were given all the information about the purpose and methods of the study. All subjects have agreed that their PSG data, excluding personal information, will be used only for research purposes. PSG data were recorded and scored by registered polysomnographic technologists and physicians at Seoul National University Hospital according to the criteria described by Rechtschaffen and Kales [
15
]. A board certified sleep medicine physician made the final review of the PSG. The PSG data of all subjects were collected for about eight hours using the standard PSG routine and 15 channels of data. EEG electrodes were placed at the C3-A2 and O2-A1 positions based on the international 10–20 system. The following data were collected: EMG from the chin and bilateral tibialis anterior muscles, bilateral EOG, lead II electrocardiogram (ECG), nasal airflow, abdominal and thoracic movements, snoring, and blood oxygen saturation (SaO2). The PSG data were simultaneously acquired with the NI-DAQ 6221 (National Instruments, Austin, Texas) and sampling rate was 250 Hz. Based upon PSG data scoring, sleep stages were categorised into two criterions: wake and sleep. Stages 1, 2, 3, 4 and stage REM (rapid eye movement) were regarded as sleep.
Table 1
Summary of the sleep-related parameters of the subjects
| Parameter | Normal (mean ± SD) | Patients (mean ± SD) |
| --- | --- | --- |
| Sex (male/female) | 4/3 | 4/1 |
| Age (years) | 33.3 ± 6.2 | 33.8 ± 13.2 |
| BMI (kg/m2) | 24.7 ± 5.4 | 24.2 ± 6.4 |
| Sleep latency (min) | 20.0 ± 22.8 | 16.0 ± 2.6 |
| Stages 1 & 2 (%) | 65.4 ± 7.9 | 66.6 ± 7.3 |
| Stages 3 & 4 (%) | 12.3 ± 8.1 | 10.0 ± 10.0 |
| Stage REM (%) | 22.3 ± 6.1 | 16.3 ± 5.7 |
| Total sleep time (min) | 454.7 ± 37.9 | 444.4 ± 41.4 |
| Sleep efficiency (%) | 97.6 ± 0.8 | 97.4 ± 1.9 |
Electromyography (EMG) signals
In the study, EMG signals from anterior tibialis muscles were chosen as indicators for our sleep/wake estimation methods because these signals reflect the awake movements. Therefore, EMG signals from each anterior tibialis muscle were used to estimate wakefulness using movement information. Differences in the sleep versus wake anterior tibialis EMG signal amplitude from subject #1 is shown in Figure
1
. In accordance with the method of previous study [
18
], the EMG signal amplitudes during sleep and wake states were quantified after amplitude normalisation. As shown in Figure
2
, the anterior tibialis EMG amplitude histogram shows significant differences between sleep and wake states: wake states show relatively high anterior tibialis EMG amplitudes compared with those in sleep states. Based on the anterior tibialis EMG amplitude differences between sleep and wake states, we were able to estimate sleep/wake cycles.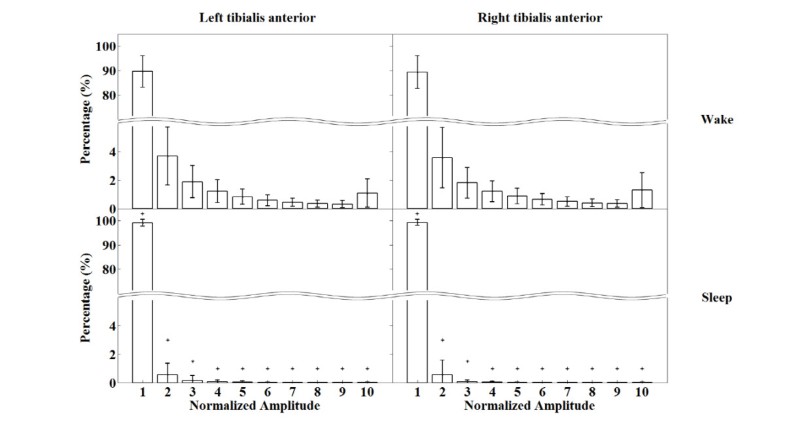 Leave-one-out-cross-validation (LOOCV)
Leave-one-out-cross-validation method was used in this study. For the method, eleven EMG recordings were selected as a training set. Threshold selection factors (TSF) were computed based on training set data, and then threshold was applied to the last one (a testing set). This procedure was conducted twelve times (12 subjects participated in our study) and each result was obtained.
Sleep/wake estimation methods: time domain analysis (TDA)
In TDA, the squared values of the anterior tibialis EMG signals from training sets were calculated, and all of the 250 samples of data were summed. In the following equation (
1
), x
j
denotes the anterior tibialis EMG signals, y
k
represents the summed data per second, at a sampling rate of 250 Hz. In Equation (
2
), z
l
represents the sum of the y
k
data per epoch (30 seconds).
From the training set EMG data, TSF
TDA1
and TSF
TDA2
which showed the best sleep/wake estimation performance in the training set data were calculated and applied to the testing set data. In subject #4 case (i.e. data from subject #4 was testing set), for example, TSF
TDA1
and TSF
TDA2
were 4 and 25, respectively. Consequently, the constant value 4 was multiplied by the average of z
l
for 51 epochs (previous 25 epochs, current one epoch, subsequent 25 epochs) as a threshold T
m
for the estimation (equation (
3
), m denotes the number of epoch). In this way, we were able to obtain the adaptive amplitude threshold of EMG signals for each epoch.
The number of samples exceeding the threshold per epoch was calculated and named HEMG
m
. In equation (
4
), sgn(x) is 1 if x > 0; otherwise, it is 0. In the m
th
epoch, if HEMG
m
(the number of y
k
over the threshold T
m
) exceeded the average of HEMG
m
, we estimated the m
th
epoch as wake; otherwise, it was estimated as sleep. Figure
3
and Figure
4
show the data for y
k
, threshold T
m
, HEMG
m
and the average HEMG
m
.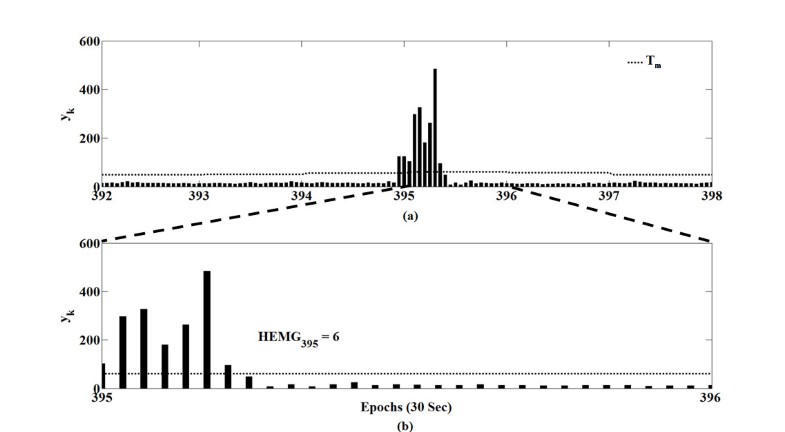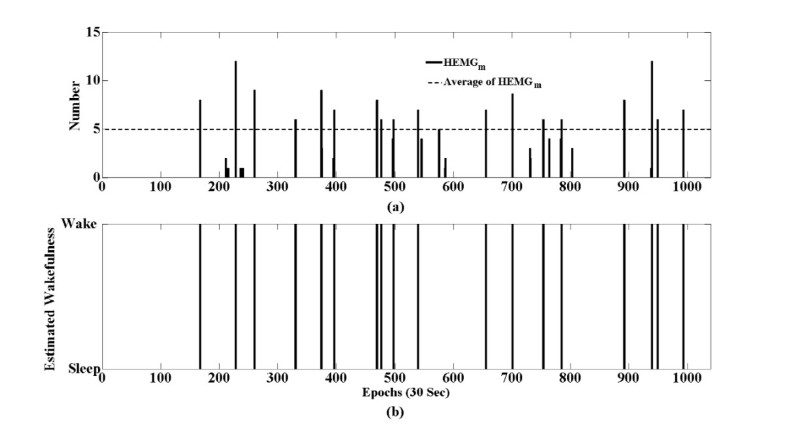 Sleep/wake estimation methods: Frequency domain analysis (FDA)
In FDA, first, the total power of anterior tibialis EMG spectrum of each epoch from training sets was obtained using fast Fourier transform (FFT) and then the useless frequency powers (around 60 Hz, lower than 10 Hz, greater than 75 Hz) were ignored using MATLAB software (MathWorks, USA). Figure
5
shows a typical spectrum of the anterior tibialis EMG signals in subject #7. As shown in Figure
5
(a) and (b), the spectra of the anterior tibialis EMG signals measured during wake and sleep epochs are clearly different. Therefore, the total powers of the anterior tibialis EMG spectra of the sleep/wake epochs were easily differentiated.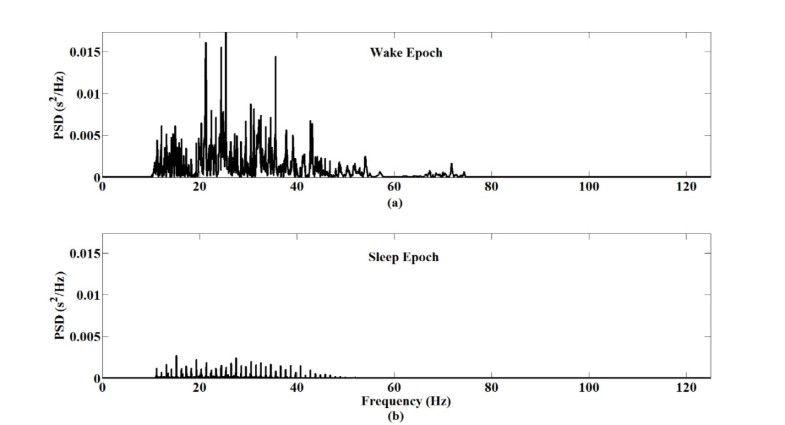 For sleep/wake estimation, tp
m
(as defined in equation (
6
)) was compared with the spectral threshold. The spectral threshold was calculated as in equation (
7
). TSF
FDA1
for average of the tp
m
and TSF
FDA2
for standard deviation of tp
m
were decided from training set data. For instance, TSF
FDA1
and TSF
FDA1
were 0.5 and 3.5 in subject #1, respectively. We estimated the m
th
epoch as wake if tp
m
exceeded the spectral threshold and as sleep otherwise. The tp
m
and spectral threshold are shown in Figure
6
.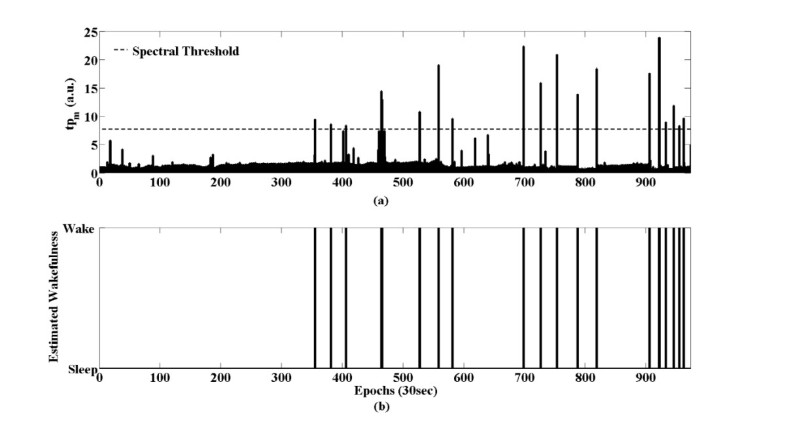 Statistical analysis
Epoch-by-epoch statistical analyses between PSG and the outcomes of our sleep/wake estimation algorithms were performed. For statistical analyses, seven statistical parameters (sensitivity [TP/(TP + FN)], specificity [TN/(FP + TN)], positive predictive value [TP/(TP + FP)], negative predictive value [TN/(TN + FN)], accuracy, kappa statistic and F-measure) were used. TP, TN, FP, and FN were further classified as 'true positive,' 'true negative,' 'false positive,' or 'false negative,' respectively. In our study, the sensitivity represents the proportion of correctly identified sleep states, while the specificity represents the proportion of correctly identified wake states. The kappa statistic value is most commonly used for studies that measure the agreement between two separate evaluators [19]. A kappa value in the range from 0.41 to 0.60 indicates moderate agreement, and one from 0.61 to 0.80 indicates substantial agreement. We also quantified the system performance using the F-measure, which considers both the precision and the recall of the test. Thus, this value indicates the harmonic mean of the sensitivity and specificity between two systems [20]. An F-measure score close to 1 signifies higher agreement between the two systems.
Conclusions
Our proposed methods show that it is possible to estimate sleep/wake states using only anterior tibialis EMG data. Using the surface EMG electrodes, we were able to obtain a sleep/wake estimation performance comparable to that of PSG. We plan to focus our future study on non-intrusive sleep/wake estimation using EMG in order to relieve the inconvenience of electrode attachment.
Declarations
Acknowledgements
This research was supported by the Public Welfare & Safety research program through the National Research Foundation of Korea (NRF) funded by the Ministry of Education, Science and Technology (No. 2011–0020973).
Authors' Affiliations
(1)
Interdisciplinary program of Bioengineering, Seoul National University, Seoul, Republic of Korea
(2)
Department of Psychiatry, Gyeongsang National University School of Medicine, Jinju, Republic of Korea
(3)
Department of Neuropsychiatry and Center for Sleep and Chronobiology, Seoul National University Hospital, Seoul, Republic of Korea
(4)
Department of Biomedical Engineering, College of Medicine, Seoul National University, Seoul, Republic of Korea
Copyright
© Hwang et al.; licensee BioMed Central Ltd. 2012
This article is published under license to BioMed Central Ltd. This is an Open Access article distributed under the terms of the Creative Commons Attribution License (http://creativecommons.org/licenses/by/2.0), which permits unrestricted use, distribution, and reproduction in any medium, provided the original work is properly cited.