An integrative pharmacological approach to radio telemetry and blood sampling in pharmaceutical drug discovery and safety assessment
BioMedical Engineering OnLine
2011
10:5
Received: 4 August 2010
Accepted: 18 January 2011
Published: 18 January 2011
Abstract
Background
A successful integration of the automated blood sampling (ABS) and telemetry (ABST) system is described. The new ABST system facilitates concomitant collection of physiological variables with blood and urine samples for determination of drug concentrations and other biochemical measures in the same rat without handling artifact.
Method
Integration was achieved by designing a 13 inch circular receiving antenna that operates as a plug-in replacement for the existing pair of DSI's orthogonal antennas which is compatible with the rotating cage and open floor design of the BASi Culex® ABS system. The circular receiving antenna's electrical configuration consists of a pair of electrically orthogonal half-toroids that reinforce reception of a dipole transmitter operating within the coil's interior while reducing both external noise pickup and interference from other adjacent dipole transmitters.
Results
For validation, measured baclofen concentration (ABST vs. satellite (μM): 69.6 ± 23.8 vs. 76.6 ± 19.5, p = NS) and mean arterial pressure (ABST vs. traditional DSI telemetry (mm Hg): 150 ± 5 vs.147 ± 4, p = NS) variables were quantitatively and qualitatively similar between rats housed in the ABST system and traditional home cage approaches.
Conclusion
The ABST system offers unique advantages over traditional between-group study paradigms that include improved data quality and significantly reduced animal use. The superior within-group model facilitates assessment of multiple physiological and biochemical responses to test compounds in the same animal. The ABST also provides opportunities to evaluate temporal relations between parameters and to investigate anomalous outlier events because drug concentrations, physiological and biochemical measures for each animal are available for comparisons.
Keywords
Mean Arterial PressureBaclofenRadio TelemetryAntenna ConfigurationMean Arterial Pressure Response
Background
Integrative (i.e., in vivo) pharmacology [1, 2] remains an essential part of drug discovery. Regulatory authorities require pharmaceutical industries to demonstrate in vivo efficacy and safety properties of new therapeutic entities using measured drug concentrations and effects in various tissues [3]. Ideal responses associated with drug administration are best obtained by measuring relevant biochemical endpoints and physiological variables such as blood pressure, heart rate and core body temperature as well as biopotentials like electroencephalogram (EEG) or, electrocardiogram (ECG) while comparing them to drug exposure in the same animal. Methods in use today are commonly restricted to multiple and separate studies conducted by different scientific disciplines to acquire this information due to lack of instrumentation that can accurately perform all measurements simultaneously.
PhysioTel Multiplus series radio telemetry transmitters (Data Sciences International, St. Paul, MN) for use in laboratory animals allow assessment of multiple physiological variables simultaneously in one animal. While the advent of this technology improved acquisition of physiological data in conscious freely moving and undisturbed animals, data collection is often times confounded by noisy signals resulting from "the animal handling artifact" during both drug delivery and procurement of blood samples. The common "work around" for the handling artifact involves using a separate (i.e., satellite) group of animals to obtain blood samples while recording physiological changes in the first group of animals. Satellite animals are effective in establishing average limits for drug exposure, especially if pharmacokinetic variables such as bioavailability, maximum concentration, volume of distribution and clearance remain constant. However, pharmacokinetic properties of drugs differ between animals due to individual variability. In addition, it is often difficult to compare concentration-response relationships in different groups of animals due to variations in experimental methodology and covariates. By comparison, collecting all experimental variables from the same animal helps rectify these disparities. Hence the objective of this work was to develop an experimental model for acquisition of multiple physiologic variables in vivo using radio telemetry concomitant with automated blood sampling.
Results
Mean arterial pressure (MAP) effects of baclofen
The MAP responses to orally administered doses of baclofen were qualitatively and quantitatively similar in both systems. Baclofen produced comparable increases in MAP (ABST vs. traditional DSI telemetry rats (mm Hg): 150 ± 5 vs.147 ± 4, p = NS, see Figure 5). In addition, the changes observed in MAP occurred in response to similar peak concentrations of baclofen (ABST vs. satellite rats (μM): 69.6 ± 23.8 vs. 76.6 ± 19.5, p = NS, see Figure 5).
Discussion
We describe a unique automated blood sampling and telemetry (ABST) system. Combination of the equipment was achieved by designing and optimizing a circular antenna to facilitate detection of radio telemetric recordings that would not interfere with synchronized Culex® computer-automated blood sampling. The antenna design allows optimal detection of high fidelity radio telemetry signals within the cage while reducing noise from adjacent radio telemetry equipment. There are several advantages to using the ABST system as an experimental platform.
In order to exemplify one advantage of the ABST system over traditional approaches, mean arterial pressure (MAP) responses to baclofen, an analogue of gamma amino butyric acid that acts as a GABAB receptor agonist were measured. At physiological concentrations greater than 500 nM baclofen causes a marked and prolonged increase in blood pressure [11, 12]. In this study, similar baclofen concentrations and MAP responses were obtained using both ABST and traditional approaches. With the ABST system baclofen concentration profile and MAP responses were matched in the same animal as opposed to traditional approaches that required the use of additional satellite rats for determination of baclofen concentration. Using the ABST system multiple parameters can be measured in the same study and therefore improve data comparisons by removing potential confounding covariates that can exist between studies.
Using whole animal models to measure diverse organ functions
in vivo
can reduce the need for multiple and separate studies [
13
]. As shown in Figure
6
, many variables can be measured using the ABST system. Advantages of measuring multiple organ variables in ABST include: (a) the significant reduction of total combined experiment preparation time, manpower and other resources i.e. consumable supplies; (b) reduction of the quantity of test compound required; (c) identification of outlier animals that are unresponsive or hyper-responsive to test compounds because exposures are determined in the same animal; (d) a unique opportunity to examine individual subject variability against a parameter of interest, and; (e) reducing the total number of animals used for study.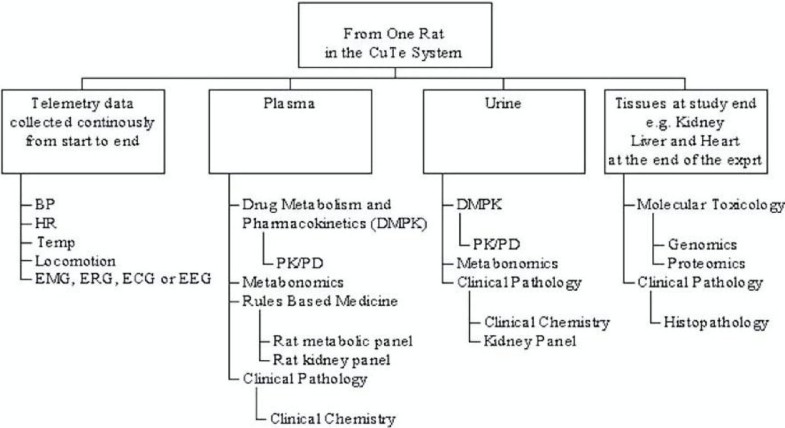 Perhaps the most useful advantage is the potential for the ABST system to enable multivariate and pair-wise comparisons of data. For example, we have previously shown concomitant recording of physiological effects including hemodynamic variables, heart rate, body temperature, locomotion and EEG with biochemical endpoints such as renal biomarkers measured from urine and blood in the same animal [13]. Paired comparisons can also facilitate direct analyses of temporal relationships existing between variables. An additional and direct benefit of this approach is the ability to sequentially test drug exposures ranging from therapeutic to toxicologically-relevant levels in a single in vivo study in order to provide more definitive margin-of-safety estimates for a given therapeutic target.
Conclusions
A novel circular antenna compatible with DSI radio telemetry equipment was engineered to enable in vivo physiologic recordings simultaneous with automated blood sampling using the BASi Culex® device. The integration of previously existing stand-alone systems allows for improved data quality while significantly reducing animal use. The system also provides an opportunity to evaluate temporal relationships between multiple parameters and to investigate anomalous outlier events because drug concentrations, physiological and biochemical measures for each animal are available for comparisons.
List of abbreviations
%:

Per cent
ABS:

Automated blood sampler
ABST:

Automated Blood Sampling and Telemetry
ANOVA:

Analysis of Variance
BASi:

Bioanalytical Systems incorporated
Cmax:

Maximum concentration
DMPK:

Department of metabolism and pharmacokinetics
DSI:

Data Sciences International
ECG:

Electrocardiogram
EDTA:

Ethylenediaminetetraacetic acid
EEG:

Electroencephalogram
ESI:

Electrospray ionization
GABAB :

Gamma amino butyric acid
LC-MS/MS:

Liquid chromatography/mass spectrometry
LCR meter:

Inductance (L), Capacitance (C), and Resistance (R)) meter
MAP:

Mean Arterial Pressure
MD:

Maryland
Mg/Kg:

Milligrams per Kilogram
mm Hg:

Millimeters of mercury
MN:

Minnesota
nM:

Nanomolar
NS:

Not significant
°C:

Degrees centigrade
p:

Probability value
p.o.:

Per os
RPM:

Rotations per minute
SD:

Standard deviation
SEM:

Standard error of the mean
μM:

Micromolar
Declarations
Acknowledgements
The authors wish to thank Amy Hehman and Lynne Neveras for providing surgical support and Mary Jo Bock for the bio-analysis of plasma samples. The authors also wish to thank, most notably, Perry Mills and others of Data Sciences International for providing valuable assistance and technical details on the DSI Physio Tel receiver.
Authors' Affiliations
(1)
Safety Assessment US, AstraZeneca R&D Wilmington, USA
Copyright
© Litwin et al; licensee BioMed Central Ltd. 2011
This article is published under license to BioMed Central Ltd. This is an Open Access article distributed under the terms of the Creative Commons Attribution License (http://creativecommons.org/licenses/by/2.0), which permits unrestricted use, distribution, and reproduction in any medium, provided the original work is properly cited.