Methodological factors affecting joint moments estimation in clinical gait analysis: a systematic review
BioMedical Engineering OnLine
2017
16:106
Received: 2 March 2017
Accepted: 8 August 2017
Published: 18 August 2017
Abstract
Quantitative gait analysis can provide a description of joint kinematics and dynamics, and it is recognized as a clinically useful tool for functional assessment, diagnosis and intervention planning. Clinically interpretable parameters are estimated from quantitative measures (i.e. ground reaction forces, skin marker trajectories, etc.) through biomechanical modelling. In particular, the estimation of joint moments during motion is grounded on several modelling assumptions: (1) body segmental and joint kinematics is derived from the trajectories of markers and by modelling the human body as a kinematic chain; (2) joint resultant (net) loads are, usually, derived from force plate measurements through a model of segmental dynamics. Therefore, both measurement errors and modelling assumptions can affect the results, to an extent that also depends on the characteristics of the motor task analysed (i.e. gait speed). Errors affecting the trajectories of joint centres, the orientation of joint functional axes, the joint angular velocities, the accuracy of inertial parameters and force measurements (concurring to the definition of the dynamic model), can weigh differently in the estimation of clinically interpretable joint moments. Numerous studies addressed all these methodological aspects separately, but a critical analysis of how these aspects may affect the clinical interpretation of joint dynamics is still missing. This article aims at filling this gap through a systematic review of the literature, conducted on Web of Science, Scopus and PubMed. The final objective is hence to provide clear take-home messages to guide laboratories in the estimation of joint moments for the clinical practice.
Keywords
Inverse dynamics approachKinematicsDynamicsJoint momentsStereophotogrammetryGait analysis methodologyReproducibilityReliabilitySensitivityError propagation
Background
Quantitative motion analysis provides an objective description of joint kinematics and dynamics. It is recognised as a useful tool in clinics for functional assessment, diagnosis, planning of therapeutic and rehabilitative interventions, and outcome evaluation. In these applications, ensuring an accurate and reliable estimation of 3D joint moments is crucial. The most relevant sources of error affecting the estimation can be identified by reviewing how 3D joint dynamics is calculated. Two alternative methods are commonly applied (Fig.
1
).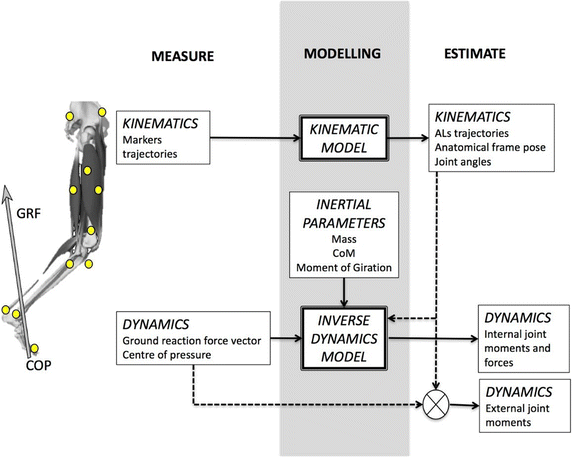 The first is the so-called inverse dynamics approach (IDA): the human body is represented as a multi-body chain of rigid segments, and Newton–Euler mechanics is applied iteratively to each segment to calculate net internal joint moments and forces [1–4]. Marker trajectories from stereophotogrammetry and ground reaction forces (GRF) from dynamometric platforms ("force platform" in short), are the input to the kinematic and dynamic models of the human body.
In general, the resultant joint moments acting at a joint are generated by a combination of muscle, ligament, and joint contact forces [5]. However, in almost all clinical gait analysis protocols, human joints are represented by either ideal spherical or hinge joint whose centre/axis approximates the joint centre/axis of rotation. Within this modelling assumption and in the hypothesis that friction is negligible, the resultant of the bone-to-bone contact forces passes very close to the geometrical centre/axis of the joint and therefore its contribution to the net moment is commonly neglected. Therefore, as first approximation, it can be assumed that the resultant moment of the intersegmental forces represents an estimate of the overall muscular moment plus the contribution of the ligaments. Following this description, the specificity of bi-articular muscles is disregarded [6].
IDA also requires the estimation of the body segment inertial parameters (BSIP) (i.e. mass, position of the centre of mass in the segment coordinate system, moments of inertia), usually obtained for a specific subject from generalised anthropometric tables.
A second simplified method requires only segmental/joint kinematics and GRF to estimate external moments. This approach neglects the contribution of the segment inertial and gravitational forces, assuming all the mass concentrated in the body centre of mass, and provides an estimate of joint moments only during the stance phase of gait (when GRF is measured) with minimal computational effort. Despite of its extreme simplicity, this approach has been applied in clinical gait analysis studies, and provided reasonable estimations of joint loadings during the stance phase, when the inertial contribution is minor [7], particularly for distal joints (ankle and knee) [1].
It follows that the sources of error can be summarized in four groups: (1) kinematic measures and processing, (2) measure of the GRF and processing, (3) determination of joint model parameters, and (4) estimation of the inertial parameters.
Kinematic errors include, for instance, the errors intrinsic in the measurement system, the soft tissue artefact and the inaccurate localization of anatomical landmarks, with the latter two recognized the most critical [8, 9].
GRF is measured by force platforms as the resultant mechanical interaction between the foot and the ground, described in the form of a 3D force vector applied in the centre of pressure (COP), represented in the platform coordinate system. Force platforms are prone to measurement errors per-se, but their calibration in the stereophotogrammetric coordinate system should also be regarded as a potential source of inaccuracy.
Errors comprised in joint parameters include the position of the joint centres, and the position and direction of the joint axes of rotations. The latter errors have an effect on both joint kinematics and dynamics [10, 11].
Finally, BSIPs can be estimated using several methods, namely predictive equations based on measurements of cadavers or living subjects [12–17], geometric approaches [18, 19], data of living subjects obtained through medical imaging technologies [20–23], or estimates provided by the solution of a non-linear optimization problem [24–26].
Numerous studies analysed, separately or in conjunction, the influence of these sources of error on the estimation of joint moments, but a systematic review of their impact on the clinical interpretability of results is missing. The present systematic review aims at filling this gap by investigating which of the aforementioned factors influence the estimation of joint moments to a greater extent. Whenever possible, implications on sensitivity, reliability and reproducibility of data for clinical use were also addressed.
Methods
Articles selection
Inclusion and exclusion criteria
We included studies published in English as full papers, using stereophotogrammetry and force platforms as measurement systems, analysing gait and activities of daily living (Table
1
). Subsequently, we excluded articles not analysing the impact on joint dynamics of kinematics measurements and processing, GRF measurements and processing, joint kinematic and dynamic modelling, and body segment inertial parameters.
Table 1
Inclusion criteria considered for the current systematic review
Criteria

Definition

Measurement instruments

Stereophotogrammetry and force platforms

Body area

Lower limbs

Motor tasks

Gait and selected activities of daily living (stair, chair, squat)

Areas of interest

Kinematics measurements and processing

Force measurements and processing

Joint model parameters

Body segment inertial parameters

Publication type

Journal papers in English

Cohort under investigation

Healthy and able-bodied human subjects
Search strategy
Articles were searched in Web of Science, PubMed, and Scopus (until February 9, 2017). Keyword search was performed to match words in the title, abstract, or keywords fields. A first general search was performed selecting keywords to define subjects, general topics of interest and motor tasks. Four subsequent refinement searches were performed for kinematics (V.C. and G.V.) and force (R.S.) measurements and processing, joint parameters (A.Ce.), and body segment inertial parameters (S.F.). All Boolean researches are reported in Appendix.
Review process
Each reviewer first removed conference proceedings, theses, and duplicate journal references. Secondly, title and abstracts of the remaining papers were evaluated for inclusion based on the relevance to the four areas of search. A full text evaluation was performed if the title and abstract failed to provide adequate information. Finally, a manual screening of the reference lists of all included studies was undertaken to include further eligible studies not retrieved during the systematic database search.
Reliability, reproducibility and sensitivity analyses
In the following sections, the terms ''agreement'', ''reliability'', ''reproducibility'', and ''repeatability'' will be routinely used. As previously highlighted by Bartlett and Frost [
27
], these terms have been frequently abused in the literature. We therefore decided to strictly adhere to the definitions reported in [
27
], which are summarized here for convenience:
Repeatability refers to the variation in repeated measurements made on the same subject under identical conditions, e.g., same method and same rater;

Reproducibility refers to variation in measurements made on a subject under changing conditions, e.g., using different methods. When the changing condition refers to two different methods, this specific type of reproducibility study is commonly referred to as ''method comparison study'';

Reliability relates the ''magnitude of the measurement error in observed measurements to the inherent variability in the underlying level of the quantity between subjects'' [27]. Therefore, reliability depends upon the heterogeneity of the population in which the measurements are made. The typical parameters used in reliability analysis are the intra-class correlation coefficients (ICC) or the coefficient of multiple correlation (CMC) widely adopted in human movement analysis [28];

Agreement ''quantifies how close two measurements made on the same subject are, and is measured on the same scale as the measurements themselves.'' Agreement is an intrinsic characteristic of the method(s) and does not depend on the population in which measurements are made, unless bias or measurement precision varies with the true value being measured. Therefore, the measured agreement does not typically need to be recomputed when considering pathological groups, if the distribution of measurement errors is uniform across the range of true values.
To compare the results provided by the different studies, joint moment values were also expressed in % BW * H thus obtaining dimensionless quantities whenever possible. When no information about the subject/s height was reported in the original articles, a reference height of 1.7 m was considered. The results obtained after conversion were reported within brackets and were rounded to the nearest decimal place.
Results
Review selection and identification
The initial search yielded 8251 (Web of Science), 4535 (Scopus) and 7630 (PubMed) results (Fig.
2
). Over the three search engines, subsequent refinement yielded to a total of 1039 results for kinematics and processing, 291 for GRF measurements and processing, 2786 for joint models, and 1000 for BSIP, respectively. Selection performed separately for each area and based on title and abstract or full text, lead to 38, 5, 22, and 20 journal papers. Despite considering studies conducted on healthy subjects only, the search reported 6 studies including patients [
5
,
29
–
33
] whose conclusions were valid independently from the population of interest and were retained for further analysis. After excluding duplicates, 67 papers were finally listed.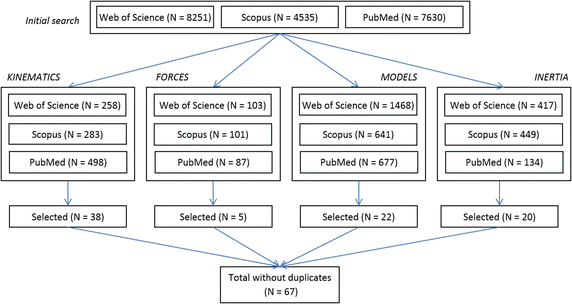 Of the 67 papers, 11 were included in more than one area and were analysed multiple times according to the focus of the analysis, but were included only once in Additional file 1: Appendix S1 (on-line material), where the studies identified for inclusion in the systematic review are listed.
Kinematics
The reviewed articles suggest that interactions exist between joint kinematics and the resultant joint moments, the measured/estimated kinematics being indeed one of the principal causes of uncertainty in dynamics estimations [34]. Kinematic errors typically include: apparent marker movements (due to errors in marker reconstruction performed by the optical systems), and real marker movements (due to the interposition of soft tissues between markers and the underlying bone, the so-named soft tissue artifact—STA) [9]. Another source of uncertainty is represented by the identification of anatomical landmarks which, being a subjective procedure, is prone to repeatability issues [8]. Overall, this source of error introduces uncertainties that can assume a considerable importance (6–232% of the estimated torque magnitude: 0.005–0.03% BW * H), these magnitudes being smaller for more distal joints [35].
In this section, we analyze the influence on IDA results of these three factors, as well as the role of the bone pose estimation and the definition of the coordinate systems, and of the gait protocol adopted.
Ground reaction force
The number of published papers analysing the propagation of uncertainties in the measurement of GRF is small. Only four papers were found investigating this specific problem [34, 35, 77, 78], of which only two specifically addressed the effect of errors superimposed to GRF measurements [77, 78]. None of them took into account the potential additional measurement errors introduced by the calibration of the force platform in the stereophotogrammetric coordinate system.
When dealing with the estimation of joint dynamics, the majority of the literature considers GRF measurements virtually error-free. Little attention is paid to errors that intrinsically characterize any measurement procedure, and even less attention to the potential effect on the biomechanical variables analysed and the resulting clinical interpretation.
Just like any measurement device, force platforms are characterised by a certain measurement accuracy, declared by the producer in the device data-sheet. According to the data-sheet of common commercial force plates, the expected measurement errors can be bounded between 0.2 and 2% of their Full-Scale Output (FSO). Typical values of FSO in gait analysis are 500 N for force components in the platform plane and 2500 N for the orthogonal component. Although not constant throughout the acquisition, errors in the order of 1–10 N and 5–50 N can reasonably occur in the horizontal and vertical components, respectively, accompanied with errors up to 0.01 m in COP coordinates [34, 35, 77, 78].
When GRF is measured in a gait analysis session, other sources of errors can superimpose to those characteristics of a properly functioning device. Platform calibration errors or inaccuracies, inappropriate setting of the platform (e.g. low threshold, sampling frequency), modifications in the behaviour of the electronic components (e.g. cable interference, contacts, electrical inductance resulting from chances in temperature, humidity or simply aging of the device components) can significantly affect the performance of any force platform integrated in a gait analysis laboratory [79–85]: during in situ testing errors superimposed to COP coordinates were found double than the reference ones [82–84]; accuracy decreases as the point of application of the force moves to the platform peripheries [82], although distributed loads seem to be less affected by this phenomenon than concentrated ones [81]; the minimum vertical force threshold might be up to 113 N in order to estimate the COP within a distance with the declared SD of 0.003 m [84]. Moreover, the performance of the force platform can differ in dynamic compared to static conditions [79]. Due to the relevance of these measurement uncertainties, a number of methods for the in situ assessment of the performance of force platform have been proposed in the literature [79, 84, 85], as well as possible compensation methods [82, 86].
Therefore, the lack of attention paid to the likelihood of errors in force measurement is somewhat surprising [80], particularly in the field of gait analysis, where force measurement data are often proposed as a reference for the gait laboratory quality check [87, 88].
It could be argued that the impact of these measurement errors can be negligible when compared to other sources of error and in terms of their propagation to joint moments. This does not seem to be the case, despite the limited amount of available literature [89]. McCaw and DeVita [77] analysed the effect of errors up to 0.01 m superimposed to COP coordinates in a sagittal model of gait, observing average changes 14% in maximum angular torques (approximately 0.8% BW * H), and up to 13% in the estimation of the flexion–extension transitions time. In their comprehensive analysis of the uncertainties in inverse dynamics solutions, Riemer et al. [35], pointed out that the values of the maximum estimated uncertainties relative to peak joint torque for the ankle, knee and hip are 6–12% (approximately), 50–105% and 114–232%, respectively, depending on the set of perturbations; these uncertainties result from errors superimposed on kinematics, body inertial parameters and force plate measurements, but for the lower body model, the uncertainties in the distance from the COP to the ankle centre of rotation is one of the major contributors. Pàmies-Vilà et al. [34] implemented a similar comprehensive analysis on a 2D model of gait, taking into account uncertainties in the measured force components compatible with those declared in the device data-sheet; the error in the ground reaction torque highly affects the results, up to a normalised root mean square error of 52% in the hip torque; this analysis shows that GRF errors produce higher root mean square errors and normalised root mean square errors than those introduced by inaccuracies in BSIP, but similar to those produced by inadequate kinematic processing. Finally, Camargo et al. [78] analysed the influence of uncertainties in the COP localization on gait dynamics at different velocities, showing that resulting uncertainties on joint moments increase with increasing velocities.
Joint model parameters
Commonly, human joints are modelled either as spherical or hinge joints. Whereas for the hip joint, the functional consistency between the actual joint and the spherical joint model is almost perfect [90] and therefore a unique centre of rotation exists, this is not true for other human joints. For instance, it was demonstrated that in the knee joint during normal gait the tibiofemoral contact loads contribute substantially to both net extension and adduction moments [5].
Once a convenient joint model is chosen, this has to be tailored for the specific subject under analysis (joint model calibration). Joint calibration procedure is crucial since errors in the parameter determination (joint centre position and axis position and direction) heavily affect the estimated muscular moment arms and consequently the joint moments and their interpretation. Joint parameters are commonly defined by using regressive equations from palpated external anatomical landmarks [64, 91], functional approaches [92–94], multi-body kinematics optimization techniques [95] or bio-imaging techniques [96].
Inertial parameters
The motor tasks evaluated were: level walking (17 studies), walking on treadmill (2 study), and stair ascending/descending (2 studies). All studies except one [108] assessed the entire stride of the cycle (stance and swing phases).
Two types of investigation were performed (Table
3
): in the 13 experimental studies, different set of BSIPs were used while in the 11 simulation studies the values of the BSIPs were varied applying deterministic or probabilistic approaches (for details see Table
3
). Joint moment estimated with different values of BSIPs were compared and in same case the percentage variation was reported.
Table 3
Details of studies analyzed for the body segment inertial parameters (BSIPs) effect on the dynamics estimates
Study

Experimental

Simulation

Differences

Affect the dynamics (joint moments and powers)

[108]

1 RE [129] and 1 MI (MR)

NA

BSIPs were significantly different (exception: shank centre of mass, transverse—axis of radius of gyration about the knee)

Statistically significant differences in sagittal-plane of hip and knee moments and powers. Maximum of 0.3 and 0.7% BW * H/s for moment and power at the hip

[130]

2 RE (linear multivariate and non-linear) [131]

Variations up to 8%.

NA

Influence generally small. Propagation error at the hip joint due to errors at the knee and ankle

[26]

NA

BSIPs were significantly different (for the mass of the thigh Cheng closer to OM, for centre of mass Cheng and Dempster closer to OM, the moment of inertia no general results among body segment)

Differences in the sagittal plane of hip, knee and ankle moments. Differences smaller in the stance phase with respect to the swing phase

[132]

NA

NA

Appreciable differences on the sagittal plane of the hip moment. Some differences on frontal and coronal plane of the hip and knee moments (maximum 21.8% BW * H during stair descending). Larger during the swing phase

[114]

NA

NA

Small differences between ex vivo and in vivo data, between data from different populations and among different modality of inertial parameters acquisition. The root mean square value was negligible at the ankle and increased as moving proximally among the joints (maximum 21.8% BW * H in the transverse plane at the hip moment)

[20]

1MI (DXA-derived), 1 RE cadaver based [14]

NA

BSIPs were significantly different (maximum differences were found for the foot: mass 36% lower, centre of mass 15% more proximally, moment of inertia 47% lower)

Small effect during the stance phase, and more of an effect during the swing phase on joint moment on sagittal plane. Root mean square error increased moving proximally (at the hip 0.065 ± 0.043 Nm/kg body weight, corresponding approximatively to 0.4 ± 0.3% BW * H)

[21]

1MI (DXA-derived), 1 RE cadaver based [14]

NA

BSIPs were significantly different (maximum differences were found for moments of inertia 13–70%)

Negligible effect on joint moments of three children (sagittal plane), higher at the hip during swing phase (ranging from 0.03 Nm/kg body weight in the 10 year-old to 0.06 Nm/kg body weight in the 7 year-old, corresponding approximatively to 0.2% BW * H in the 10 year-old and 0.5% BW * H in the 7 year-old)

[31]

NA

BSIPs were significantly different (mass, centre of mass, radius and moment of inertis) for each segment for both the cerebral palsy and control groups

Negligible effect on joint moment for both groups (sagittal plane).

Mean absolute variability between BSIP sets was low at the all three levels of the hip, knee and ankle (0.07, 0.04 and 0.01 Nm/kg respectively for the Control group and 0.04, 0.02 and 0.01 Nm/kg respectively for the CP group, corresponding approximatively to 0.5, 0.3 and 0.1% BW * H respectively for the control group and 0.3, 0.2 and 0.1% BW * H respectively for the CP group)

No clinically meaningful difference between GDI-kinetic scores for the different BSIP protocols (maximum difference between BSIP sets was 2.4 and 2.8 points for Control and CP groups, respectively)

[47]

NA

Probabilistic analysis (advanced mean value, coefficients of variation: 0.12 for mass, 0.20 for moment of inertia, and 0.08 for centre-of-mass location ratio)

NA

Negligible effect of BSIPs on lower limb joint moments (stance phase, 3D), lower than the effect of anatomical landmarks definition. Variability in the magnitude of moments increased when moving from the ankle to the knee and hip

[111]

NA

BSIPs were significantly different: mass of the foot (up to 48.1%), centre of mass of thigh (8.3%), shank (9.7%) and foot, moment of inertia of shank and foot

Negligible effect of BSIPs on lower limb joint moments (3D), higher in swing phase and for hip joint (absolute difference less than 0.09Nm/kg (0.5% BW * H)

[112]

NA

BSIPs were significantly different (mass and longitudinal moment of inertia of the thigh)

Negligible effect of BSIPs on lower limb joint moments (root mean square difference 0.7 and 4.3% for the knee and hip, respectively. Difference lower than that caused by a 0.5 Hz adjustment in the cut-off frequency of the filter used to process the data

[117]

NA

Monte Carlo simulation (3000 iterations)

NA

BSIPs had a relatively small impact on lower limb joint moments compared to the impact of marker error (marker placement and soft tissue artifact). The only exception was hip flex/ext during the swing period

[110]

24 RE studies classified as: cadaveric, living (Caucasian), male living (Caucasian), female living (Caucasian), living (non-Caucasian)

Monte Carlo simulation 2000 iterations (Latin Hypercube, Sampling method)

BSIPs were significantly different between living subjects and cadaver studies (thigh, calf and foot masses up to 15.44%, centre of mass of the foot, and moment of inertia of thigh 36.65%), between Caucasian females and males (calf and foot masses, centre of mass of thigh and foot up to 15.05%, and moment of inertia of thigh 30.86%), and between Caucasian and non-Caucasian subjects (mass and moment of inertia of thigh 21.97%)

Simulation results showed effect limited to the swing phase of the knee and hip. Experimental results showed little effect on joint moments, except for the swing phase. The magnitude of difference in the swing phase due to variability in BSIPs is not much greater than the inter-trial variability. Distal BSIPs have little effect on proximal joint moment

[34]

NA

Statistical analysis (sample of errors from a normal distribution, three different maximum errors: 5, 10 and 15%)

NA

The refinement of the BSIPs has little effect in gait analysis results (compared to kinematic data and ground reaction force). Higher effect during the swing phase

[109]

BSIPs varied in steps over nine levels by a defined percentage (−40 to 40%) of the baseline value [14]

Significant differences were found for the mass, centre of mass and moment of inertia for both the leg and thigh segments (more than 40%)

BSIPS variations significantly affect most of the dynamic estimates (particularly the swing phase). The magnitude of these effects was generally less than 1% of body weight

[113]

NA

BSIPs were significantly different (from at least 9.73% up to 60%)

BSIPs variation has no effect on knee and ankle joint moments. For the hip joint moments, the effect is significant at slow, preferred and fast cadence (deviations reaching 17.91% and 20.11%, during the swing phase)

[100]

NA

Two sets of Monte Carlo analyses with and without noise (variations of BSIP values, together or separately, within 25, 50, 75, and 100% of their allowable bounds obtained from OM)

NA

BSIPs variation had no significant effect on calculated lower-extremity inverse dynamics joint torques (worst average 0.25% BW * H)

[39]

NA

BSIPs varied ±30% of the baseline values [12]

NA

Top-down approach: segment mass has effect on the calculated GRF. No report on lower limb joint moment

[35]

NA

Two sets of accuracy (baseline value [12]: variation of 5% and [20, 130, 136]

NA

Regarding the BSIPs, the only main contributor of the uncertainty in the joint torques was the foot mass, the remaining secondary contributors were the other BSIPs

[116]

NA

Perturbation of BSIP from 60 to 140% in steps of 10%

NA

Limited effect of an individual parameter perturbation on the calculated moments (largest effect is found for shank centre of mass, with a ratio of absolute difference in torque and relative parameter perturbation maximally 7.81 Nm for hip flexion moment, corresponding approximatively to 0.6% BW * H). The additional influence of perturbing two parameters simultaneously is small

[115]

Perturbation of mass and moment of inertia considering the uncertainty reported by Dempster [14]. Perturbation was performed considering the three segments (foot, shank, thigh) simultaneously and considering each segment independently

NA

Segment mass uncertainty has limited effect on the net joint moment. However, in case of adopted recursive method there is error propagation in proximal direction
Statistically significant differences were observed in the estimated BSIPs not only using different approaches [23] but also using different data within the same approach [109]. In a comprehensive analysis of 24 regression equation studies, BSIPs were found to be significantly different between living subjects and cadaver studies, between Caucasian females and males, and between Caucasian and non-Caucasian subjects, with highest differences for the moment of inertia of the thigh [110]. Comparing BSIPs values obtained with regression equations and geometric models, the estimated mass and the moment of inertia of the leg and the thigh can vary up to more than 40% [109]. Comparing BSIPs values calculated with dual energy X-ray absorptiometry and regression equation, the maximum difference was found for the foot segment and specifically for the moment of inertia [20, 111].
Analysing how these differences affect the lower limb joint moment estimations during activities of daily life, all studies reported smaller differences in stance compared to the swing phase, both during walking and stair ascending/descending (Table 3). Furthermore, all studies reported smaller effect moving distally from the hip to the ankle joint (Table 3). During walking, the maximum root mean square difference reported at the hip joint moment in the sagittal plane was for self-selected speed and fast-cadence 4.3% [112] and 20.11% [113], respectively. During stair ascending/descending, a maximum of 21.8% in the transverse plane at the hip moment was reported [114].
When the effect of the variation of a specific BSIP was investigated, no common result was found: in two cases the foot mass was the only main contributor of the uncertainty in the joint torques [35, 115], in another study the shank centre of mass has the largest effect [116] and in a third study distal BSIPs showed little effect on proximal joint moment [110].
Comparing the results with respect to other sources of error, the effect of BSIPs to the joint moment estimation was lower than that of anatomical landmarks definition [47], not much greater than that of the inter-trial variability [110], smaller than that of marker placement and soft tissue artifact [117], lower than that caused by a 0.5 Hz adjustment in the cut-off frequency of the filter used to process the data [112], and produced no clinically meaningful difference in the GDI-kinetic scores [31].
Reliability, reproducibility and sensitivity analyses
A detailed report about reliability, reproducibility and sensitivity of joint moments is reported as additional material. While the single studies have been analysed in the previous sections, it is impossible at present to formulate a global or overall summary, because of a noticeable lack of standardisation in data analysis among Authors. This is unfortunate and calls for initiatives promoting recommended statistical indexes in the field.
Discussion and conclusions
Uncertainty in the measured/estimated kinematics, anatomical calibration, and selection of appropriate joint model parameters, were confirmed as the main causes of errors in IDA results, with a potential serious impact in the clinical context. In addition, according to the limited available literature, the uncertainties in GRF measurement can have a comparable influence on the estimation of joint dynamics during gait. Looking at the role of BSIPs, results showed that, even if the effect of different BSIPs on joint moments was significantly different, it was not clinically meaningful for motor tasks of daily living such as walking, stair ascending/descending in healthy subjects.
The influence of the different mathematical approaches that can be adopted for the implementation of IDA was not analysed in the present review and this is a possible limitation. However, this aspect was deliberately excluded considering that differences in the computational implementations are meant to represent the same underlying mechanical system and are likely to have minor impact on clinical implementation of IDA results. Differences in estimated joint moments during gait [118] can produce maximal errors up to 25% of the range in flexion extension moment at the hip (negligible on other components), and this error can be regarded as minor for clinical use, when compared to other sources error that can result one order of magnitude higher, and when analysed considering how gait analysis data are interpreted in the clinics, which is comparing curves with coherent (in terms of calculation) reference bands, including inter- and intra-subject dispersion of data. In addition, the majority of IDA implementation for the calculation of joint moments for clinical use is made using the same commercial software, thus nullifying implementation differences.
The systematic analysis of the literature highlighted 67 papers discussing the sources of error affecting joint moments. The quality of the revised papers was evaluated, but no table was reported in the present work because quality is similar among studies: in all papers, the hypotheses were properly outlined and the overall design of the study was appropriate. However, a limited number of subjects was generally included, with effects on the grounding of the final conclusions. Most of these studies were indeed preliminary and/or explorative. The general criterion, followed by the authors of the present review, was only to exclude the works whose quality was considered insufficient and which did not add novel evidence.
The analysis of repeatability, reproducibility and sensitivity of moments across studies was also initiated and a comprehensive list of papers addressing each topic can be found in Additional file 1: Appendix S1 (on-line materials). However, the variety of parameters adopted in the literature is outstanding and preclude the formulation of a consistent overview, other than the analyses reported in the previous sections for kinematics, GRF, inertial parameters and joint model parameters.
Finally, further research is clearly needed to fully evaluate the uncertainties in GRF measurement, eventually analysing the problem in 3D, considering realistic in situ GRF errors, and evaluating the effect on external joint moments.
The literature highlights the importance of taking due care of:
1.

Compensating for noise affecting marker trajectories especially when dynamics is estimated using kinematics only;

2.

Performing the anatomical calibration, especially for the HJC, since the related uncertainty affects joint moments to a larger extent than other concurring factors. Uncertainties on HJC location between 10 and 30 mm have a great impact on both hip flexion–extension and hip abduction–adduction moments (maximum moment variation between −1.43 and 1.62% BW * H).

3.

Identifying in a consistent manner joint parameter when comparing joint moments;

4.

Interpreting IDA results in the light of the protocol used to estimate them and of the coordinate system used for their expression;

5.

Properly assessing in situ GRF measurement errors, and estimating their potential effect on the final clinical decision process;

6.

not extending the results found for walking and stair ascending/descending motor tasks in case of activities involving higher accelerations and when no ground reaction force is available (e.g. sprinting, kicking…) due to the larger effect on swing phase and proximal joints.
Therefore, the reader shall consider the potential benefits of using:
1.

Functional joint centres, when hip calibration movements are not too difficult to perform for the subject and sufficiently large hip joint ranges of motion can be acquired (>30°) [119]. Care should be taken in limiting soft tissue artefacts during the functional tasks required for their estimate. The use of predictive equations is suggested otherwise [120];

2.

Modified protocols that include additional markers or, for the foot, additional body segments that were proved to improve repeatability and\or the accuracy of joint moments and powers;

3.

High-resolution bioimaging techniques can be successfully employed to produce personalized musculoskeletal models thus improving joint moment estimation and loading, provided that an adequate model is created;
It may be hoped that the large body of knowledge revised in this review can constitute further momentum to the standardization of the procedures to obtain and report joint moments, as already done by the International Society of Biomechanics in 2002 for the reporting of the joint kinematics [124, 125].
Declarations
Authors' contributions
VC, AC, SF and RS contributed in study design, articles review and writing the manuscript. AGC contributed in study design and writing the manuscript. All authors read and approved the final manuscript.
Acknowledgements
Submitted to Biomedical Engineering online invited Review in agreement with SIAMOC August 2nd, 2017.
Authors are listed in alphabetical order.
Competing interests
The authors declare that they have no competing interests.
Availability of data and materials
All data generated or analysed during this study are included in this published article and its additional information files.
Declaration
All the authors agree to both proceed with the submission and have Dr. Andrea Giovanni Cutti act as an agent on their behalf in matters pertaining to the publication of the manuscript.
Consent for publication
Not applicable.
Ethics approval and consent to participate
No ethical approval was needed for this study.
Funding
The authors gratefully acknowledge the contribution of SIAMOC, Italian Society of Motion Analysis in Clinics.
Publisher's Note
Springer Nature remains neutral with regard to jurisdictional claims in published maps and institutional affiliations.
Open AccessThis article is distributed under the terms of the Creative Commons Attribution 4.0 International License (http://creativecommons.org/licenses/by/4.0/), which permits unrestricted use, distribution, and reproduction in any medium, provided you give appropriate credit to the original author(s) and the source, provide a link to the Creative Commons license, and indicate if changes were made. The Creative Commons Public Domain Dedication waiver (http://creativecommons.org/publicdomain/zero/1.0/) applies to the data made available in this article, unless otherwise stated.
Authors' Affiliations
(1)
Department of Movement, Human and Health Sciences, University of Rome "Foro Italico", Rome, Italy
(2)
Interuniversity Centre of Bioengineering of the Human Neuromusculoskeletal System, University of Rome "Foro Italico", Rome, Italy
(3)
Information Engineering Unit, POLCOMING Department, University of Sassari, Sassari, Italy
(4)
Department of Electronics and Telecommunications, Politecnico di Torino, Turin, Italy
(5)
Centro Protesi INAIL, Production Directorate - Applied Research, Vigorso di Budrio (BO), Italy
(6)
Department of Electrical, Electronic and Information Engineering "Guglielmo Marconi", Alma Mater Studiorum University of Bologna, Bologna, Italy