Current methodological and technical limitations of time and volumetric capnography in newborns
BioMedical Engineering OnLine
2016
15:104
Received: 1 June 2016
Accepted: 23 August 2016
Published: 30 August 2016
Abstract
Although capnography is a standard tool in mechanically ventilated adult and pediatric patients, it has physiological and technical limitations in neonates. Gas exchange differs between small and adult lungs due to the greater impact of small airways on gas exchange, the higher impact of the apparatus dead space on measurements due to lower tidal volume and the occurrence of air leaks in intubated patients. The high respiratory rate and low tidal volume in newborns, especially those with stiff lungs, require main-stream sensors with fast response times and minimal dead-space or low suction flow when using side-stream measurements. If these technical requirements are not fulfilled, the measured end-tidal CO2 (P et CO 2 ), which should reflect the alveolar CO2 and the calculated airway dead spaces, can be misleading. The aim of this survey is to highlight the current limitations of capnography in very young patients to avoid pitfalls associated with the interpretation of capnographic parameters, and to describe further developments.
Keywords
CapnographyEnd-tidal CO2 Dead spaceTidal volumeRespiratory function monitoringNewborns
Background
Acute respiratory disorders in newborns are an important clinical problem, especially in preterm infants [
1
]. Premature birth interrupts normal in utero lung development, resulting in significant alterations in postnatal lung function with consequences in later life [
2
,
3
]. Clinical interest in postnatal lung function measurements at the end of the 19th century resulted in the development of special mechanical spirometers (Fig.
1
) to measure tidal volume (
V
T
), respiratory rate (
RR
) and minute ventilation (
V'
E
) [
4
,
5
]. These mechanical measuring systems, however, have limitations in newborns, the most important being the high ratio of apparatus dead space (
V
Dapp
) to tidal volume (
V
T
), resulting in CO
2
-rebreathing and a risk of hypercapnia.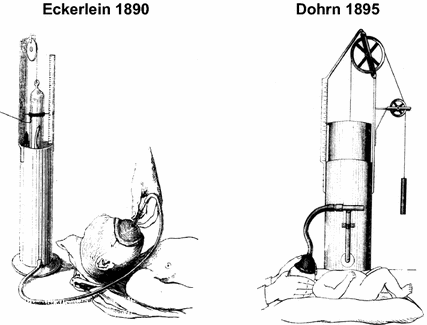 Comprehensive investigations of postnatal lung function, providing insights into neonatal respiratory physiology and pathophysiology, were first performed in the 1950s, after the development of electronic devices suitable for measuring and recording small and fast respiratory signals [6–8]. Besides measuring ventilation, respiratory mechanics and lung volume, the non-invasive measurements of the exhaled carbon dioxide (CO2) was at the beginning in the focus of the pulmonary researcher because its crucial role for the assessment of the alveolar gas exchanges and airway dead spaces (V D ). The measured CO2-signal can be recorded as a function of time (time-based capnography, mostly used for monitoring purposes) or volume (volumetric capnography), which allows calculations of alveolar ventilation (V'A) and airway dead spaces.
Since the 1960s different types of commercial capnographs have been developed for continuous CO2 measurements in adults, and these devices have been adapted for measurements in neonates [9, 10]. The first capnographs were bulky and cumbersome to use, especially when coupled to mass spectrometry [11]. During this time, a new generation of capnographs was developed for measurements in infants, with these instruments resolving many problems associated with earlier capnographs. Lightweight infrared (IR) mainstream sensors with a dead space <1 mL enabled reliable measurements even in preterm infants [12–14]. In addition, special low-flow sidestream capnographs were developed for dead space free measurements in neonates, making long-term monitoring possible [15–17]. Several clinical studies have shown the clinical benefit of the time-based capnography in ventilated infants and children, e.g., for non-invasive monitoring of the arterial pCO2 [18–20], to verify endotracheal tube placement [21–23], and to monitor the integrity of the ventilator circuit including disconnection and accidental extubation [24–26]. In spontaneously breathing infants time-based and volumetric capnography has been used for assessment of functional lung alterations related to bronchopulmonary dysplasia (BPD) [27–29]. Nevertheless the clinical use of capnography in newborns with the equipment available today still has methodological and technical problems which limits its wide adoption as a routine tool in the neonatal intensive care. This survey highlights the current limitations of capnography in these very young patients to avoid pitfalls associated with the interpretation of capnographic parameters which can lead to false clinical decisions, and to describe further developments.
Peculiarities of capnography in small lungs
The lungs and breathing patterns of neonates differ in many respects from those in adults. These differences may alter CO2 measurements as well as the interpretation of time-based and volumetric capnograms and derived parameters [30, 31]. Furthermore, the impact of the patient interface on CO2 measurements in breathed air and on the homogeneity of the alveolar ventilation [32] is much higher in neonates than in adults, as neonates have a much higher ratio of V Dapp to tidal volume [12, 33]. Thus, difficulties in capnographic measurements are greater in smaller infants.
Conclusion
Capnography is a fascinating, noninvasive method for collecting information about breathing, alveolar gas exchange and airway dead spaces. In mechanically ventilated infants it is useful for monitoring the integrity of the ventilator circuit for early detection of mishaps, such as accidental tracheal extubation and disconnection of the breathing circuit, before irreversible damage is caused by prolonged hypoxia. Capnography, however, has physiological and technical limitations in neonatal patients, especially in newborns with stiff lungs. The short exhalation times, low tidal volumes and high impact of apparatus dead space hamper its measurements. Dead space calculations developed for adult lungs are often inapplicable to neonates with a prolonged phase II and a reduced or absent phase III. Imaginative physiological concepts are needed to interpret capnograms in these patients.
Despite technological progress, there are still technical limitations in correctly measuring the fast CO2 signals of neonates. These patients require need faster CO2 sensors and low suction flow for side stream measurements. Moreover, when using volumetric capnography, the pneumotach should be integrated with the CO2 sensors to reduce apparatus dead space. Finally, the widespread acceptance of capnography for neonates requires new, well designed bench, animal, and clinical studies to demonstrate its clinical value and various diagnostic possibilities in these patients.
Abbreviations
A/D:

analogue-to-digital
BPD:

bronchopulmonary dysplasia
ET:

endotracheal tube
FCO 2 :

CO2 fraction
P et CO 2 :

end-tidal CO2 partial pressure
RR :

respiratory rate
T 10–90 % :

sensor rise time
V'(t) :

air flow signal
V(t) :

volume signal
V' A :

alveolar ventilation
V'E :

minute ventilation
V D :

dead space
V Dalv :

alveolar dead space
V Dana :

anatomic dead space
V Dapp :

apparatus dead space
V Dphys :

physiologic dead space
V T :

tidal volume
VLBW:

very low birth weight
Declarations
Acknowledgements
The author thanks Dr. Scott Butler of English Manager Science Editing, Sydney, Australia, for language revision.
Competing interests
The author declares that he has no competing interests. The author has no financial relationship with any commercial entity with an interest in the subject of this manuscript.
Availability of data and supporting materials
There are no additional data available.
Open AccessThis article is distributed under the terms of the Creative Commons Attribution 4.0 International License (http://creativecommons.org/licenses/by/4.0/), which permits unrestricted use, distribution, and reproduction in any medium, provided you give appropriate credit to the original author(s) and the source, provide a link to the Creative Commons license, and indicate if changes were made. The Creative Commons Public Domain Dedication waiver (http://creativecommons.org/publicdomain/zero/1.0/) applies to the data made available in this article, unless otherwise stated.
Authors' Affiliations
(1)
Department of Neonatology, Charité University Medical Center, Berlin, Germany