Medical telerobotic systems: current status and future trends
BioMedical Engineering OnLine
2016
15:96
Received: 17 February 2016
Accepted: 2 August 2016
Published: 12 August 2016
Abstract
Teleoperated medical robotic systems allow procedures such as surgeries, treatments, and diagnoses to be conducted across short or long distances while utilizing wired and/or wireless communication networks. This study presents a systematic review of the relevant literature between the years 2004 and 2015, focusing on medical teleoperated robotic systems which have witnessed tremendous growth over the examined period. A thorough insight of telerobotics systems discussing design concepts, enabling technologies (namely robotic manipulation, telecommunications, and vision systems), and potential applications in clinical practice is provided, while existing limitations and future trends are also highlighted. A representative paradigm of the short-distance case is the da Vinci Surgical System which is described in order to highlight relevant issues. The long-distance telerobotics concept is exemplified through a case study on diagnostic ultrasound scanning. Moreover, the present review provides a classification into short- and long-distance telerobotic systems, depending on the distance from which they are operated. Telerobotic systems are further categorized with respect to their application field. For the reviewed systems are also examined their engineering characteristics and the employed robotics technology. The current status of the field, its significance, the potential, as well as the challenges that lie ahead are thoroughly discussed.
Keywords
TeleroboticsTelemedicineMedical roboticsSurgical roboticsTeleoperationTelepresenceTelemanipulationmHealth
Background
Telerobotics is considered to be an integral part of the wider field of telemedicine. The ultimate goal of telemedicine is to provide specialized healthcare services over long distances, effectively eliminating the need of physical presence of both the physician and patient in the same location. The possibility of consultation diagnosis, treatment, and medical intervention from a distance, may greatly impact the quality of life of patients located in isolated areas where access to specialized medical services is limited. Telemedicine can virtually bring specialists to areas where medical facilities and experts are not available. Practically, a specialist can examine or operate on a patient at a different geographic location without either of them having to travel. Costs and inconvenience are avoided while improved access to information becomes possible. Moreover, the physician can provide services while at a more comfortable working environment. This method also eliminates the possibility of transmitting infectious diseases between patients and healthcare professionals. Apart from medically-isolated areas, telemedicine is also expected to play a key role in removing barriers to healthcare provision in developing countries, in areas of natural disasters, and war zones where consistent healthcare is unavailable or there is no time to transport a patient to a hospital.
Robotic systems were first introduced in medicine in the mid-80's and today they make an impact in various medical disciplines including general surgery, neurosurgery, and orthopedic surgery [1–5]. Despite the current challenges telerobotic systems are expected to play a significant role in clinical practice [6]. The first successful telesurgery, named "Operation Lindbergh" was performed using a Zeus robotic system in 2001 [7], where a laparoscopic gall bladder intervention was performed on a patient located in Strasbourg, France while the operating surgeon was located in New York, USA. Despite the fact that the first documented long-distance telesurgery was not conducted until 2001, telesurgical systems were presented much earlier. More specifically, Computer Motion which later merged with Intuitive Surgical Inc., (USA) introduced the automated endoscopic system for optimal positioning (AESOP) system in 1994 [8], a voice-activated arm used in minimally invasive surgery to position and hold an endoscope.
In telerobotic systems, the remote manipulator is controlled from the operator's site by sending position commands while receiving visual and other sensory feedback information. The local and remote systems are typically referred to as "master" and "slave" systems, respectively, and the overall system is referred to as a "master–slave system". The remote manipulator is programmed to track the controls of the operator. Figure 2 presents a typical structure of a telerobotic system with additional information specific to the MELODY system for robotically-assisted tele-echography applications (presented in "Long-distance paradigm: the MELODY system" section). Many medical robotic systems employ teleoperation as the major mode of operation; but often the master, also called the expert site, and the slave remote manipulator, also called the patient site, are in fact located in the same room [9, 10]. These systems will be referred to as short-distance telerobotic systems; even in this case, telerobotic systems are effectively split into two sites. First is the local site, which includes the human operator and all components needed to remotely operate the system (monitors, keyboards, joysticks, and other input/output devices). Then is the distant site, which includes the robotic manipulation system and the patient surrounded by the appropriate support personnel. This approach, when applied to surgical interventions, is referred to as telesurgery.
The underlying framework for telerobotics is telepresence. Telepresence requires that the information concerning the remote environment is presented to the operator in a natural fashion, which in turn generates a feeling of presence at the remote site [11]. The actual connection between the master and the slave system is established by telecommunication networks. However, when the distance between the two sites is large, time delays in data transmission might affect the operation of the robotized system that will eventually be reflected on the medical expert's performance. Telecommunication quality of service and bandwidth capacity are one key point for robotized telemedicine. It can be overcome by a local area network (LAN) in a short distance telerobotic system like the da Vinci, or using a dedicated optic fiber through all the Atlantic Ocean for a successful Lindbergh experiment between USA and France; but this last option cannot be realistic.
The primary objective of this study is to present a systematic review of telerobotic systems and highlight their challenges but also their potential. The rest of the paper is organized as follows. "Enabling technologies for telerobotic systems" section introduces medical telerobotic systems so as to establish the framework of the subsequent review. This section focuses on the telerobotic technology while highlighting associated manipulation, network and video challenges. Then, the case of a short-distance telerobotic system is exemplified by the da Vinci Surgical System. This is followed by a long-distance telerobotic system paradigm relevant to remote diagnostic ultrasound (US) examinations. "Short-distance telerobotic systems" and "Long distance telerobotic systems" sections constitute the main body of the review where telerobotic systems are categorized with respect to their operating distance into two groups, namely short-distance and long-distance systems. "Discussion—future challenges" section discusses the future challenges of telerobotic systems with respect to the key enabling technologies and areas for future developments in medical telerobotics are identified. Some data from the review are presented in the form of tables and charts, the interpretation of which provides a useful overview of the telerobotic field. The last section provides some concluding remarks.
Enabling technologies for telerobotic systems
Short-distance telerobotic systems
This study provides a systematic review of medical telerobotic systems based on publications of the past decade, and more specifically between the years 2004 and 2015. It aspires to document the significant advances achieved in this area, discuss prevailing concepts, and highlight future challenges. For this purpose, the review encompasses not only clinically approved, commercial systems but also experimental approaches. Telerobotic systems are classified into short-distance ones (master and slave systems located in the same room) and those operating in long physical distance. The current section is dedicated to the review of short-distance systems, which are tabulated in Table
3
and it is by no means exhaustive. Long-distance ones are reviewed in "
Long distance telerobotic systems
" section. The considered short-distance telerobotic systems are further categorized with respect to their application field into: general surgery, eye surgery and ENT surgery, neurosurgery, cardiac and thoracic, gastrointestinal and colorectal surgery, urologic, and spinal intervention systems. The table also includes the development stage of each system.
Table 3
Summary of short-distance telerobotic systems
| | Name | Mechanical design | Application area | Status | References |
| --- | --- | --- | --- | --- | --- |
| 1 | Teleoperated needle insertion robot | Serial | General surgery/intervention | EXP | [55] |
| 2 | MR-guided thermotherapy | Parallel | Thermotherapy | EXP | [56] |
| 3 | Surgical system for breast biopsy | Parallel | Breast biopsy | EXP | [57] |
| 4 | CT-guided needle-placement robot | Serial | Diagnostic and therapeutic needle placement | EXP | [58] |
| 5 | Medical robot for MIS | Serial | Surgery (minimally invasive) | EXP | [59] |
| 6 | SOFIE | Serial | Surgery (laparoscopic and thoracoscopic) | EXP | |
| 7 | Telelap ALF-X | Serial | General surgery | EXP | |
| 8 | Al-Zahrawi surgical system | Serial | General surgery | EXP | [65] |
| 9 | Telerobotic system for minimally invasive surgery | Snake-like | General surgery (throat and upper airway) | EXP | [66] |
| 10 | IREP robot | Snake-like | Surgery (Single Port Access) | EXP | [67] |
| 11 | SPS manipulator | Serial | Surgery (Single Port Endoscopic) | EXP | [68] |
| 12 | SPRINT | Serial | Surgery (Single-Port Laparoscopic) | EXP | [69] |
| 13 | Endoscopic prototype telerobotic system | Serial | Surgery (transluminal endoscopic surgery) | EXP | [70] |
| 14 | Robotic (NOTES) device | Serial | Gastrointestinal (NOTES) | CLIN | [71] |
| 15 | RVIR robot (vascular interventional robot) | Supporting manipulator/catheter navigator | MIS | EXP | [72] |
| 16 | Telerobotic-assisted bone-drilling system | Linear/rotational stage | Surgery (orthopaedics) | EXP | [73] |
| 17 | Trauma pod | Serial | General surgery | EXP | [74] |
| 18 | Slave manipulator with roll-pitch-roll wrist | Serial | General surgery | EXP | [75] |
| 19 | Robotic system for corneal keratoplasty | Cartesian | Eye surgery | CLIN | [76] |
| 20 | Snake-like robot for upper airway surgery | Snake-like | Surgery (throat and upper airways—ENT) | EXP | [66] |
| 21 | Robotic system for transnasal surgery | Snake-like | Transnasal surgery—larynx and airways | EXP | [77] |
| 22 | LANS | Cartesian | Neurosurgery | EXP | |
| 23 | NeuroArm | Serial | Micro-neurosurgery and stereotaxy | CLIN | |
| 24 | MRI guided neurosurgery | Serial | Neurosurgery | EXP | [84] |
| 25 | Master–slave robotic platform for micro-neurosurgery | Spherical | Neurosurgery | EXP | [85] |
| 26 | Heart surgery robot | Spherical | Cardiac and thoracic | EXP | |
| 27 | MIRS (MIRoSurge) | Spherical | Cardiac and thoracic | EXP | |
| 28 | HIFU for kidney ablation | Cartesian | Cardiac and thoracic | CLIN | [89] |
| 29 | MIS laparoscopic robot | Spherical | Cardiac and thoracic | EXP | [91] |
| 30 | Robotic forceps manipulator | Serial | Cardiac & thoracic | EXP | [92] |
| 31 | ZEUS MI robotic lung brachytherapy | Serial | Cardiac and thoracic | COM | |
| 32 | da Vinci | Serial | Cardiac and thoracic | COM | |
| 33 | Heartlander robot | Cable-Driven | Cardiac and thoracic | CLIN | [95] |
| 34 | Sensei and artisan | Snake-like | Cardiac and thoracic | COM | |
| 35 | MARVEL | | Cardiac and thoracic | EXP | [99] |
| 36 | Creeping colonoscopy robot | Worm-like locomotion | Gastrointestinal | EXP | [100] |
| 37 | Robotic magnetic steering and locomotion of capsule | Serial | Gastrointestinal | EXP | [102] |
| 38 | GI robot with active motion | Legged locomotion | Gastrointestinal | EXP | [101] |
| 39 | Wireless GI robot | Worm-like locomotion | Gastrointestinal | CLIN | [103] |
| 40 | Prostate brachytherapy robot | Serial | Urologic | EXP | [105] |
| 41 | MRI guided prostate robot | Cartesian | Urologic | COM | [106] |
| 42 | Pneumatic robot for prostate | Spherical | Urologic | EXP | [107] |
| 43 | SpineNAv | Serial | Spinal intervention | EXP | |
| 44 | CoRA | Closed-loop | Spinal intervention | EXP | [108] |
| 45 | MINOSC | Cable-driven | Spinal intervention | EXP | [111] |
Long distance telerobotic systems
This section is dedicated to the review of long-distance telerobotic systems in which the master and slave sites are geographically separated. The review covers systems from the following areas: general surgery, spinal intervention, and tele-echography. The reviewed systems are tabulated in Table
4
. The main difference with short distance telerobotic system is the data link between patient site (slave robot) and the expert site (master station). This link cannot be considered like an end-to-end standard link. It must pass through different networks (WAN/internet, Satellite, ISDN or 3G/4G nets) with different protocols that involve problems of quantity/bandwidth, quality, delay, jitter, and lag. This is the major problem, and we must adapt and robustify the control of the robot to these media.
Table 4
Long-distance telerobotic systems
| | Name | Mechanical design | Application area | Status | References |
| --- | --- | --- | --- | --- | --- |
| 1 | Raven robot | Spherical | General surgery | EXP | [113] |
| 2 | Lapabot | Serial | General surgery—MIS | EXP | [114] |
| 3 | Internet based cather manipulating system | Cartesian | General surgery | EXP | [115] |
| 4 | RIME | Serial | Spinal intervention | EXP | [116] |
| 5 | Robotized tele-echography MELODY | Serial | Tele-echography | COM | |
| 6 | Free hand controller for remote ultrasound imaging | Parallel | Tele-echography | EXP | [120] |
| 7 | Wearable tele-echograpgy robot for FAST | Pitching, rolling positioning | Tele-echography | EXP | [121] |
| 8 | Servo actuated robotic arm for tele-echography | Serial | Tele-echography | EXP | [122] |
| 9 | Parallel robot for ultrasound imaging | Parallel | Tele-echography | EXP | [117] |
General surgery
The telerobotic surgical system called "RAVEN" was introduced in [113]. It includes three elements: the patient site, the surgeon site, and a network connecting the two. The patient site comprises of two surgical manipulators that are positioned over the patient by passive macro-positioning arms. The surgeon site consists of two PHANTOM Omni devices (SensAble Technologies, USA), a USB foot-pedal, a laptop running the surgeon's graphical user interface software, and a video feed of the operative site. The communication can be established over any packet-based network such as a local private network, the Internet, or wireless network, and employs the UDP protocol for minimizing time delay. The incorporated 7 DOF cable-actuated surgical manipulator aims at providing motions similar to manual MIS as well as wrist joints located at the surgical end-effector.
An advantage of the RAVEN system is that it only weighs approximately 22 kg. It was tested hundreds of feet underwater by the National Aeronautics and Space Administration (NASA) in order to examine the robot's appropriateness for telerobotic surgery in space. The RAVEN system provides for direct teleoperation but does not accommodate any advanced computational functions (e.g., motion planning, machine learning, stereo vision, tactile/haptic feedback) [
6
]. RAVEN II (Fig.
12
), is a newer version with 7 DOF, compact electronics, and two wing-like arms which end in tiny gripper claws, designed to perform surgery on simulated patients.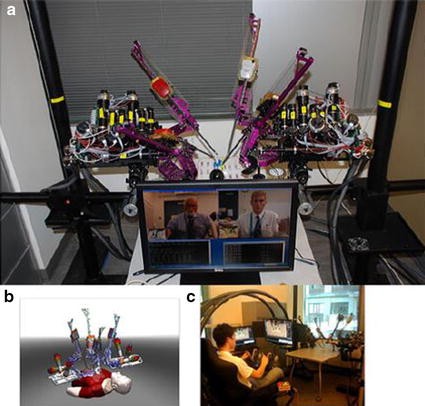 The laparoscopic surgical system developed by Choi et al. [114] features multiple compact slave manipulators. The system can simultaneously operate one laparoscope arm and up to four instrument arms. Moreover, it can be directly attached to the operating table. The slave robot is controlled remotely through a wired, packet-based ethernet network. The master console provides input and output terminals for the operator. The input terminals include left and right master handles, as well as five foot pedal switches for emergency stop, temporary halt/resume, and electrocautery output on/off. The output terminals include a touch-screen monitor to display and adjust the functional status of the controllers, and two video monitors for laparoscope display and external monitoring camera display. The master handle has a 5 DOF structure, and its joints correspond to the ones of the 5 DOF slave manipulator. The driving mechanisms are compact and conventional laparoscopic instruments are utilized without modification.
A catheter manipulation system developed by Guo et al. [115] is also based on a master–slave structure. The surgeon's console is the master side and the catheter manipulator is the slave side of the system. The manipulator which is at the patient side has two DOF: one is the axial and the other is the radial movement along a supporting frame. An internet-based communication between the controller and the catheter manipulator was employed, while a server-client structure realizes the communication. Two kinds of data are transmitted between the server and the client. One is the control data between the master and slave stations such as handle rotations and movement stage displacements. At the same time, rotation of the catheter, displacement of the movement stage, force data from a load cell, and torque data from a torque sensor are sent to the master side. The second type of data is image data acquired and transmitted by an IP camera. Compared with control data, the amount of image data is considerably higher. To maintain the integrity of the operation and ensure the appropriate rate of the data flows, these two types of data are transmitted separately. Testing involved two-way remote control experiments carried out between China and Japan.
Spinal intervention
As part of the project Robot in Medical Environment (RIME), Boschetti et al. [
116
] proposed a robotic system for drilling in transpedicular fixation surgeries. The project's main contributions were the development of a fully teleoperated system, which allowed the surgeon to operate on a patient who could be kilometers away. The system, shown in Fig.
13
, comprises a haptic master, a 3D visual feedback device, a slave robot, and a haptic server through which all the modules communicate. The use of the haptic server allows decoupling direct communication among all the devices involved in teleoperation and facilitates the possibility of introducing virtual forces at the master side, thus providing a considerable enhancement of operators' performances. An internet-based communication between the haptic master and the slave robot is established and both sites use the UDP protocol for the exchange of data. Experiments reported by Rosati et al. [
116
] demonstrated the feasibility of haptic feedback transmission and control of the involved 6 DOF industrial robot between two cities separated by 35 km.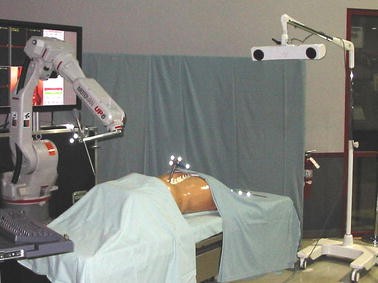 Tele-echography
Various systems have been developed for robotic ultrasonography as described in [117] and the references therein. A prototype, portable robot named MELODY was developed based on the earlier Teresa system [49]. MELODY was manufactured and commercialized by AdEchotech Cie (France). This tele-echography system is based on a teleoperation scheme and consists of an electric motorized support holding the ultrasound probe, which can be arbitrarily oriented. It effectively reproduces all the movements of the medical expert's hand located at the expert station [118]. A force sensor, embedded in the robot end-effector, measures the contact force between the real probe and the patient's skin and enables to limit this force to 20 Newton, for patient safety purposes. The communication link between expert and patient site requires a minimum bandwidth of 256 kbps. The network links the two sites to exchange robot control data, ultrasound images, haptic information, ambient images and audio instructions. The communication link can be any packet-based network and the system uses both TCP and UDP protocols. Additional information about the system can be found in "Long-distance paradigm: the MELODY system" section. The current version of the commercial system is named MELODY [119].
A hand controller, suitable for remote ultrasound diagnosis was developed by Farshid and Najafi [120]. It is built upon parallel mechanisms and has 4 DOF to provide standard clinical motions of ultrasound imaging. Its operation is based on a remote center-of-motion principle and it exhibits a one-to-one mapping between its movements and the movements of the ultrasound probe at the remote site. The prototyped hand-controller was used as a master device in a real remote ultrasound imaging task. The patient site included a robotic wrist. Both patient and physician sites were connected through a UDP communication network. After a very brief training a clinician successfully captured ultrasound images of a volunteer's heart and kidney.
A wearable tele-echography 4 DOF robot for Focused Assessment with Sonography for Trauma (FAST) was presented in [
121
] (Fig.
14
). A medical expert uses a graphical user interface on the computer from a remote hospital, and the control signals are transmitted through a network to the robot in an ambulance or an injury site. Information concerning the position and orientation of the ultrasound probe, as well as image and voice information, are also transmitted. The medical expert performs the tele-echography while observing the echo image, the US probe, and the patient. The portable echo device consists of a MicroMaxx (SonoSite Inc.) and a sector US probe. A portable battery for the system is also required. The whole setup can function over different types of packet-based wired and wireless networks such as LAN, 3G, 4G, and mobile WiMAX, in order to control the wearable tele-echography robot and transmit audio and ambient data.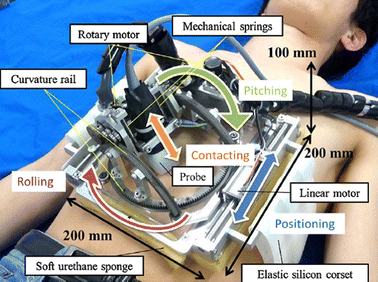 Telerobotic ultrasonography was also investigated by Sengupta et al. [
122
] using a customized lightweight robotic arm with 7 DOF (Fig.
15
) and a specially designed end-effector on which the transducer is attached. In general, a high-bandwidth dedicated telecommunication line or a dedicated high-speed terrestrial fiber optic network was employed for this purpose. Intercity and Trans-Atlantic telerobotic ultrasound teleconsultations were performed from master stations located in New York, USA and Munich, Germany, and imaged a phantom and a human volunteer located at a slave station in Massachusetts, USA using broadband Internet of 100 and 50 Mbps, for the Intercity and Trans-Atlantic teleconsultations, respectively. Implementation was supported by video (using a dual camera system) and sound feed to allow the interaction between the operator and the subject while acquiring real-time ultrasound images. Control at the master station was based on a conventional mouse, the dials of the remote control interface, and the keyboard.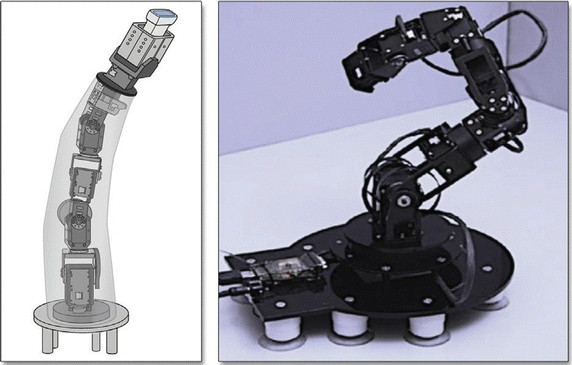 A 6-DOF parallel robot for telemanipulating an ultrasound imaging probe was presented by Monfaredi et al. [117]. Gross positioning of the robot can be realized through a passive or active manipulation system before the sonographer begins with the fine movements through the parallel robot. The parallel robot consists of three legs and two plates one of which is fixed. The moving plate hosts a force/torque sensor and the ultrasound probe. A phantom study was briefly reported where a general-purpose robotic manipulator was involved for the gross positioning the ultrasound robot. Video captured at the remote site was presented to the operator in real time while using a haptic device to manipulate the robot.
Discussion—future challenges
The present review study of medical telerobotics discusses the current trends, the potential applications and associated benefits, and highlights the future challenges as summarized in Table
5
. General information about the considered telerobotic systems was consolidated earlier in Tables
3
and
4
, as well as in the form of summary plots (Figs.
16
,
17
,
18
) to highlight some key issues. Telerobotics have already been employed for a wide range of diagnostic and interventional applications in different medical disciplines, as depicted in Fig.
16
, even though many general-purpose systems have been developed the majority of telerobotic systems are application/anatomy specific. Moreover, robotic systems used for telerobotic applications are diverse in terms of kinematic structure, degrees-of-freedom, and actuation methods (Fig.
17
). Serial articulated robots have been considered in telerobotic applications but also other forms, including parallel robots and snake-like ones. Despite remarkable achievements demonstrated by a plethora of the examined telerobotic systems, yet only a handful of them have reached a commercialization stage, and even fewer have been adopted in clinical practice (Fig.
18
). This fact signifies that further efforts are required to address both clinical and technological challenges.
Table 5
Challenges and areas for future developments in medical telerobotics
| | | |
| --- | --- | --- |
| 1 | Regulatory approvals | Approvals take a significant amount of the development time and cost. Lack of worldwide acceptable regulatory standards makes the clearance process inefficient and costly |
| 2 | Clinical acceptance | Acceptance by clinicians and patients is required but also by third-party payers in the health-care system including insurance companies |
| 3 | Cost of acquisition and maintenance of telerobotic systems | These are mainly attributed to the high development costs related to the strict safety and reliability requirements |
| 4 | Interdisciplinary development approach | The development of telerobotic systems requires an interdisciplinary approach to deal effectively with both clinical and engineering aspects |
| 5 | Human factors | Human factors considerations need to be an integral part of the design to yield safer, more usable and effective devices. Decreased interaction among the healthcare professionals and patients during application needs attention |
| 6 | Telepresence enhancement | Available means include the development of effective user interfaces and use of force feedback haptic systems |
| 7 | Software tools | Emphasis required on preoperative planning tools. They may analyze imaging information, present the operator with optimal courses of action, and facilitate decision making |
| 8 | Radiological imaging methods | Apart from camera systems other imaging methods can be further exploited for visualization and guidance (e.g., US, CT, MRI) |
| 9 | Information fusing | Fusing intra-operative images with 3D patient-specific models constructed from pre-operative information enhances perception. Also, merging intra-operative information acquired from different imaging modalities (e.g., MRI and ultrasound) may improve visualization |
| 10 | Telecommunication networks | Long-distance telerobotics demand reliable transmission of huge amounts of data with acceptable delay. Latest technologies need to be embraced |
| 11 | Video compression technologies | Compression technologies will facilitate the transfer of large quantities of information |
| 12 | Network security enhancements | Wireless networks' security vulnerability remains a major concern for the exploitation of (long-distance) telerobotics in telemedicine |
| 13 | Moral and legal issues | Transmission of information over communication networks raises issues regarding the protection of patient's privacy and needs to be regulated. Legal regulation regarding application of medical telerobotics is also needed to prevent unauthorized service providers |
| 14 | Liability issues | Liability and responsibility for complications during a telerobotic procedure is among delicate issues to be formally addressed |
| 15 | Development of robotic comanipulation systems | Robotic comanipulation systems with required dexterity are needed while satisfying safety requirements |
| 16 | Robot control | The establishment of stable/robust control systems despite the long-distance data transmission involved presents engineering challenges |
| 17 | Auxiliary control functions | Implementation of auxiliary control functions will provide enhancements to long-distance telerobotics and reduce burden on the operating physician. Particularly important will be the biomotion compensation |
| 18 | Physicians training | The availability of trained physicians will require medical schools to acquire telerobotic technologies and introduce them in their educational programs. Development of training simulators will also play an important role in that respect |
| 19 | Telementoring and collaborative surgery | The telementoring capabilities of telerobotics can be further exploited to train and support physicians. Experienced physicians can play the preceptor's role to other physicians without having to relocate |
| 20 | Collaborative research approach | Shared efforts between universities and companies will foster the development of new commercializable technologies |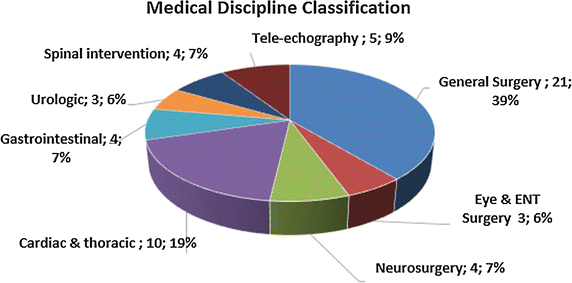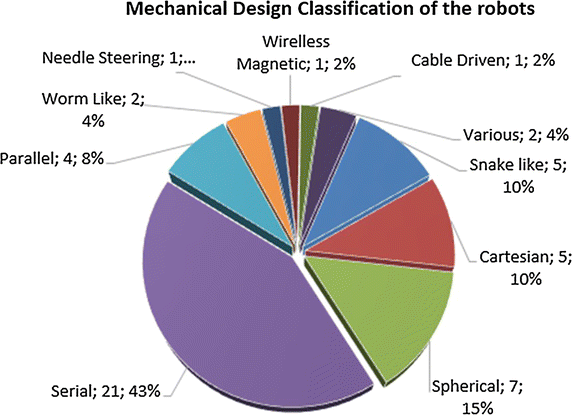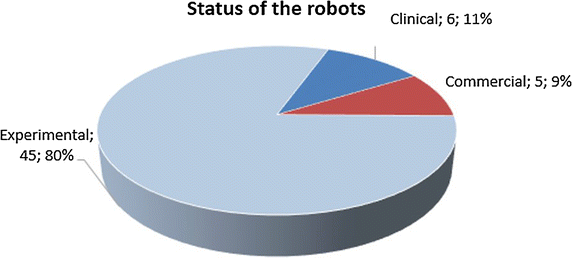 An existing difficulty for the introduction of medical robotic technologies remains the inertia of ongoing medical practice [3], which requires particular effort to overcome. A prerequisite for commercialization is to obtain regulatory approvals, which usually takes a significant amount of the development time and cost. In the United States, medical devices are approved for commercial use by the Food and Drug Administration (FDA) [123], and they also have to comply with the Quality System Regulation (QSR). For the latter, manufacturers are required to establish quality systems to ensure that their products consistently meet applicable requirements and specifications. The equivalent regulatory requirements for medical devices in Europe include the CE marking and also compliance with ISO 9001 and 9002 standards for the manufacturing processes. Even though in each case the requirements are similar, they are not identical, and products are often required to comply with both of them [124]. The importance of these standards is undisputable but an agreement on regulatory standards that are acceptable worldwide would facilitate progress by making the clearance process more efficient and cost effective. Another important issue regarding the commercial success of a medical device that goes beyond the regulatory approvals is discussed in [124]. For the device to be marketable, it must also be accepted by third-party payers in the health-care system, including insurance companies.
Another significant issue that limits the adoption of telerobotic—and robotics technology in general—in clinical practice is the high cost associated with the acquisition and maintenance of such systems. This is largely attributed to the high development costs related to the strict safety and reliability requirements of the regulatory systems, as already discussed [3]. Regarding the development of the systems, it is highlighted that it requires an interdisciplinary approach to deal effectively with both clinical and engineering aspects. It is important that surgeons, which are the actual end-users of the technology, are involved from the development to the marketing stage of the systems. At the same time, the technical complexity of telerobotic systems requires specialized engineering expertise.
The success of robotic surgery is based on the effective interaction between the surgeon and the robotic technology. In the case of telerobotic systems this becomes more complex given the telepresence requirements. In that respect, human factors emerge as a most critical component to ensure safer, more usable, and effective devices that will allow for their full potential to be exploited. As a result, human factors must be an integral part of the design of any telerobotic device. Of relevance is also the development of user-interfaces that provide adequate information and effective control while avoiding the display of overwhelming information to the operator. A key enhancement, expected to have a dominant impact in telepresence is the use of haptics, allowing the operating physician to sense the forces applied by the manipulation system in the remote environment [125–127]. Another issue that needs to be considered within the sphere of human factors is the fact that implementation of robotically assisted telemedicine decreases human interaction between the healthcare professionals and patients. This may increase the possibility of errors.
Software tools play an increasingly important role in telesurgery by supporting the operator actions and facilitating decision making. Preoperative planning tools often analyze imaging information and present the operator with optimal courses of action (e.g., best needle insertion path). Image-guided surgery uses images for anatomy and instrument visualization, intervention planning, as well as navigation [127–129]. Ongoing developments in the field of telesurgery also focus on vision systems, which is an essential element for guidance. Apart from camera systems, guidance has already been extended to other visualization methods, which creates new opportunities for telerobotics. Imaging information may be pre-operative but also intra-operative, and such processes range from image acquisition and image reconstruction, to image registration, and image fusion. Recent advances allow fusing intra-operative images with 3D patient-specific models constructed using pre-operative information [130]. Moreover, merging imaging intra-operative information acquired from different imaging modalities (e.g., MRI and ultrasound) for improving visualization is another possibility that can be further exploited [131–134]. In terms of medical telerobotics the transfer of imaging information through telecommunication networks is of particular importance. Toward this direction, telemedicine and tele-manipulation have become feasible capitalizing advances in telecommunications that allow reliable transmission of large amounts of data with acceptable delay, as required for the control of a master–slave system and effectiveness of the man-in-the-loop operation.
Advances in m-health medical/ultrasound video communication [35, 135] and telerobotic systems have been primarily driven by associated progresses in communication networks and video compression technologies. Increased data transfer rates facilitated by new mobile cellular networks generations over the past two decades, allowed a transition from biomedical signal to image and video communications, and then from low-bit rate video of limited clinical capacity to higher diagnostic quality medical video.
The latest 4G and beyond wireless networks deployment together with the new high-efficiency video coding (HEVC) standard [136], is expected to play a decisive role towards wider adoption in standard clinical practise. New telerobotic systems are envisioned that can compete standard in-hospital examinations. The usage of medical video communication at the clinically acquired frame rate and resolution that can be qualitatively transmitted in low delay without compromising clinical quality is the cornerstone of such advancements. Over the years, wireless networks' security issues vulnerability has been also considerably improved [137, 138]. However, this is still an active area of research that is expected to draw significant research attention in the immediate future, as this is a matter greatly affecting adoption of telerobotics in clinical practice.
Moral as well as legal concerns need to be effectively addressed before a wider use of telerobotics is possible. Transmission of information over communication networks raises issues regarding the protection of patients' privacy and thus needs to be regulated. Responsibility for complications during a telerobotic procedure is another delicate issue to be formally addressed. The fact that a robotically-assisted intervention can be recorded creates additional liability concerns. From a practical point of view, following unexpected technical problems or clinical complications that are likely to emerge during a robotic telesurgery (e.g., accidental injury of tissue or organs, bleeding) it may become necessary to switch to a manual method. Technological and procedural provisions should allow for a safe and timely transition, documented in relevant protocols.
In terms of the robotic manipulation system, a key issue is the safety of operation [138]. Approaches to safety of operation for medical robotics differ considerably from their industrial counterparts, which include operation in fenced workcells, and more recently other active measures (e.g., light curtains). Teleoperated medical robotics are safety-critical devices and there exist other, stricter requirements regarding their control (e.g., redundant sensing). Efficient medical telerobotic operations linked with the ever increasing application space necessitates the development of application-specific robots and instruments (end-tools). Of vital importance and a key design characteristic is the dexterity of the instruments, which is directly related to the degrees-of-freedom of the kinematic mechanisms.
Control stability/robustness present technical difficulties originating from the remote (long-distance) data transmission. Auxiliary control functions already implemented on surgical robots are expected to provide significant enhancements to the efficiency of long-distance medical telerobotics and reduce the burden on the operating physician who is confronted with the distance obstacle. Particularly important among them is the biomotion compensation which provides the system with the ability to track the motion of organs and tissue. This constitutes the operation safer and more comfortable for the physician.
Wide applicability of telesurgery will not only depend on the existence of the technology but also on the availability of trained physicians. Telesurgery requires specialized skills compared to traditional methods and it is essential that medical schools are equipped with such technologies to appropriately train physicians. Here, the cost of the equipment again emerges as a major obstacle but to some extent simulation tools can remedy the situation [6]. Another available option—inherent to the nature of the system—is telementoring [139, 140]. An experienced physician can play the preceptor's role to other physician without having to relocate or travel. At the same time telementoring improves the confidence levels of novice physicians and their willingness to pursue a non-traditional method such as telesurgery. Existing possibilities include the use of systems with a dual control console configuration (e.g., da Vinci) to enable training (teaching/mentoring) or collaborative surgery. In fact, the two control consoles may be installed at separate geographic locations. Educational and other prerequisites before a surgeon can utilize the telerobotic technology need to be formally established. Legal regulation is particularly important in order to prevent unauthorized service providers in this sector. Beyond education, academic institutions may also play an important role in relevant research. Medical telerobotics is an emerging field and collaborative efforts with universities are essential so as to develop new, commercializable technologies.
Conclusions
Medical telerobotic is an emerging field expected to have a significant impact on healthcare. Indicative of its potential is the fact that telerobotics has already been considered for a wide range of applications and medical disciplines, which is apparent from the present review. It is also noticeable the fact that the large majority of existing systems have been short-distance ones and the potential of operating them remotely remains largely unexploited. This fact signifies that the ultimate goal of employing robotic manipulation in telemedicine, in order to provide specialized medical services remotely, has not been accomplished yet nor the full potential of telerobotic has been unleashed.
Future developments in the field of telerobotics will require addressing specific clinical as well as technological challenges following an interdisciplinary approach. The involvement of physicians in the development stage of telerobotic systems and emphasis on clinical studies are keys to producing clinically-oriented solutions. Technological challenges are related to three basic enabling technologies: robotic manipulation, vision systems and telecommunications. For the transition from short-distance to long-distance telerobotic systems a major role depends on the telecommunications links. Therefore, latest telecommunication technologies should be embraced to ensure efficient, reliable and safe transmission of data.
Prior to commercialization, prototype experimental systems have to be refined to become more usable, safe, reliable, elegant and appealing to users but also meet the regulatory requirements. Human factors play a significant role towards that direction. To effectively practice telerobotics, physicians will be required to obtain new skills and relevant training should also be considered in medical schools. Telementoring is an option to be considered towards this direction which is compatible and can be built in the telerobotic technology.
Ultimately, clinical acceptance will depend on the ability of the telerobotic technology to demonstrate measurable benefits to the healthcare system based on improved clinical results, efficiency of operations, and cost effectiveness. Quality of care in surgery is often evaluated on the basis of success rates, complications that may occur, and length of hospitalization. However, the most significant benefit expected from the use of long-distance telerobotic systems will be the ability to provide specialized medical services (diagnostic or therapeutic) to remote or isolated areas while avoiding physician/patient travel costs and inconveniences. Important steps towards this direction have already been achieved but the true potential of medical telerobotic remains largely unexploited.
Abbreviations
4G:

4th Generation
CCD:

charge coupled device
CT:

computed tomography
DOF:

degrees-of-freedom
ENT:

ear nose throat
FDA:

Food and Drug Administration
HEVC:

high efficiency video coding standard
LAN:

local area network
MIS:

minimally invasive surgery
MRI:

magnetic resonance imaging
NOTES:

natural orifice transluminal endoscopic surgery
QSR:

Quality System Regulation
SPA:

single port access
TATRC:

Telemedicine and Advanced Technology Research Center
TCP:

transmission control protocol
UDP:

user datagram protocol
US:

ultrasound
Declarations
Authors' contributions
SA was in charge for the whole paper and contributed in all of its sections. EGC contributed in the overview of the telerobotics framework and the related robotic manipulation topics. ASP focused on the medical video communication issues and wireless communication technologies. SA, SV, and LN contributed in the sections reviewing the short- and long-distance telerobotic systems. CN contributed in the section on the long-distance telerobotics paradigm and the relevant network issues. CSP and PV read the paper and contributed in its overall structure and coherency. All authors read and approved the final manuscript.
Acknowledgements
The support of the Cyprus University of Technology in covering the publication expenses is greatly appreciated.
Competing interests
The authors declare that they have no competing interests.
Availability of data and supporting materials
No data or other supporting materials exist relevant to this work that could be made publicly available.
Funding
This work was not financially supported.
Open AccessThis article is distributed under the terms of the Creative Commons Attribution 4.0 International License (http://creativecommons.org/licenses/by/4.0/), which permits unrestricted use, distribution, and reproduction in any medium, provided you give appropriate credit to the original author(s) and the source, provide a link to the Creative Commons license, and indicate if changes were made. The Creative Commons Public Domain Dedication waiver (http://creativecommons.org/publicdomain/zero/1.0/) applies to the data made available in this article, unless otherwise stated.
Authors' Affiliations
(1)
Nursing Department, School of Health and Science, Cyprus University of Technology, Limassol, Cyprus
(2)
Department of Electrical and Computer Engineering, University of Cyprus, Nicosia, Cyprus
(3)
Department of Electrical and Electronic Engineering, Imperial College, London, UK
(4)
Department of Electrical Engineering, Computer Engineering and Informatics, Cyprus University of Technology, Lemesos, Cyprus
(5)
Laboratoire PRISME-Universite d'Orleans, Bourges, France
(6)
Department of Computer Science, University of Cyprus, Nicosia, Cyprus