Impacting clinical evaluation of anterior talofibular ligament injuries through analysis of ultrasound images
BioMedical Engineering OnLine
2016
15:13
Received: 27 April 2015
Accepted: 21 January 2016
Published: 2 February 2016
Abstract
Background
Anterior talofibular ligament (ATFL) is considered as the weakest ankle ligament that is most prone to injuries. Ultrasound imaging with its portable, non-invasive and non-ionizing radiation nature is increasingly being used for ATFL diagnosis. However, diagnosis of ATFL injuries requires its segmentation from ultrasound images that is a challenging task due to the existence of homogeneous intensity regions, homogeneous textures and low contrast regions in ultrasound images. To address these issues, this research has developed an efficient ATFL segmentation framework that would contribute to accurate and efficient diagnosis of ATFL injuries for clinical evaluation.
Methods
The developed framework comprises of five computational steps to segment the ATFL ligament region. Initially, region of interest is selected from the original image, which is followed by the adaptive histogram equalization to enhance the contrast level of the ultrasound image. The enhanced contrast image is further optimized by the particle swarm optimization algorithm. Thereafter, the optimized image is processed by the Chan–Vese method to extract the ATFL region through curve evolution; then the resultant image smoothed by morphological operation. The algorithm is tested on 25 subjects' datasets and the corresponding performance metrics are evaluated to demonstrate its clinical applicability.
Results
The performance of the developed framework is evaluated based on various measurement metrics. It was found that estimated computational performance of the developed framework is 12 times faster than existing Chan–Vese method. Furthermore, the developed framework yielded the average sensitivity of 98.3 %, specificity of 96.6 % and accuracy of 96.8 % as compared to the manual segmentation. In addition, the obtained distance using Hausdorff is 14.2 pixels and similarity index by Jaccard is 91 %, which are indicating the enhanced performance whilst segmented area of ATFL region obtained from five normal (average Pixels—16,345.09), five tear (average Pixels—14,940.96) and five thickened (average Pixels—12,179.20) subjects' datasets show good performance of developed framework to be used in clinical practices.
Conclusions
On the basis of obtained results, the developed framework is computationally more efficient and more accurate with lowest rate of coefficient of variation (less than 5 %) that indicates the highest clinical significance of this research in the assessment of ATFL injuries.
Keywords
Anterior talofibular ligamentUltrasound imagingSegmentationParticle swarm optimizationAdaptive histogram equalizationCurve evolutionMorphological operationValidation metrics
Background
Ankle ligaments are the most common human joints affected by sports injuries, accidents, high ankle sprains and inflammation [1]. Generally, ligaments are robust and strong fibrous tissues that connect two bones in the ankle that are presented in the form of anterior talofibular, posterior talofibular and calcaneofibular and deltoid ligaments. Statistics shows that around 20 % of the professional sports persons are prone to injuries every year and around 14 % of the all sports injuries are related to ankle, out of which, 80 % injuries belong to ligaments [2, 3]. In addition, it was estimated that around 23,000 individuals in United States and 5000 individuals in Great Britain undergo daily treatment due to ankle injuries [4–6]. Because of the active life style and involvement in sports activities by individuals, the incidence of ankle injuries are growing rapidly and may reach up to 40 % [7–9].
Research [
10
–
12
] has reported that anterior talofibular ligament (ATFL) is considered as the weakest ligament exists in ankle, and therefore most commonly affected by the injuries. ATFL starts at the front part of lateral malleolus (LM) and reaches till taller neck in the ankle. Any injury in ATFL ligament requires an individual patient to visit clinic and perform an imaging examination to ensure the damages associated to it. Currently, Magnetic Resonance Imaging (MRI) has the ability to visualise damages to injured ATFL, but limited availability, high cost, patient discomfort, long examination time and in particular, patient with injury need to be inside MRI scanner are considered as the major limitations [
13
–
15
]. Alternatively, ultrasound imaging with its portable, non-invasive and non-ionizing radiation nature increasingly is being used for ATFL diagnosis [
15
–
19
]. However, due to the limited capability of 2D ultrasound images that exhibits several challenges such as low resolution in ATFL region, homogeneous intensities in surrounding regions of ATFL, homogeneous texture between ATFL and surrounding tissues and low contrast (see Fig.
1
), only expert radiologist and orthopaedic surgeons are able to visually interpret the injured ATFL [
20
–
22
].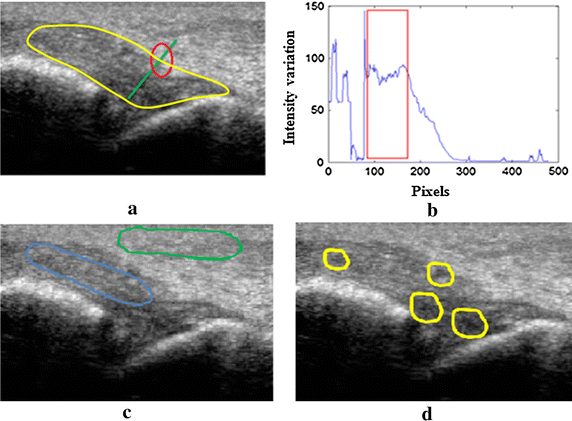 Due to the challenges associated with 2D ultrasound images of ATFL ligament, direct interpretation and visualization of injuries associated with injured ATFL is not recommended as it may lead to wrong diagnosis. This warrants the requirement of computational methods that are capable of delineating ATFL region from 2D ultrasound images [23, 24]. However, the development of computational methods to delineating ATFL region is further challenging due to the issues associated with 2D ultrasound images. These issues can be seen in 2D ultrasound images as homogeneous intensity region in ATFL and surrounding tissues that results in the difficulties to extract boundaries of ATFL region computationally as illustrated in Fig. 1a, b. In addition, Fig. 1a has indicated the location of ATFL ligament in yellow colour and homogeneous intensity region is presented in red circle and green line. Furthermore, computational methods might not be able to distinguish between ATFL and surrounding regions due to similar texture available in both regions as depicted in Fig. 1c in red and blue indicated regions. Finally, contrast within the ATFL region varies rapidly and may results in computational difficulties to identify the correct region of interest from 2D ultrasound images, which are presented by the yellow colour circles.
In order to deal with the challenges associated with 2D ultrasound images, several computational approaches were developed to segment different tissues using region based, edge based, thresholding based, wavelet based, pattern or texture classification based, atlas and deformable based methods and non-parametric probabilistic model with shape driven based methods [25–28]. Although, above stated methods are capable to segment tissues from 2D ultrasound images, fake edge detection, incompatibility with noise, under segmentation/over segmentation, variable shape, inconstant size and unpredictable properties are some of the known limitations with these methods [23, 29]. So far, the above methods were not utilised to segment ATFL region from 2D ultrasound images. In addition, due to the known limitations as listed above, it is not suggestive to use these methods to segment ATFL region as it exhibit complex nature in shape, size and texture. Thus, the main objective of this research is to develop a computational method for the segmentation and accurate visualisation of ATFL from 2D ultrasound images that will impact the clinical evaluation of ATFL injuries leading to betterment of quality of life in individuals.
In order to achieve the main objectives as stated above, a new segmentation framework for ATFL segmentation from 2D ultrasound images is developed in this research that includes five (5) step processes comprising of region of interest (ROI) initialization, adaptive histogram equalization (AHE) [30, 31], particle swarm optimization (PSO) [32], Chan–Vese method [33] and morphological operation [34–36] as sophisticated image processing and computational techniques. The ATFL segmentation framework is developed in order to resolve the issues associated with 2D ultrasound images of ATFL as depicted in Fig. 1a, b, c, d. In the developed framework, selection of ROI by visual interpretation followed by the automatic cropping of ROI is used to resolve the issue of homogeneous boundaries between ATFL and surrounding tissues. Applied AHE is a technique to enhance contrast is used to resolve the issue of low contrast in ATFL region as it has been found capable of producing better results than other contrast enhancement approaches in various image processing applications due to its suitability with variable contrast images [37]. Thereafter, the PSO algorithm is used in this framework to resolve the issue of high computational time and the suitability of this method have been demonstrated on natural and satellite image databases that shows significantly better outcomes [15–18]. The Chan–Vese method is applied in the developed framework to resolve the issues of low visibility and boundary extraction at ATFL region as it has been found suitable to segmented desired tissue area compared to traditional active contour and other existing segmentation methods, qualitatively and quantitatively [38–43].
The descriptive illustration with detailed approach is discussed in the next section followed by its capability to segment ATFL region from 2D ultrasound images. In the next sections, performance metrics are measured to demonstrate the performance of the developed framework followed by the results and discussion that shows the impact of the developed framework for clinical evaluation of ATFL injuries.
Results and discussion
Segmentation of ATFL ligament
For the visual interpretation of segmentation processing of the developed framework and the corresponding outcomes with four sample images is illustrated in Table
1
. For instance, initially, ROI is initialized on input image of sample 1 as shown in the 1st row and 1st column of Table
1
and obtained ROI image is presented by the 2nd row of this table. The selected ROI image is enhanced by the AHE method to increase the contrast level as shown in the 3rd row of Table
1
that helped in the better detection of ATFL boundaries as compared to the input image. This enhanced image is optimized by the PSO algorithm, which helps in accurate visualization of ATFL region inside the surrounding tissues as presented in 4th row, which is further processed by the Chan–Vese method to extract the ATFL region as illustrated in 5th row and the obtained segmentation result is shown in 6th row that need of smoothing to get the regular boundaries by morphological operations as depicted in 7th row of Table
1
. The resultant of 7th row is further overlaid on the original image to show the region of ATFL with marked boundaries as shown in 8th row of Table
1
. The obtained results are compared with manual segmentation performed by experts as shown in row 9th of this table whilst the binary images of experts segmentation is shown in row 10 of Table
1
.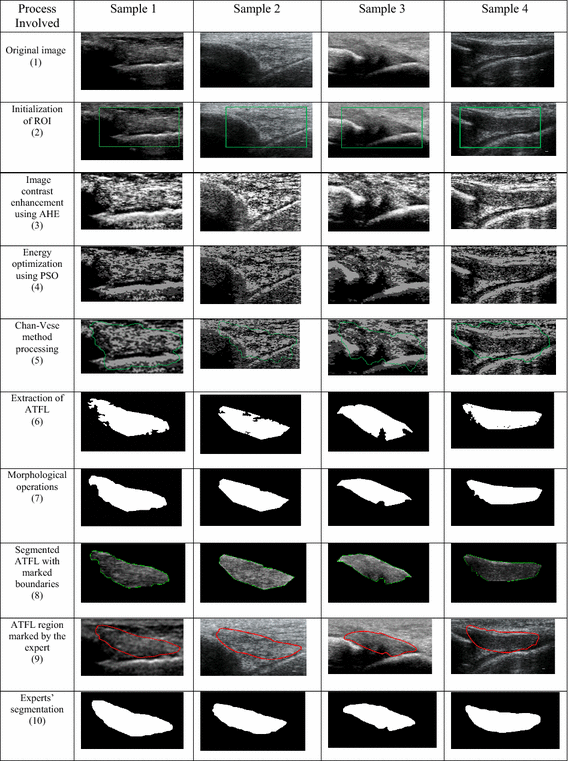 Conclusions
This research developed a novel framework to segment ATFL from 2D ultrasound images based on the integration of the ROI initialization, AHE, PSO, Chan–Vese method and morphological operation. The developed framework has marked a promising improvement over existing Chan–Vese method in terms of computational cost. In addition, distance/similarity, segmented area and area ratio metrics show the encouraging performance of the developed framework compared to existing methods. Since, ATFL segmentation from 2D ultrasound images has not been investigated earlier; this framework has opened new entrances for clinicians, radiologists, orthopaedists, rheumatologists and sports physician to visualize injuries and abnormalities of ATFL more accurately. In future, segmentation results can be used in 3D modelling of musculoskeletal tissues for better visualization and measurements. Hence, once the framework is bundled as a computer aided diagnosis (CAD) Tool, it would be able to assist the physician to diagnose ATFL disorders faster than the existing manual inspection methods by the clinicians.
Declarations
Authors' contributions
VS, IE, VJ, JG, AS and DK contributed to the study concept and design. JG contributed in the data collection, ground truth generation and assessment of the developed framework. VS, IE, DK were involved in the evaluation of obtained outcomes. VS, IE, VJ were associated in the development ofdeveloped framework. IE, VJ, JG, AS and DK were taken part in qualitative and quantitative analyses of the segmentation results. All authors read and approved the final manuscript.
Acknowledgements
The authors would like to thank Universiti Teknologi PETRONAS, Malaysia for their assistance and Ministry of Education (MOE) for sponsoring the project entitled 'Formulation of Mathematical Model for 3-D Reconstruction of Ultrasound Images of MSK Disorders' under Fundamental Research Grant Scheme (Project Cost Centre No. 0153AB-I55). In addition, assistance in the ground truth generation and results analysis by Dr Zuhudha Hussein (radiologist) and Dr Faizatul Izza Rozalli (consultant radiology) from University of Malaya Research Imaging Centre, Malaysia is greatly appreciated.
Competing interests
The authors declare that they have no competing interests.
Open AccessThis article is distributed under the terms of the Creative Commons Attribution 4.0 International License (http://creativecommons.org/licenses/by/4.0/), which permits unrestricted use, distribution, and reproduction in any medium, provided you give appropriate credit to the original author(s) and the source, provide a link to the Creative Commons license, and indicate if changes were made. The Creative Commons Public Domain Dedication waiver (http://creativecommons.org/publicdomain/zero/1.0/) applies to the data made available in this article, unless otherwise stated.
Authors' Affiliations
(1)
Centre for Intelligent Signal and Imaging Research (CISIR), Department of Electrical and Electronic Engineering, Universiti Teknologi PETRONAS, Bandar Seri Iskandar, Malaysia
(2)
Research Imaging Centre, University of Malaya, Kuala Lumpur, Malaysia
(3)
Department of Electrical and Computer Engineering, University of Auckland, Auckland, New Zealand