Categorizing and comparing psychophysical detection strategies based on biomechanical responses to short postural perturbations
BioMedical Engineering OnLine
2010
9:58
Received: 11 January 2010
Accepted: 8 October 2010
Published: 8 October 2010
Abstract
Background
A fundamental unsolved problem in psychophysical detection experiments is in discriminating guesses from the correct responses. This paper proposes a coherent solution to this problem by presenting a novel classification method that compares biomechanical and psychological responses.
Methods
Subjects (13) stood on a platform that was translated anteriorly 16 mm to find psychophysical detection thresholds through a Adaptive 2-Alternative-Forced-Choice (2AFC) task repeated over 30 separate sequential trials. Anterior-posterior center-of-pressure (APCoP) changes (i.e., the biomechanical response RB) were analyzed to determine whether sufficient biomechanical information was available to support a subject's psychophysical selection (RΨ) of interval 1 or 2 as the stimulus interval. A time-series-bitmap approach was used to identify anomalies in interval 1 (a1) and interval 2 (a2) that were present in the resultant APCoP signal. If a1 > a2 then RB = Interval 1. If a1 < a2, then RB= Interval 2. If a2 - a1 < 0.1, RB was set to 0 (no significant difference present in the anomaly scores of interval 1 and 2).
Results
By considering both biomechanical (RB) and psychophysical (RΨ) responses, each trial run could be classified as a: 1) HIT (and True Negative), if RB and RΨ both matched the stimulus interval (SI); 2) MISS, if RB matched SI but the subject's reported response did not; 3) PSUEDO HIT, if the subject signalled the correct SI, but RB was linked to the non-SI; 4) FALSE POSITIVE, if RB = RΨ, and both associated to non-SI; and 5) GUESS, if RB = 0, if insufficient APCoP differences existed to distinguish SI. Ensemble averaging the data for each of the above categories amplified the anomalous behavior of the APCoP response.
Conclusions
The major contributions of this novel classification scheme were to define and verify by logistic models a 'GUESS' category in these psychophysical threshold detection experiments, and to add an additional descriptor, "PSEUDO HIT". This improved classification methodology potentially could be applied to psychophysical detection experiments of other sensory modalities.
Keywords
Ensemble AverageAnomaly DetectionStimulus IntervalBiomechanical ResponseAnomaly Score
Background
A major goal of the psychophysical experiments that we carry out in our laboratory has been to find if changes in one or more biomechanical or physiological variables correlate with the ability to correctly detect small anterior translational perturbations (≤16 mm) of the platform upon which a subject was standing.
The primary test protocol was based on a 2-Alternative-Forced-Choice (2AFC) procedure, where the subject was forced to choose which of two sequential intervals exclusively contained the platform perturbation. The displacement length was fixed, and the platform acceleration was iterated over a sequence of tests to identify a perceptual threshold. This iteration was carried out via a modified Parameter Estimation Sequential Testing protocol (PEST) [1]. However, a major difficulty existed in determining whether a correct response reported by the subject indicated an underlying ability to detect a perturbation or indicated a guess, especially when an acceleration level was close to detection threshold. Hence, we sought profiles in our data that could be used to distinguish biomechanical changes seen during "real" psychophysical detection of the stimulus from those "correct" psychophysical responses caused by other conditions, including chance guesses. We made an explicit assumption in this paper that a stimulus that was perceived must have had a concomitant physiological, biomechanical or neurophysiological response. The logic of this assumption is as follows:
IF a stimulus evoked a certain biomechanical response at some threshold, PB, AND IF there existed a psychophysical detection threshold, PΨ, for that stimulus, AND IF detection was somehow linked to that biomechanical response,
THEN studying the biomechanical and psychophysical responses together would enable us to account for guesses and other non-congruent responses.
This rule might be equivalent to looking a pupillary response to light flashes of varying intensities, and tying those responses to psychophysical detectability. As noted in the rule, we employed two different signal detection mechanisms. First was a psychophysical one where a subject responded by choice of interval where he/she thought that they felt the move. The second mechanism was in terms of a biomechanical response, the Anterior-Posterior Center of pressure (APCoP). We did not claim that the biomechanical response that we chose (i.e., APCoP) was the sole response that could occur, or that detection depended on its occurrence. But we started with that premise to develop our theory and methods. In later papers, we will look at other variables and across multiple variables.
The time-series trajectories of the Center of Pressure (CoP) (related to the vertical projection of the Center of Mass onto the surface upon which this person stands) have been analyzed by many as a measure of postural stability [2–5]. Nearly every modern study on postural control has collected such CoP data as crucial to the experimental analysis. When studying how the body reacts to large perturbations of the platform, the CoP signal provided a clear indication of postural control response that can be directly correlated with the stimulus. However, under quiet standing conditions (with no platform motion as stimulus), the CoP signal still showed significant transient behavior, and could be modeled as a random walk [6]. Research described in this paper focused on the intermediate situation where the body was subjected to small perturbations (meant to mimic the start of a slip or stumble) in an attempt to understand postural control at the borderline of movement perception. Our previous studies have primarily addressed the identification of a perception threshold - the minimum platform motion that could be detected by a test subject [7–10].
A fundamental unsolved problem in psychophysical detection experiments is in discriminating guesses from the correct responses. This paper proposes a coherent solution to this problem by presenting a novel classification method that compares biomechanical and psychological responses. This present paper focuses on newly developed analysis techniques that allow us to characterize and classify APCoP behavior in response to small perturbations and to improve our understanding of the relationship between the APCoP signal and perception threshold.
Methods
In these methods, we outline a new probability model for 2AFC experiments that captures our refined categorization, and give a detailed description of how we identify anomalous behavior. For analysis, our specific computational technique required significant data dimensionality reduction, achieved by symbolic representation of abstracted data. Our other innovation (presented here) is a modified time-series-bitmap (TSB) approach [11] to identify anomalies present in the biomechanical response (i.e., a change in APCoP). It identified "anomaly" not with respect to the full data set, but rather, with respect to a small moving window, providing an estimate of the instantaneous information content, which we could then use to evaluate whether there was sufficient information to differentiate between the two stimulus presentation intervals. Traditional low pass filtering technique could not be used as it does not really amplify the biomechanical response behavior, resulting into failure of differentiating responses. Original work of TSB method was modified by separately the anomaly score into the two separate anomaly score measures.
Results
Classification of detection strategies using both biomechanical and psychophysical responses
Our new categorization considered three factors: (a) the subject's psychophysical report of his/her detection of a stimulus interval; (b) the actual interval in which the stimulus occurred; and (c) the subject's biomechanical response, based on the differentiability of information content of the two presentation intervals, regardless of whether that signal was due to a stimulus presentation or noise. Our categorization terminology is defined below, expressed in terms of our specific platform perturbation experiment and collected CoP data:
'TRUE NEGATIVE': Congruent with a HIT above, where the subject did not choose the non-stimulus interval. The biomechanical response in that stimulus was far below that of the stimulus interval. If RB and RΨ both matched to the stimulus interval, then non-stimulus interval is considered as true negative (Figure 7).
Ensemble Averaging
Our classification method based on anomaly detection used the information content in the APCoP signal as its primary measure, with the measurement at any particular instant based on only a small window of the data. If we clustered data runs based on this scheme, we could ensemble average across like-classified runs to compute a point-by-point ensemble average of the time series. In this methodology, we could then look for observable patterns and behaviours in the ensemble average, using those patterns to infer behavior of the postural control system.
Ensemble averages were constructed via point-by-point time averages of the data time-series acquired from 29 trials in a 16 mm run for the subject of Table
2
. This technique amplified the anomalous behavior of the APCoP response and showed significant anomalies present in the expected interval for each category. The ensemble averaged profiles of 1-HIT, 1-MISS, 1-PH, 1-FP, and GUESS cases respectively are shown in Figure
14
. Visually, it appeared this refined classification was now able to appropriately group the data runs, such that the ensemble average was a good representation of the group. We found similar results for the Interval 2 profiles.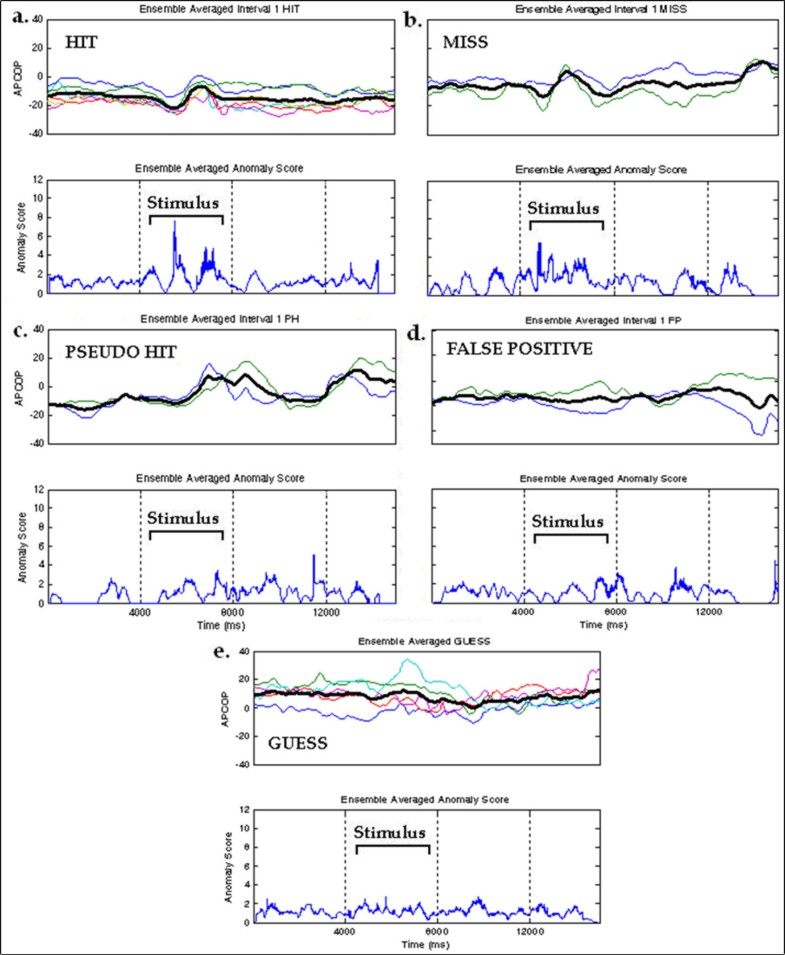 Group Responses
The classification procedure described above was applied to classification results summarized in Table
3
for all subjects. One additional subject from that test group was analyzed, but these anomaly scores were extreme outliers, and the original PEST experiment failed to find a threshold for this subject. These separate indicators warranted removal of this subject's data from the group analysis.
Table 3
Summary classification results for the 13 subjects.
| Subject | Hit | Miss | Pseudo-hit | False Pos | Guess - Correct | Guess - Incorrect | Trials |
| --- | --- | --- | --- | --- | --- | --- | --- |
| f50z031 | 13 | 10 | 1 | 3 | 1 | 2 | 30 |
| f51z065 | 17 | 7 | 3 | 2 | 1 | 0 | 30 |
| f51z160 | 22 | 1 | 2 | 1 | 2 | 2 | 30 |
| f53z077 | 9 | 2 | 4 | 4 | 2 | 2 | 23 |
| f57z088 | 17 | 2 | 4 | 3 | 4 | 0 | 30 |
| f58z097 | 19 | 3 | 3 | 2 | 3 | 0 | 30 |
| f60z025 | 14 | 2 | 1 | 2 | 1 | 0 | 20 |
| f62z021 | 25 | 4 | 0 | 1 | 0 | 0 | 30 |
| f66z067 | 14 | 3 | 3 | 4 | 2 | 3 | 29 |
| f67z125 | 20 | 6 | 1 | 0 | 1 | 2 | 30 |
| f67z161 | 16 | 11 | 1 | 1 | 1 | 0 | 30 |
| m50z028 | 16 | 7 | 2 | 2 | 2 | 1 | 30 |
| m64z011 | 14 | 7 | 3 | 3 | 3 | 0 | 30 |
| Totals | 216 | 65 | 28 | 28 | 23 | 12 | 372 |
Under the assumption that the marginal data provided a useful representation of population behavior, we estimated the conditional probabilities associated with the various classifications. For example, the proportion of
correct
answers when the signal was
detectable
(based on APCoP anomaly score) was approximately 0.77, with 95% confidence interval
using a binomial model. Similar, the probability of
correct
given that APCoP data was
misleading
was 0.5, with 95% confidence interval
We note that, if the subjects were using only the APCoP data to decide on interval, then the misleading signals should have generated a much lower rate of correct responses. The ability to (sometimes) disregard the APCoP indicator and answer correctly when that signal was misleading might contribute in explaining the 25% error rate observed when the signal was detectable.
As the final marginal probability, we observed that the proportion of
correct
responses when the signal was classified as
guess
was 0.66, with confidence interval
If these runs were a pure guess (with no information available to the subject), we would have expected approximately 50% of the response to be correct. Although the 95% confidence interval did preclude this pure guess possibility, the one-tailed p-value was p = 0.045, indicating that there was statistical evidence that the rate was higher than 50%. The result could be viewed as consistent with the other proportions in that it provided evidence that the body was using additional indicators beyond the CoP signal to assess for movement of the platform. We note that this implication held only for the group statistics, and not for an individual, as we observe that much of the deviation from pure guess could be associated to the performance of three subjects (m64z011, f57z088, f58z097), with the rest of the group having approximately equal number of correct and incorrect responses for the guess categorization.
Discussion
A primary contribution of this paper is the development of two new outcome categorizations for a 2AFC trial. This analysis yielded five categories and a guess. The novel classification scheme helped us understand psychophysical postural detection strategies when a subject was presented with the small anterior perturbations at the borderline of movement perception. To our knowledge, all previous work had simply described the outcome as either "correct" or "incorrect," depending on whether the subject correctly identified the presented stimulus. Also, traditional signal detection could only yield four categories, HIT, MISS, FALSE ALARM, and CORRECT REJECTION. Our innovative analysis introduced a new category called 'PSEUDO HIT', and identified a way to distinguish a GUESS where traditional signal detection theory cannot.
As our secondary contribution, we present a methodology that classifies psychophysical detection strategies based on the information content of the biomechanical data. By assessing the anomaly of the biomechanical measurement, we could determine whether there was sufficient information available such that the signal was detectable. Our key innovation is that, rather than using the full time-series of information to discover data patterns, the analysis technique should respect the psychology of the experiment. As consequence, we were able to classify the biomechanical information in our experiments as either indicating that there was a detectable signal or that there was insufficient information that the signal was actually misleading with respect to the decision task at hand.
We applied a modified time-series-bitmap based approach to analyze human postural control. We remark now that analysis via our "anomaly score" metric should be viewed as vastly different from standard linear filtering techniques, using a non-linear discretization of the data to maximize the information content while using a very small alphabet of states. The discretization enabled us to transform the data in a second non-linear process, which identified anomalies by comparison of probability distributions, which in turn can be related to Markov models and information theoretic approaches such as cross-entropy or Kullback-Leibler divergence [21]. Although not presented in this paper, we also examined a vast array of standard filters applied to this problem. We chose to pursue the non-linear transformation described in this paper because we were unable to find a standard linear filtering (to include examination of signal derivatives) that allowed us to differentiate within the expected biomechanical detection response behaviours. The techniques of this paper were closely related to the work of Lin, Keogh, Wei, and their collaborators [11, 20, 22], with slight modifications in method that significantly affected their applicability to the 2AFC environment: (a) by considering only a small (moving) lead-lag window, our method identified "anomaly" as those time periods where the signal was changing rapidly in character, as opposed to where the signal was being differentiated from the full time series, (b) we used knowledge of the experiment to average over the specific test interval in the same way that the subject was asked to differentiate. This analysis allowed us to classify runs based on the psychological and biomechanical implications of the experiment. The resultant ensemble averages then served as motifs to characterize specific human behaviours of the experiment.
The implication of these departures from the standard TSB based methods is significant. As described [20], motifs can be identified in data sets, but the analysis considers the whole time series. If data runs were grouped in this way, the only conclusion to draw was that "this group of time series signals was similar," without any valid way to associate them to a specific psychophysical or biomechanical situation reflective of the experiment. A similar weakness would apply to any attempt to classify the signals via pattern matching and identification. Consequently, we claim as a very important conclusion that the motifs identified by our method are descriptive of important psychophysical aspects of the experiment.
As additional remark on these methods, we note that the data reduction technique relied on a discretization based on an assumption that the data was approximately normally distributed. For the APCoP signal, we found this to be reasonable. For other physiological data collected in this experiment (such as EMG data), other discretization schemes could be required. However, regardless of the method used to partition the space and assign symbols to the time-series data, the rest of the method (comparison using frequency tables) can still be directly applied.
Another major contribution was our pairing a biomechanical indicator with a psychophysical indicator in a 2AFC environment, providing a unique characterization that (to our knowledge) has not been previously described. Our categorization of trials into HITs, MISSes, PSEUDO HITs, FALSE POSITIVEs, TRUE NEGATIVEs, and GUESSes provided a detailed view of the experimental results that would not be possible if we considered only the subject's stated response. We would imagine that in other 2AFC experiments, modern data collection schemes (e.g., iris tracking in a visual perception experiment) might easily provide the necessary biomechanical data to allow similar classification. To our knowledge, this refined characterization scheme for the 2AFC experiments represents a major contribution in the psychophysical literature. Additionally, we believe our techniques have broader applicability in other psychophysical applications of threshold detection.
Biomechanical Event
A primary conclusion was that the APCoP signal could be used to assess the effect of platform movement on body motion under the low level perturbations of the experiment, though not with complete accuracy (81.4% correct). For those situations where there was a detectable signal, even then many subjects answered correctly on only about 3 out of 4 trials, indicating that (a) the subject could not correctly interpret the APCoP information or (b) the subject used other additional information in making the perceptive decision. However, we do note that most psychophysical testing defines threshold at 75%, thus the 81% was above that value. That other information was used appears to be supported by higher expect rates of correct responses for both the misleading and guess APCoP signals. We intend to pursue richer data models to support an analysis of collected EMG data to better capture this aspect.
One source of conceptual error in our model was the assumption that the APCoP signal was fully describing the postural response to platform perturbations. Although valid at a superficial level, we noted that the APCoP signal did reflect a postural response, regardless of the initiating signal, to include conscious movement and subconscious reactions of the subject. As anecdotally observed, a subject who was immediately convinced that they were sensing platform movement in interval one would "relax" in interval two, where normally the relaxation took place in the "decide" interval of the experiment. As such, the body motion in interval 2 was "anomalous," perhaps at levels larger than might have been caused by an interval 1 stimulus. The subject's correct response to interval 1 move would be recorded as a PSEUDO-HIT, but that classification was actually the result of a "correct detection" in interval 1.
The GUESS categorization can be viewed as somewhat of a misnomer, with a better description being that those trials were ambiguous with regard to APCoP information. It was likely that other information was used to provide the subject with greater accuracy than a pure guess. With the small size of the data sets, however, it was not clear whether this group statistic reflected that some subjects were using additional information while most were not. We have evaluated other choices for the guess threshold 0.05 ≤ at ≤ 0.25, and within this ranges the results were reasonably consistent in that there was a borderline distinction that might have been associated with just a few individuals. Choosing a smaller threshold significant reduced the sample size, while choosing a larger value began to bring in more trials where the anomaly difference provided a clear indication of the stimulus. We are now exploring additional statistical techniques to attempt to better resolve the guess-like behavior.
In the future, we wish to apply this classification to subjects of a wide age range, with and without diabetes. We expect that the refined analysis based on an ensemble average taken across the appropriate classifications developed in this paper will support more rapid discovery of postural control behaviours. The ensemble averaging employed to date has focused on averaging across a single individual, resulting in a motif description of that category. Our next step is to explore those motifs across a range of subjects to identify common characteristic on the group. For example, we want to characterize the features of a HIT, where those features are common to the ensemble average of all the subjects in a group. Also, our immediate focus is on how EMG data might be used to improve the accuracy of the classifier.
Based on this work, a physiological or biomechanical threshold detection experiment could be designed to see whether a change in the APCoP (or some other variable) corresponds to a presentation of a stimulus, independent of a psychological response or choice. The classification of "detectable" is currently only a description of whether motion is detectable in the CoP signal. As the further analysis might reveal how the body uses other biomechanical indicators to determine a perturbation, we intend to incorporate those features into the classification methodology. This new threshold detection technique could help in designing threshold iteration schemes in a way that could automatically account for GUESSes and PSEUDO HITs without requiring a psychophysical response (e.g., a button press) from the subject. Such an automated threshold detection mechanism could provide a new tool not only to study human balance mechanisms, but also to investigate true detection thresholds for other sensory modalities.
Declarations
Acknowledgements
We thank psychophysicists Robert Carlson and Alan Searleman for their very constructive comments. We acknowledge the most helpful advice provided for this work by Eamonn Keogh, Associate Professor, University of California - Riverside. This project was funded by NIH R01 AG26553, VA Rehabilitation R&D #E2143PC, a VA Senior Rehabilitation Research Career Scientist award, and a Coulter Foundation endowment to Clarkson University.
Authors' Affiliations
(1)
Clarkson University, Potsdam, USA
(2)
Louisiana State University School of Medicine, Shreveport, USA
(3)
Syracuse VA Medical Center, Syracuse, USA
Copyright
© Bhatkar et al; licensee BioMed Central Ltd. 2010
This article is published under license to BioMed Central Ltd. This is an Open Access article distributed under the terms of the Creative Commons Attribution License (http://creativecommons.org/licenses/by/2.0), which permits unrestricted use, distribution, and reproduction in any medium, provided the original work is properly cited.