Simulation and analysis of spatio-temporal maps of gastrointestinal motility
BioMedical Engineering OnLine
2008
7:2
Received: 03 October 2007
Accepted: 14 January 2008
Published: 14 January 2008
Abstract
Background
Spatio-temporal (ST) maps provide a method for visualizing a temporally evolving and spatially varying field, which can also be used in the analysis of gastrointestinal motility. However, it is not always clear what the underlying contractions are that are represented in ST maps and whether some types of contractions are poorly represented or possibly not at all.
Methods
To analyze the translation from stationary or propagating rhythmic contractions of the intestine to ST maps, a simulation program was used to represent different patterns of intestinal contraction and to construct their corresponding ST maps. A number of different types of contractions were simulated and their ST maps analyzed.
Results
Circular strong contractions were well represented in ST maps as well as their frequency and velocity. Longitudinal contractions were not detected at all. Combinations of circular and longitudinal contractions were, to a limited extent detectable at a point in space and time. The method also enabled the construction of specific ST-patterns to mimic real-life ST maps and the analysis of the corresponding contraction patterns.
Conclusion
Spatio-temporal simulations provide a method to understand, teach and analyze ST maps. This approach could be useful to determine characteristics of contractions under a variety of circumstances.
Keywords
Longitudinal MuscleInverse AnalysisRhythmic ContractionIntestinal TubeLongitudinal Contraction
Background
Spatio-temporal (ST) maps provide a method for visualizing a temporally evolving and spatially varying field. In the gastrointestinal system, they were first used in 1997 TheyTheyto analyze intestinal motility [1]. To date, this type of analysis, also called D-maps (the D refers to the diameter), has been used to analyze the motility of the small intestine [2–4], colon [5], stomach [6], or of barium contents [7]. In most of these studies, recordings were obtained from experiments performed in vitro but recently in vivo recordings have also been obtained [8, 9].
However, it is uncertain what a spatio-temporal map (ST map) may entail. For example, it is not certain what types of contraction are detected and how faithfully they can be represented by the ST maps or whether there is a bias for particular types of contractions. One way to start addressing these uncertainties is to use a simulation program, which allows systematic investigation of a number of different types of intestinal contractions, such as stationary or propagating segmental or pendular contractions, and to generate the corresponding ST maps. By comparing the original, albeit artificial, contractions with the derived ST map, it is possible to clarify some of the potentials and limitations of ST mapping.
Methods
Simulations were performed using custom written software (SimST) [
10
]. The simulations are empirically based, temporally quasi-static and have a relatively limited physiological link to events occurring in the small intestine. They involved displaying a cross-section of an intestinal segment, inserting various types of stationary or propagating, stable or rhythmic constrictions, calculating the diameter of the segment, and plotting those values in an ST-map. (see Panels 1–5 in Figure
1
). Variables which can be adjusted in the simulations to determine the resultant effects on the ST maps included the speed, the direction, the length, depth, and frequency of contractions, and the curvature or misalignment of the investigated sample.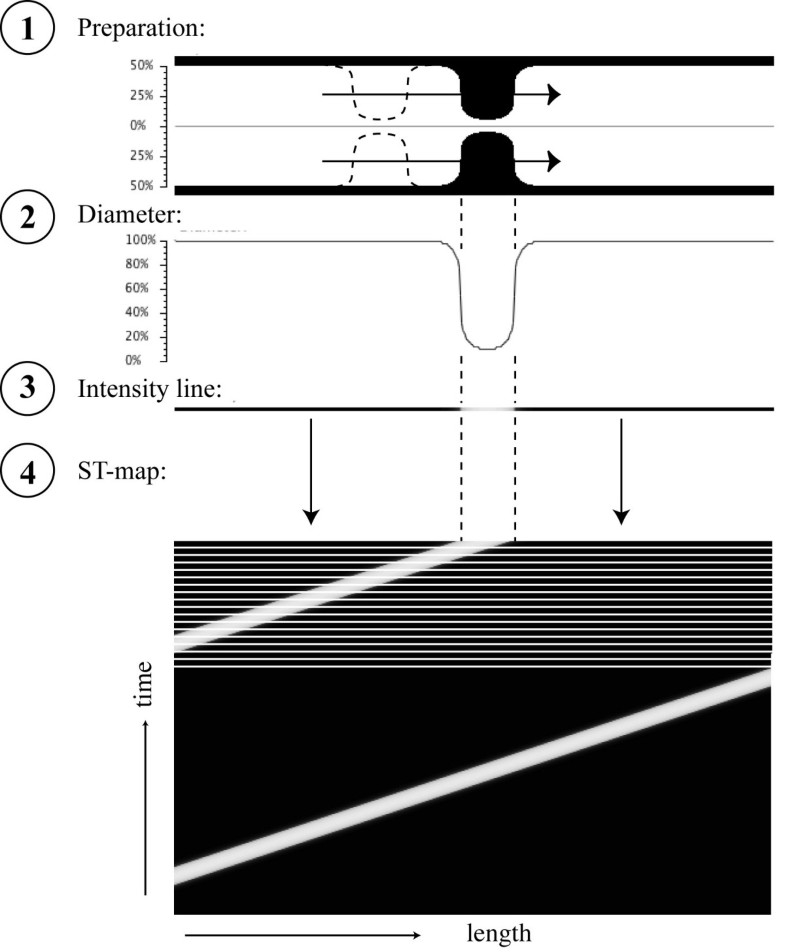 In the first simulation (Figure 1), a single contraction occurred on both sides of the intestinal tube that constricted the lumen to 10% of its original value. The contraction propagated from left to right and, at this moment during the simulation, was located in the middle of the preparation. In panel 2, the diameter of the tube was calculated along its length and, for this time step, translated, as is the custom in ST mapping, in a single line whereby the value for the diameter was converted into the intensity of the line (panel 3). Black shading corresponded to an open tube (100%) whereas white shading represented a fully occluding contraction (0%).
Therefore, at this particular moment during the simulation, the "intensity line" was black along the length of the segment except for a middle portion that was white to light grey, indicating contraction in that area. This line was then stacked on top of previous lines obtained from previous time steps (panel 4). At the end of this simulation, in which two uniformly propagating contractions occurred after each other, two parallel white lines were obtained in the ST map. The angle of these lines indicates the direction and the velocity of the contraction while the vertical distance (time) between the lines is a measure of the frequency of this contraction.
In the ST maps presented in this article, time was oriented upwards in the vertical direction and space in the horizontal direction as is the convention of some groups [4, 8]. However, it should be noted that there are alternative conventions to orientate time in the horizontal direction [1, 3] or in the downward vertical direction [2, 5].
Results
A series of different controlled contraction types were systematically analyzed by varying a number of parameters that affected the motility patterns of intestine and examining the corresponding ST maps.
Discussion
This analysis has shown some of the potentials and limitations of spatial-temporal mapping of intestinal contractions. ST mapping is at its best in determining origin and direction of fully occluding circular contractions. In several cases, the frequency, velocity and width of strong circular contractions can be measured accurately. On the other hand, contractions of the longitudinal muscle layer, as in pendular contractions, are not detected at all (Figure 4). Combinations of circumferential and longitudinal contractions can partly be reconstructed depending on their corresponding propagations and frequencies (Figure 3). Finally, this approach also presents the potential of inverse analysis of real-life ST maps and the characterization of the underlying contraction patterns (Figure 6).
In many cases, video recordings of the intestinal tube are used to measure the diameter of the segment and in most cases; it is the outer diameter, not the inner luminal diameter, that is used for the construction of ST maps. In smaller animals with thin luminal walls, the difference between the two might be negligible, but, in larger animals and in humans, this difference may become significant. Another approach has been to use the variations in contrast in computer-enhanced images as a way to obtain signals suitable for ST analysis [4]. However, the relation between contrast, contraction and diameter has not been evaluated. For example 'contrast' recordings may also be able to pick up longitudinal contractions that diameter recordings may miss. Finally, especially in in vivo fluoroscopy studies, it is often not the intestinal wall but the intestinal contents that are measured [7, 13]. It is known that changes in luminal content do not necessarily reflect muscular contractions [14] but the effects a local contraction may have on luminal contents located further away have not been analyzed.
Nevertheless, within these constraints, ST mapping is a useful tool to detect and characterize intestinal contractions, provided that its limitations are known. Together with other techniques, such as intra-luminal pressure recordings, impedance measurements of intestinal flow and myo-electrical recordings, it contributes to our increasing knowledge of normal and abnormal intestinal behavior.
Conclusion
Simulations of intestinal contractions and the creation of corresponding spatio-temporal maps (ST maps) have shown that some types of contractions, especially circular contractions, are well represented in ST maps while others, especially contractions of the longitudinal muscle coat, are not detected by ST maps at all. Combinations of circular and longitudinal contractions can, to a certain extent, be detected. This approach also enables the construction of specific ST-patterns to mimic real-life ST maps and the analysis of the underlying contraction patterns.
Declarations
Acknowledgements
This word was funded in part by the Faculty of Medicine & Health Sciences, UAE University, Al Ain, United Arab Emirates and a National Institutes of Health research grant (R01 DK64775). The second author was grateful for support via a Claude McCarthy Fellowship.
Authors' Affiliations
(1)
Department of Physiology, Faculty of Medicine and Health Sciences, UAE University, Al Ain, United Arab Emirates
(2)
Bioengineering Institute, The University of Auckland, Auckland, New Zealand
Copyright
© Lammers and Cheng; licensee BioMed Central Ltd. 2008
This article is published under license to BioMed Central Ltd. This is an Open Access article distributed under the terms of the Creative Commons Attribution License (http://creativecommons.org/licenses/by/2.0), which permits unrestricted use, distribution, and reproduction in any medium, provided the original work is properly cited.