Facilitating arrhythmia simulation: the method of quantitative cellular automata modeling and parallel running
BioMedical Engineering OnLine
2004
3:29
Received: 21 June 2004
Accepted: 30 August 2004
Published: 30 August 2004
Abstract
Background
Many arrhythmias are triggered by abnormal electrical activity at the ionic channel and cell level, and then evolve spatio-temporally within the heart. To understand arrhythmias better and to diagnose them more precisely by their ECG waveforms, a whole-heart model is required to explore the association between the massively parallel activities at the channel/cell level and the integrative electrophysiological phenomena at organ level.
Methods
We have developed a method to build large-scale electrophysiological models by using extended cellular automata, and to run such models on a cluster of shared memory machines. We describe here the method, including the extension of a language-based cellular automaton to implement quantitative computing, the building of a whole-heart model with Visible Human Project data, the parallelization of the model on a cluster of shared memory computers with OpenMP and MPI hybrid programming, and a simulation algorithm that links cellular activity with the ECG.
Results
We demonstrate that electrical activities at channel, cell, and organ levels can be traced and captured conveniently in our extended cellular automaton system. Examples of some ECG waveforms simulated with a 2-D slice are given to support the ECG simulation algorithm. A performance evaluation of the 3-D model on a four-node cluster is also given.
Conclusions
Quantitative multicellular modeling with extended cellular automata is a highly efficient and widely applicable method to weave experimental data at different levels into computational models. This process can be used to investigate complex and collective biological activities that can be described neither by their governing differentiation equations nor by discrete parallel computation. Transparent cluster computing is a convenient and effective method to make time-consuming simulation feasible. Arrhythmias, as a typical case, can be effectively simulated with the methods described.
Keywords
Cellular AutomatonAction Potential DurationField PointCell ProgramCardiac Model
Background
Arrhythmias, a significant direct cause of death in heart diseases, are emergent and evolvable events that come with little prior warnings and allow limited response time [1]. Although ECG waveforms – the mapping of body surface potentials of cardiac cells – have routinely been used to diagnose arrhythmias, as integrated signals they tell us little about what happen at cell and ionic channel levels. They therefore are only marginally useful in guiding the clinical use of anti-arrhythmic drugs to treat disturbed cardioelectrical activity at cell and channel levels. Many of such drugs used today are ionic channel blocking agents [2].
To overcome the inherent limitations of clinical investigation, computational modeling and simulation has been widely recognized as a valuable alternative approach. Traditionally, cardiac modeling has centered on ECG simulation. Using the finite element method (FEM), the virtual heart and whole chest are partitioned into numerous elements representing a group of cells. The ECG is then simulated, based on computing the body surface potential of each cardiac element [3–5]. Basically, this method does not concentrate on cellular electrophysiological issues at the channel level, and thus fails to precisely associate macro level phenomena (ECG waveforms) with micro level activities and to make use of the considerable knowledge of cellular electrophysiology accumulated over the past decades. To improve the understanding of arrhythmias and to find effective perturbations, electrophysiological modeling using membrane equations is required so that mechanisms of arrhythmias at cell, channel, and even molecular levels can be investigated [6–8].
To study arrhythmias using a large-scale realistic electrophysiological model, two issues need to be effectively resolved: model building and operation. Though the widespread paradigm of modeling with C or C++ remains a workable choice, the huge number of cardiac cells in a realistic three-dimensional (3-D) whole-heart model and the numerous modifications of the model to simulate various pathological conditions, make more desirable efficient modeling based on transparent parallel computing. To build and run a model with parallel computing technologies, two strategies were separately developed in recent years. To provide transparent and parallel descriptions, cellular automata were used [9–11, 50]; for efficient execution, distributed computing was adopted [12, 13]. Yet, each strategy alone is not sufficient for the successful simulation of arrhythmias. On the one hand cardiac models built with traditional cellular automata are qualitative, and thus do not use the Hodgkin-Huxley (HH) action potential equations to describe channel electrical activity. Consequently, many arrhythmias, such as those triggered by early-after-depolarization (EAD) and delayed-after-depolarization (DAD), can not be simulated. On the other hand, physical parallelism on parallel computers is also not fully exploited in these cellular automata models. MPI, the programming protocol for distributed-memory multiprocessors (DMP), and OpenMP, the programming protocol for shared-memory multiprocessors (SMP), are not used [14, 15]. Partly because of these two issues, arrhythmia simulations with a realistic whole-heart electrophysiological model have not been fruitfully conducted.
There is compelling evidence that cardiomyocytes are not arranged in a uniformly connected continuum, as has often been assumed and simulated in the past. Along with nonlinear ionic channel electrical activity, discontinuous electrical propagation is another key feature of cardioelectrical activity [16]. The former demands a precise membrane equation based description; the latter requires a gap junction based discrete model. To efficiently build heterogeneous models containing different types of cardiomyocytes described by different membrane equation models and connected through different gap junctions remains a major challenge. In the present study, we propose a method using an extended, quantitative cellular automaton to build a discrete whole heart model with the data of the Visible Human Project (VHP) male cadaver [17]. An ECG simulation algorithm based on the membrane potential of each and every cell is designed and validated in a 2-D model built with the same method. Moreover, we combine cellular automata modeling with distributed parallel computing to realize efficient and affordable simulation. The parallel numerical solutions of the HH equations within a large number of cardiac cells are executed in parallel on a cluster with hybrid MPI and OpenMP programming. The parallel programming does not have to be manually coded in models built with the extended cellular automaton, because the modified compiler of the cellular automaton can automatically parallelize the codes, making parallelism fully transparent. The aim of this paper is to introduce the method and the whole-heart electrophysiological model. Results of performance evaluation on a four-node cluster are given. Based on this work, we conclude that quantitative modeling using extended and cluster computing enabled cellular automata is feasible and efficient, seamlessly binding conceptual and physical parallel computation. This method is suitable for a variety of computational intensive, tissue level modeling and simulation.
Results
Factors that influence performance of the parallelized cellular automata model
For the physically parallelized whole-heart electrophysiological model built with the extended cellular automata, several factors impair the simulation efficiency on a cluster of SMP.
The first difficulty is the graphic display of the simulation. The main display window, as the critical resource in the parallelized program, can only be sequentially accessed by the cells. Thus, to display the updated state of all cells leads to a significant decrease of running speed. We mitigate this problem by displaying the cell state every 20 or even 50 steps, instead of every single step. The second problem is the overhead of communication among slaves located on different nodes. The time cost of communication, spent on the exchange of boundary sheets between neighboring slaves in each round, rises with the increase of slave number. An extreme case for a 128 × 128 × 128 model is that there are 128 nodes, and each slave deals with just one sheet, requiring every sheet to be exchanged in each round. The physical link between nodes also significantly affects performance. An additional limitation is that the overhead of fork/join operations in the OpenMP parallelized program degrades performance, although not very significantly. The OpenMP directive parallel can be inserted either before the endless while loop, or more simply, before the three for loops. If it is inserted before the for loops, the fork and join operations, which create and delete threads and allocate and collect memory for temporary variables in each thread, will be repeatedly executed in each round. The preferable way, which eliminates this unnecessary expenditure, is to insert the directive omp parallel before the while loop, and the directive omp for before the for loops. Between the omp parallel and the omp for,omp master is used to limit parallelism to only the cell program part. Finally, load balance becomes a limitation when a model has an irregular and/or heterogeneous structure. The heart, with four chambers and an uneven shape, is a typical case. Usually, on a cluster consisting of m identical nodes each containing n CPUs, a program is evenly dispatched to distribute the cell space across all nodes. We find that using this strategy, the 3-D heart model cannot reach the best load balance and performance because different nodes deal with different numbers of cardiac cells. Furthermore, even if each node contains the same number of cardiac cells, since different cells run different action potential models, the burden of computation remains unequal. Only a solid cubic model with homogeneous cells occupying the full cell space can ensure a best performance. Thus, if a model needs to run many simulations, an important issue is to find the best cell space partition.
Evaluation of the 3-D cardiac model
Pilot runs with the 3-D model have been made on a 4-node SUN computer cluster. The head node has eight UltraSparc CPUs, and the other nodes each have four identical CPUs. Five processes, 1
master
and 4
slaves
, are created at each run. The
master
and a
slave
are assigned to the head node, and each remaining
slave
is assigned to a node. Within each
slave
, four threads are created using the OpenMP
parallel
directive. Figure
9
gives the performance results for an even partition strategy. With this partition, due to the irregular structure of the heart and the heterogeneity of cardiac cells, the combination of 4
slaves
-4 threads does not give the best performance. The 4
slaves-
2 threads setting behaves better because the overall cost is lower. . However, when the whole cell space is occupied by ventricular cells, the 4
slaves
-4 threads version provides the best performance, as predicted.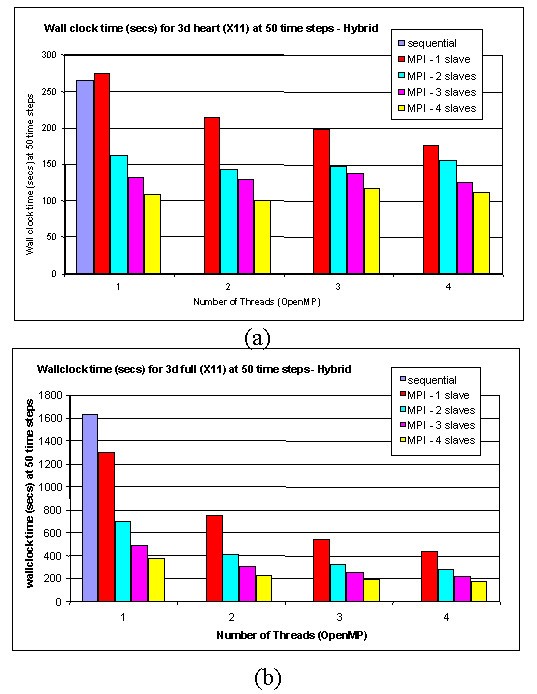 Discussion
Arrhythmias are a group of complex syndromes not well understood. Many difficult issues exist when investigating arrhythmias through computational modeling. We cover here only a few relating to model building and running.
We adopt early published action potential models in the current 3-D model because they are simpler and more computationally affordable. In the first version of the Luo-Rudy model [30], there are six ionic channels, and the fluctuation of ionic concentration is not described. In the second version, there are many more channels, and the dynamic ion concentrations are described by another large group of ODEs [42]. It is straightforward to upgrade the cardiac model by replacing old action potential modelswith new ones. However, action potential models are not the whole story for a cardiac model. One has to make a compromise between the complexity of action potential models and the resolution of the cardiac model, because the computational burden also is due to the latter. Pollard et al. [43] in 1993 reported a cardiac model containing 400,000 computing nodes, but a much simplified action potential model was used [44]. This strategy was also adopted by other modelers [45]. We argue that full action potential models are important for modeling and understanding arrhythmias, especially those triggered by abnormal ionic electrical activities. However, to simulate more complex spatio-temporal cardioelectrical activities such as spiral waves in fibrillation, the current resolution of the model is undoubtedly insufficient. Technically, it is not difficult to adopt a higher resolution with more precise data, such as the digital female cadaver slices, which have an interval of 0.33 mm [17]. To double the resolution using a 256 × 256 × 256 coordinate system is another choice. By either method, the cell program, the pattern formation algorithms, and the ECG simulation algorithm remain the same – they are resolution-independent. This is a prominent and beneficial feature of such cellular automata modeling.
Although experimental evidence show that fiber orientation takes a role in arrhythmia generation [46, 47], to implement a highly realistic description of fiber orientation is expensive because of the difficulty in acquiring sufficient validated data [48]. Encoding these data into models is also quite complex, requiring the use of complex mathematical tools such as tensors. In our model, a new approach is proposed for stratifying heart walls. If fibers are simply built with cells of the same layer, they automatically acquire an arc shape (Figure 6d) that can assume various orientations. Comparison of effectiveness between the two methods is currently not available due to the lack of sufficient simulations.
Another issue relates to ECG simulation. Although simulation results of the 3-D model have not been acquired thus far, the simulated ECGs with the 2-D model in different lead locations and under physiological and pathological conditions are impressive and qualitatively agree with recorded ECGs, supporting the validity of the algorithm. Theoretically, the boundary effect of dielectrics is not negligible for field potential computing; yet in practice simplifications are often inevitable. So far we find that our simplified treatment of boundary effect on field potential does not visibly affect ECG simulation. There may be two reasons for this. First, the conductivity of the tissues (not including the heart) in the chest may not be significantly different. Second, the boundaries among different tissues are so irregular that the net boundary effect may be effectively neutralized. On the other hand, we find that to let cardiac cells under different conditions (depolarization, repolarization, resting state, and ischemia) have different conductivity can improve the ECG quality, indicating that the precise description of the source may be more important than the precise description of the dielectric.
Finally, we point out that, as in single cell models where adaptive time steps can greatly improve the running performance, this same strategy can produce the same results in multicellular models built with this cellular automaton [49]. Simulation with the 2-D model shows that an overall speed improvement of 4.5 is reached.
Conclusions
Effective simulation of arrhythmias needs a whole-heart model, differential description of electrical properties of cardiac cells, membrane equation based computation, association between cellular activities and ECG generation, flexible description of pathological conditions, and long running time. To comprehensively address these issues, we develop a method based on cellular automata and parallel computing technologies to build large-scale electrophysiological models with extended cellular automata, and run such models on clusters of shared memory machines. The dynamically traced and captured electrical activities at channel, cell, and organ levels can substantially help us understand abnormal cardioelectrical activities through simulation. Simulation results with the 2-D model support the validity of the ECG simulation algorithm. Transparent cluster computing is a convenient and effective solution to the excessive time consumption of computational intensive simulation.
In addition to reaching a mechanistic understanding of arrhythmias, an important goal of in silico research is to facilitate the discovery and evaluation of drugs. This helps to reduce the risk and cost of clinical trials, shorten the cycle of development, and remove randomness in candidate screening. A whole-heart electrophysiological model that links electrical activities at channel, cell, and organ levels can help achieve this result. The modeling method described in this paper shows the advantages of precisely linking cell and organ activities, exploiting the intrinsic parallelism in tissue/organ level biological activities. Besides modeling electrical activity, the method is also applicable to many other multicellular models in which quantitative description is required.
Declarations
Acknowledgements
The authors wish to extend their sincere appreciation to our funding agency, Agency of Science, Technology and Research (A-STAR), Singapore for supporting the present work.
Authors' Affiliations
(1)
Systems Biology Group, Bioinformatics Institute, Singapore
(2)
Medical Informatics Group, Bioinformatics Institute, Singapore
Copyright
© Zhu et al; licensee BioMed Central Ltd. 2004
This article is published under license to BioMed Central Ltd. This is an open-access article distributed under the terms of the Creative Commons Attribution License (http://creativecommons.org/licenses/by/2.0), which permits unrestricted use, distribution, and reproduction in any medium, provided the original work is properly cited.