Coronary artery bypass grafting hemodynamics and anastomosis design: a biomedical engineering review
BioMedical Engineering OnLine
2013
12:129
Received: 18 September 2013
Accepted: 10 December 2013
Published: 13 December 2013
Abstract
In this paper, coronary arterial bypass grafting hemodynamics and anastomosis designs are reviewed. The paper specifically addresses the biomechanical factors for enhancement of the patency of coronary artery bypass grafts (CABGs). Stenosis of distal anastomosis, caused by thrombosis and intimal hyperplasia (IH), is the major cause of failure of CABGs. Strong correlations have been established between the hemodynamics and vessel wall biomechanical factors and the initiation and development of IH and thrombus formation. Accordingly, several investigations have been conducted and numerous anastomotic geometries and devices have been designed to better regulate the blood flow fields and distribution of hemodynamic parameters and biomechanical factors at the distal anastomosis, in order to enhance the patency of CABGs. Enhancement of longevity and patency rate of CABGs can eliminate the need for re-operation and can significantly lower morbidity, and thereby reduces medical costs for patients suffering from coronary stenosis. This invited review focuses on various endeavors made thus far to design a patency-enhancing optimized anastomotic configuration for the distal junction of CABGs.
Keywords
Coronary artery bypass graft (CABG)AnastomosisStenosisHemodynamicWall shear stressIntimal hyperplasiaEnd-to-sideSide-to-side
Introduction
Coronary artery disease (CAD) is the leading cause of death globally, and is expected to account for 14.2% of all deaths by 2030 [1]. According to the statistics from the American Heart Association, mortality data show that cardiovascular disease, as the underlying cause of death, accounted for 34.3% of all (1 of every 2.9) deaths; in particular, coronary heart disease caused approximately 1 of every 6 deaths in 2006 in the United States [2].
Several alternative treatments exist for CAD, including medical therapy, rotablation, endarterectomy, percutaneous coronary intervention (PCI) or balloon angioplasty, stenting, and coronary arterial bypass grafting (CABG). Depending on the severity, number and position of atherosclerotic lesions and the clinical history of the patient, any of the above mentioned treatments may be chosen. For high-risk patients, such as those with left main coronary artery (LMCA) disease, severe three-coronary vessel disease, severe ventricular dysfunction (i.e., low ejection fraction), and diabetes mellitus, CABG is the preferred treatment [3]. In general, the greater the extent of coronary atherosclerosis and its diffuseness, the more compelling the choice of CABG, particularly if the left ventricle function is depressed [4].
CABG is a surgical procedure performed to graft arteries or veins from the patient's body or synthetic conduits to the occluded coronary arteries in order to bypass the atherosclerotic narrowing and improve the blood supply to the coronary circulation, for nourishing the myocardium. Figure
1
illustrates both arterial and venous grafts, each bypassing a coronary blockage (stenosis) formed by cholesterol build-ups.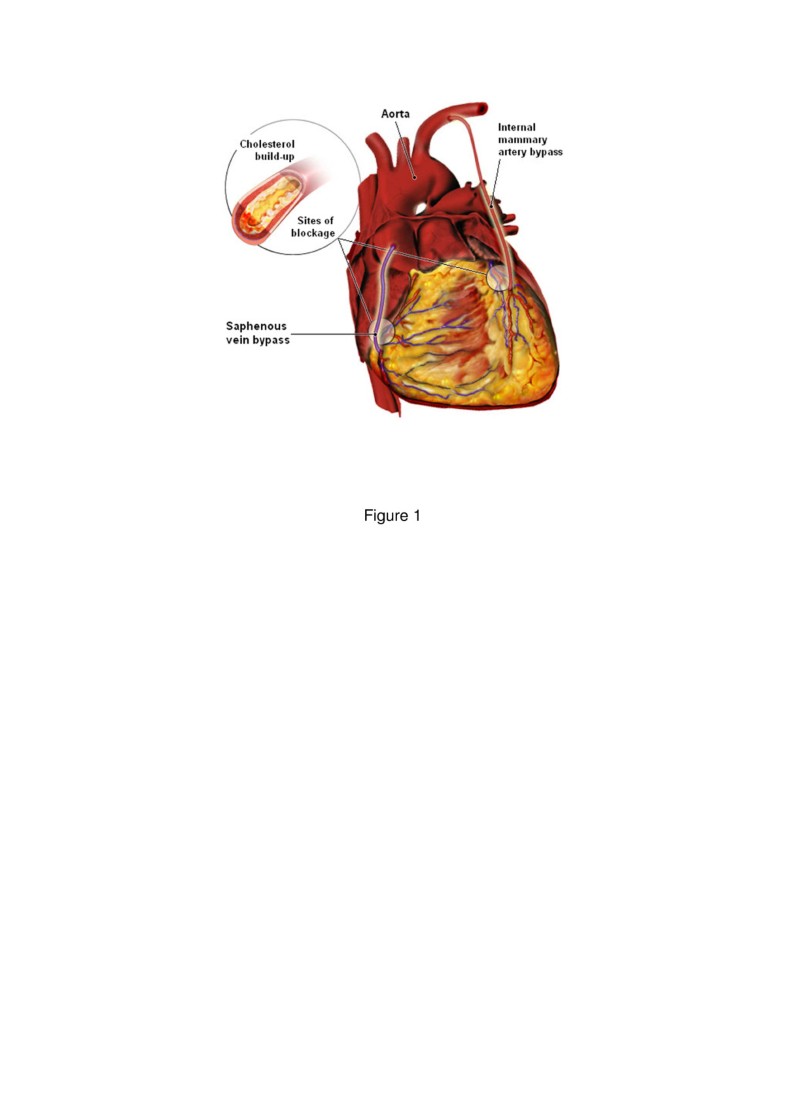 Although CABG is extremely effective for symptomatic relief and prognostic improvement in CAD and is the preferred remedy for high-risk patients, it is not devoid of complications and the long-term benefits are directly related to continuing conduit patency. Approximately 10–15% of vein grafts occlude during the first year after operation [5]. About half of the vein grafts are only effective for a period of 5 to 10 years [6, 7]. By 10 years after surgery, about 60% of vein grafts are patent, only 50% of which remain free of significant stenosis [8].
Early graft failure (within 30 days) of bypass grafts is attributable to surgical technical errors and resulting thrombosis, while late graft failures are mainly caused by progression of atherosclerosis and intimal hyperplasia (IH) [9]. Various studies have found IH to be the major cause of graft stenosis [10]. IH is the abnormal, continued proliferation and overgrowth of smooth muscle cells (SMCs) in response to endothelial injury or dysfunction. Although the exact mechanism and pathophysiology of IH remains an enigma, there are indications that both biological and biomechanical factors are involved, which include endothelial injury [11], platelet activation [12], disturbed local hemodynamics [13, 14], compliance mismatch between the graft and host vessel [15], and interactions between blood and graft material [16].
Among the abovementioned factors, hemodynamic parameters (HPs) are believed to be highly important [17, 18] in the genesis and development of IH. It has been shown that in end-to-side (ETS) graft–artery configurations, IH develops predominantly at the toe and heel of the anastomosis and on the artery bed across the junction where disturbed flow patterns and hemodynamic factors are observed [17, 19]. On the basis of this focal distribution of intimal thickening (IT), disturbed flow patterns and the associated hemodynamic factors have been correlated with the onset and progression of atherosclerosis and distal anastomotic intimal hyperplasia (DAIH) [19, 20]. Among the important hemodynamic factors are wall shear stress (WSS), spatial and temporal gradients of WSS, and oscillatory shear index (OSI).
Accordingly, several investigations have been conducted and different anastomotic geometries and devices have been designed to improve the flow fields and HPs distribution at ETS anastomosis, in order to enhance the graft patency. These investigations include studies on the effects of geometrical factors, such as anastomotic angle [21–27], modified configuration of distal anastomosis [28–31], graft-to-host artery diameter ratio [32–34], and out-of-plane graft [35–37], and effects of stenosis severity and proximal artery flow [38, 39], irregularities of venous graft wall (due to venous valve sinus) [40], and distance of grafting (i.e., the distance of anastomosis from the occluded site) [41]. Considerable efforts towards attaining an optimal patency-enhancing CABG anastomotic configuration have been made, and continue to be made by investigators. This is because enhancement of the longevity and patency rate of CABGs (by means of an optimal anastomotic configuration) can result in considerable improvement in the left ventricular contractility index and ejection fraction of patients with CAD [42], elimination of the need for re-operation, reduced medical costs for patients suffering from coronary stenosis, and significantly lower morbidity.
Accordingly, this paper reviews the theories on bypass graft failure and its causative biological and biomechanical factors, followed by various attempts to design an optimal anastomotic configuration for the distal CABG anastomosis. This review illuminates the impact of CABG layout designs towards obtaining higher long-term graft patency rates and the benefit of superior anastomotic designs for the improvement of global ejection fraction of patients with coronary artery disease.
The first section of this review covers the studies correlating different biological and biomechanical factors to initiation and progression of atherosclerosis and IH. The majority of the investigations on biological factors are in vivo studies along with complementing in vitro investigations. On the other hand, computational simulations of blood flow along with numerous in vitro and in vivo investigations constitute the studies of the biomechanical factors and hemodynamic parameters, and have provided strong evidence on the influence of these factors on initiation and onset of IH.
The second section of this review elaborates on the various attempts to design an optimal anastomotic configuration for CABG. These attempts include adjustments of anastomotic angle and graft-to-host artery ratio, design of different cuffed and patched anastomotic configurations, and design and development of other novel configurations (such as the coupled sequential anastomoses) and synthetic devices.
Finally, the current state of the art of CABG anastomotic configurations is discussed and future directions are suggested.
Theories on bypass graft failure
According to angiography and histological examinations, common graft failure modes include acute thrombosis, IH, and onset of progressive atherosclerosis [8, 43, 44]. Thrombosis is the formation of a blood clot (thrombus) in arteries or veins, as a result of low blood velocity within a graft caused by a flow-limiting stenosis or high-shear rates caused by a jet-type flow [45]. Atherosclerosis is a disease of the arteries in which fatty material and plaque are deposited in the wall of an artery, resulting in narrowing of the arterial lumen and eventual impairment of blood flow. The predominant theory suggests that atherosclerosis develops in response to injury [46]; however, there is no consensus as to whether this injury is mechanical, chemical, immunological, or a combination of these and other factors.
IH, the major cause of graft failure, is the abnormal increase in the number of endothelial cells (ECs) and thickening of the tunica intima of a blood vessel. IH was first described by Carrel and Guthrie [47], who observed that within a few days after arterial vein graft implantation, the anastomotic stitches happened to be covered with a material similar to the normal endothelium.
Although the pathological mechanisms responsible for the development of IH and atherosclerosis have not been fully elucidated, many theories have been hypothesized, indicating the involvement of both biological and biomechanical factors, some of which are briefly discussed in the following sections.
Conclusions and future directions
The search for an ideal distal anastomotic configuration for coronary bypass grafting has led to numerous designs. Optimal anastomosis design must take into account practical issues such as surgical construction. An anastomotic design should be feasible to be implemented by surgeons in a reasonable time.
As reviewed, some of the designed anastomotic configurations which are feasible to be constructed during operation using autologous materials (including Miller cuff, Taylor patch, and Tyrrell collar) have not shown a remarkable enhancement in patency of bypass grafts. On the other hand, some configurations which have shown considerable improvement in HPs distribution can only be made by synthetic materials due to their complex geometry (such as Venaflo™ graft, bifurcating graft-end design, cuff-like sleeve, and bifurcating vascular graft); this has consequences of blood-exposed non-intimal surface and high compliance mismatch at the synthetic material-blood vessel interface.
Moreover, the anastomotic designs which have improved HPs distribution and are feasible to be surgically constructed by autologous grafts (such as the coupled sequential anastomoses design), have not gone through animal trials or clinical investigations yet to demonstrate their in vivo performance and patency rates. Hence, the dilemma of designing an optimal anastomosis, which can bring about considerable improvements in the flow regime, HPs distribution, and graft patency, still remains unsolved.
In conclusion, there are a few aspects to be considered in the design of an optimal CABG:
(i)

Compatibility of the graft with the arterial pressure and the supplied blood flow rate, to ensure a physiologic range of intramural stresses and hemodynamic forces in the graft itself. Arterial grafts, such as left internal mammary artery (LIMA), have demonstrated considerably higher patency rates than the most commonly used saphenous vein grafts [169]. However, due to lack of arterial conduits, veins are currently used most commonly as grafts. With technological advances, the time required for production of matured implantable tissue-engineered grafts, which could fulfill the ideal characteristics present in the arteries, will be shortened [170] and they can replace the vein grafts in CABG.

(ii)

Arterial compliance of the graft, to avoid compliance mismatch with the host artery at the anastomotic junction, to prevent escalation of intramural stresses in the artery and the graft, which can result in IH formation, especially on the suture-line. As discussed in this review, compliance mismatch between the graft and the host artery results in an increase of intramural stresses, which in turn promotes IH. Use of arterial conduits can (to some extent) address this issue too. However, as mentioned above, tissue-engineered grafts might be the future solution to this problem.

(iii)

Hemodynamic performance driven design of anastomotic configuration of the distal anastomosis, to regulate the hemodynamic parameters and wall shear stress indices, in order to avoid triggering of the pathogenic factors of IH and thrombosis (e.g., platelet activation, long near-wall residence time, etc.). As reviewed, it is well established that HPs play an important role in the initiation and progression of atherosclerosis and IH. A hemodynamically optimized anastomotic configuration can provide moderate shear stress parameters and smooth blood flow without flow disturbances, to avoid triggering the associated atherogenic phenomena.

(iv)

Minimal vascular injury, to minimize proliferation of SMCs as a wound healing response. Technological advances may further develop the suggested alternatives to sutures (e.g., biological glues, laser generated solders, etc.) to a practicable level for routine clinical use. Not only can such products minimize vascular injury, but also they can eliminate the para-anastomotic hyper-compliant zone and the associated elevating intramural stresses which are caused by the stiff sutures.

(v)

Patient-specific designs, to tailor the design considerations to each particular patient's cardiovascular characteristics. Development of clinical imaging (e.g., magnetic resonance and computed tomography) enables a detailed patient-specific description of the actual hemodynamics and structural behavior of living tissues. Coupling of these data with engineering analyses is becoming a standard evaluation that is expected to become part of the clinical practice in diagnosis and surgical planning in advanced medical centers [171]. This would optimize the design considerations and choice of graft for each particular patient, depending on the number, location, and severity of stenosis, etc.
Authors' information
DNG: He is currently involved with Southern Ozarks Alliance for Rural Development in Willow Springs MO, setting up the Ozark Rural University MO (USA), and advising universities in their Programs development. He is a pioneer in the fields of biomedical engineering, healthcare engineering, and management. He has published over 450 works in the fields of engineering science, biomedical engineering, medical science, and social sciences, as well as 29 books on biomedical engineering, engineering physiology, cardiovascular physics, orthopedic mechanics, medical and life physics, and spinal injury. The inventor of life-saving implant devices has also been the former Chief Academic Officer (Provost) & Registrar of the Parkway College of Health Sciences (Singapore) and Professor in the School of Chemical & Biomedical Engineering of Nanyang Technological University (Singapore).
FK: He is currently a postdoctoral research fellow at National University of Singapore (NUS). He has about 10 years of research experience in Biomedical Engineering, including analytical, experimental, and computational investigations on biofluid and cardiovascular mechanics and design and development of relevant medical devices.
Abbreviations
AVG:

Arteriovenous graft
CABG:

Coronary arterial bypass grafting
CAD:

Coronary artery disease
CFD:

Computational fluid dynamic
DAIH:

Distal anastomotic intimal hyperplasia
DOS:

Distal outlet segment
EC:

Endothelial cell
ETE:

End-to-end
ETS:

End-to-side
HP:

Hemodynamic parameter
IH:

Intimal Hyperplasia
IMA:

Internal mammary artery
IT:

Intimal thickening
LAD:

Left anterior descending coronary artery
LDL:

Low-density lipoprotein
LMCA:

Left main coronary artery
OSI:

Oscillatory shear index
PCI:

Percutaneous coronary intervention
POS:

Proximal outlet segment
RCA:

Right coronary artery
SMC:

Smooth muscle cell
STS:

Side-to-side
SVG:

Saphenous vein graft
WSS:

Wall shear stress
WSSG:

Wall shear stress gradient.
Authors' Affiliations
(1)
Southern Ozarks Alliance for Rural Development, Willow Springs, USA
(2)
Department of Biomedical Engineering, National University of Singapore, Singapore, Singapore
Copyright
© Ghista and Kabinejadian; licensee BioMed Central Ltd. 2013
This article is published under license to BioMed Central Ltd. This is an Open Access article distributed under the terms of the Creative Commons Attribution License (http://creativecommons.org/licenses/by/2.0), which permits unrestricted use, distribution, and reproduction in any medium, provided the original work is properly cited. The Creative Commons Public Domain Dedication waiver (http://creativecommons.org/publicdomain/zero/1.0/) applies to the data made available in this article, unless otherwise stated.