Electroencephalographic profiles for differentiation of disorders of consciousness
BioMedical Engineering OnLine
2013
12:109
Received: 14 August 2013
Accepted: 15 October 2013
Published: 21 October 2013
Abstract
Background
Electroencephalography (EEG) is best suited for long-term monitoring of brain functions in patients with disorders of consciousness (DOC). Mathematical tools are needed to facilitate efficient interpretation of long-duration sleep-wake EEG recordings.
Methods
Starting with matching pursuit (MP) decomposition, we automatically detect and parametrize sleep spindles, slow wave activity, K-complexes and alpha, beta and theta waves present in EEG recordings, and automatically construct profiles of their time evolution, relevant to the assessment of residual brain function in patients with DOC.
Results
Above proposed EEG profiles were computed for 32 patients diagnosed as minimally conscious state (MCS, 20 patients), vegetative state/unresponsive wakefulness syndrome (VS/UWS, 11 patients) and Locked-in Syndrome (LiS, 1 patient). Their interpretation revealed significant correlations between patients' behavioral diagnosis and: (a) occurrence of sleep EEG patterns including sleep spindles, slow wave activity and light/deep sleep cycles, (b) appearance and variability across time of alpha, beta, and theta rhythms. Discrimination between MCS and VS/UWS based upon prominent features of these profiles classified correctly 87% of cases.
Conclusions
Proposed EEG profiles offer user-independent, repeatable, comprehensive and continuous representation of relevant EEG characteristics, intended as an aid in differentiation between VS/UWS and MCS states and diagnostic prognosis. To enable further development of this methodology into clinically usable tests, we share user-friendly software for MP decomposition of EEG (http://braintech.pl/svarog) and scripts used for creation of the presented profiles (attached to this article).
Keywords
ElectroencephalographyMatching PursuitDisorders of consciousnessMinimally conscious stateVegetative stateLocked-in syndrome
Background
Monitoring brain functions in disorders of consciousness (DOC)
Owing to the progress in medicine, intensive care and technology, more patients survive traumatic accidents and diseases causing brain damage. Some of these patients do not recover from their coma within days and weeks and stay in a state of wakeful unawareness, specified as vegetative state (VS/UWS [1]). Apparent unawareness of some of these patients is merely a consequence of the loss of all motor functions, with full consciousness retained—this state is called locked-in syndrome (LiS [2]). Other patients may reveal at least transient signs of consciousness—this state is defined as minimally conscious state (MCS) and may potentially lead to full recovery [3]. Although all of these states can last for years or even be permanent, it is believed that patients in MCS have much better prognosis for recovery than those in VS/UWS [4]. Precise identification of signs of conscious perception versus sometimes reflex, ambiguous behavior and differentiation between these states is difficult, which causes misdiagnoses of VS/UWS and LiS and of VS/UWS and MCS [5].
Development of recent methods of assessing brain function like positron emission tomography (PET) and functional magnetic resonance imaging (fMRI) disclosed several cases of such misdiagnoses [5, 6]. However, even these advanced methods may sometimes provide misleading results, due to significant fluctuations of the state of these patients in time. These changes may be accounted for by long-term monitoring, but PET and fMRI are not well suited for this task. The only technique allowing for long-term monitoring of brain functions in such cases is electroencephalography (EEG, for a review, see [7]). While the "normal" pattern of EEG varies significantly between subjects, assessment of the state of brain functions can be based upon the occurrence of circadian rhythms in EEG. Methodology of their assessment was developed in the field of sleep research.
Sleep and DOC
Sleep is a state characterized by the absence of response to external stimuli due to transient but reversible period of unconsciousness. Interactions of sleep and consciousness in brain-injured patients are still not known, but, as reported in cases of patients with disorders of consciousness (DOC), presence of some sleep patterns may correlate with diagnosis and prognosis. Early studies on coma suggested that the presence of EEG patterns resembling sleep may be a reliable marker for a favorable outcome [8, 9]; it was reported that sleep patterns continue to become more complex during rehabilitation therapy, paralleling patients' cognitive recovery [10]. EEG pattern which resembles sleep spindle—spindle-coma (SC, activity in 9-14Hz range) was postulated to be an indicator of benign form of coma and, if accompanied by EEG reactivity to noxious stimuli, presage better outcome [9, 11]. Some other studies have also indicated that sleep spindles may carry prognostic information. It was shown that the presence of spindle activity after hypoxic or anoxic injury does not always indicate a good outcome, but the absence of spindles or EEG background reactivity does predict a poor outcome [12]. Reference [13] reported better outcome for patients with sleep related patterns in EEG, K-complex responses for stimuli and spontaneous arousals, and the worst in the absence of spontaneous arousals activity.
A more recent study supports these findings in comatose children and concludes that the reappearance of sleep patterns and sleep spindles is a sign of good prognosis. In traumatic coma, these sleep elements are observed more frequently than in anoxic cases [14] and may depend on the time since coma onset. Such activity occurred in 91% of cases if recorded within 1–2 days after injury and in 30% of more prolonged cases (3–12 days) [15]. Another study reports no relationship to the brain region of damage and time since insult [16].
Some studies reported clear relationship between general mental ability and frontal spindle activity, suggesting that spindles may be different between VS/UWS and MCS [17].
Another study [18], where 6 MCS and 5 VS/UWS were analyzed, showed for all patients with MCS an alternating non-rapid eye movement/rapid eye movement sleep pattern and a homoeostatic decline of electroencephalographic slow wave activity through the night in contrast to all patients in a VS/UWS, for which no slow wave sleep or rapid eye movement sleep stages could be identified, and no homoeostatic regulation of sleep-related slow wave activity was observed. Authors suggest that the study of sleep and homoeostatic regulation of slow wave activity may provide a complementary tool for the assessment of brain function in patients with MCS and VS/UWS.
However, a study of 24 h recordings of 10 MCS and 10 VS/UWS [19] suggests a far less clear-cut division: sleep-wake cycles were identified in 50% of MCS and about 30% of VS/UWS; sleep spindles were more predominate in patients who clinically improved in 6 months; slow waves sleep was present in 8/10 - 80% MCS and 3/10 VS/UWS; rapid eye movement was present in all MCS and 3 VS/UWS. In line with these findings, other studies reported the presence of sleep patterns similar to healthy controls in VS/UWS patients [20] and the absence of a correlation between outcome and sleep patterns [21–23].
Altogether, a wide spectrum of sleep disturbances, from almost normal sleep to severe loss and disorganization of sleep, has been reported in DOC (for review see [24]), and the topic is still poorly understood. Also, the spectrum of altered sleep in LiS, as documented in literature, vary from almost normal sleep patterns [25, 26], to severe sleep quantity decrease [27–29], disorganized NREM sleep and stage 4 [25, 27, 28, 30], or REM absence [31] depending on the lesions ([32] also reviewed in [24]).
Automatic analysis of sleep EEG
Analysis of the occurrences of EEG transients like sleep spindles and slow wave activity serves as the basis for construction of the hypnogram—a basic tool in sleep research. In [33] we proposed the first automatic system for creation of hypnograms explicitly based upon the criteria used in the visual analysis of EEG, which still constitutes the golden standard.
This analytical approach, based upon detection of the relevant structures, offers a lot more than the final report of sleep profile in the form of a hypnogram. For example, sleep stages 3 and 4 are defined by the presence of the delta activity in 20-50% and over 50% of the epoch, respectively. To implement this definition explicitly, we assess directly the time span occupied by given structures (as described in section "Selection of EEG structures"). Subsequently, setting the thresholds at 20% and 50% of the length of an epoch (in sleep analysis usually 20 or 30 seconds), we get an explicit detection of stages 3 and 4 based directly upon the classical criteria defined in [
34
]. Apart from this explicit approach to the classical criteria of scoring sleep stages, these estimates give us a continuous description of the sleep profile as in Figure
1
, which has been previously suggested as a welcome enhancement to deal with the shortcomings of the classical sleep staging in 20–30 sec epochs [
35
–
37
]. Such EEG profiles can be a valuable tool in the assessment of the circadian pattern of brain activity, which may contain an information important for an assessment of the state of patients in different states of DOC, as presented in this paper. Discussion of the advantages of MP in the analysis of nonstationary EEG can be found in a book [
38
] and several papers (c.f. [
33
,
39
–
42
]).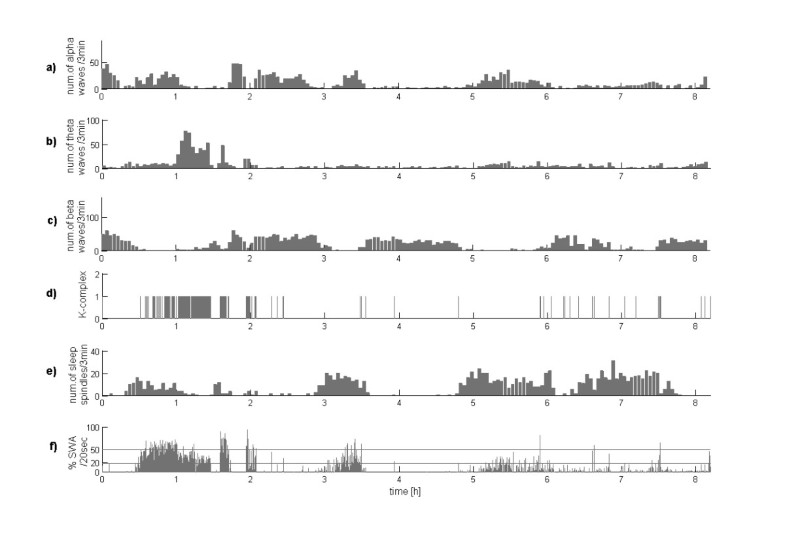 Above mentioned occurrence of well described micro-structures (K-complexes, spindles), transients and waveforms which form stages [34], and cycles accompanied repeatedly more or less by arousals, is typical for a normal sleep pattern. On the contrary, in DOC the existence of normal sleep stages and polysomnographic elements is a matter of debate. Some authors suggest persistence of sleep stages in some more "evolved state", whereas others refute this. Problems in definition of wakefulness and sleep in DOC are due to the uncertainty whether the oscillations recorded by EEG reflect still the same cellular mechanisms as in normal physiological sleep. For example, large amplitude slow waves in coma may not necessarily indicate "slow-wave" sleep (SWS) and deep non-rapid eye movement (NREM) sleep, as they do in normal sleeping individuals, because generalized slowing in delta and theta ranges (continuous delta activity) is a phenomenon generally observed in coma. The same kind of observed spindles-coma (SC) may not necessary represent the same mechanism as sleep spindles in normal sleep process. Therefore, classical criteria for sleep staging [34] cannot be directly applied to recordings from patients with DOC.
In this paper we propose automatic constructions of EEG profiles, in a way maximally compatible with classical sleep scoring criteria, allowing for monitoring comatose patients' brain electrical activity and focusing on changes in micro- and macrostructure of sleep and awake patterns.
Results and discussion
EEG profiles of DOC patients
In the same way as the above example of normal sleep from the control group, EEG recordings of all the 32 DOC patients were analyzed by means of the method proposed in the previous section. These profiles revealed great variety between patients—which may have been expected, but hereby it was presented using an objective and parametric method. Representative examples of these 32 profiles are presented in Figures
2
,
3
,
4
and
5
.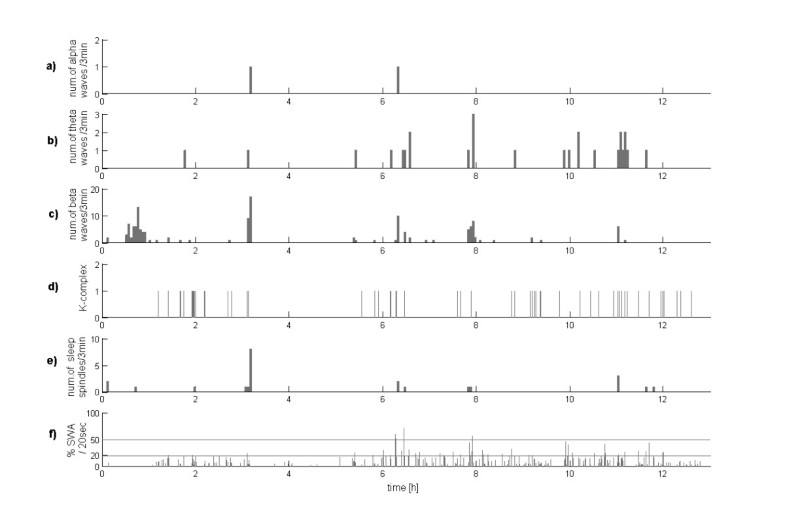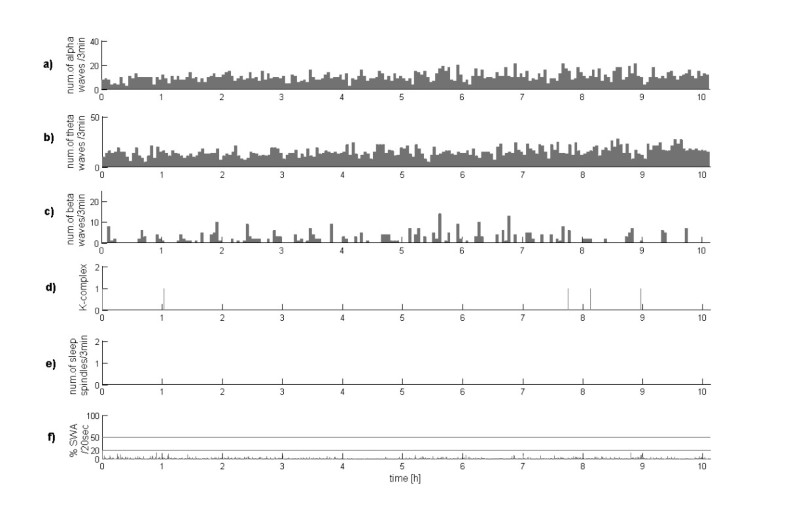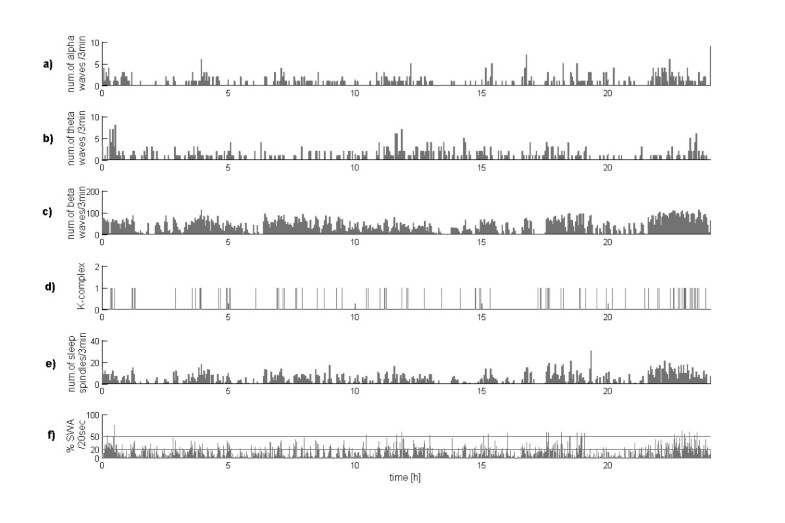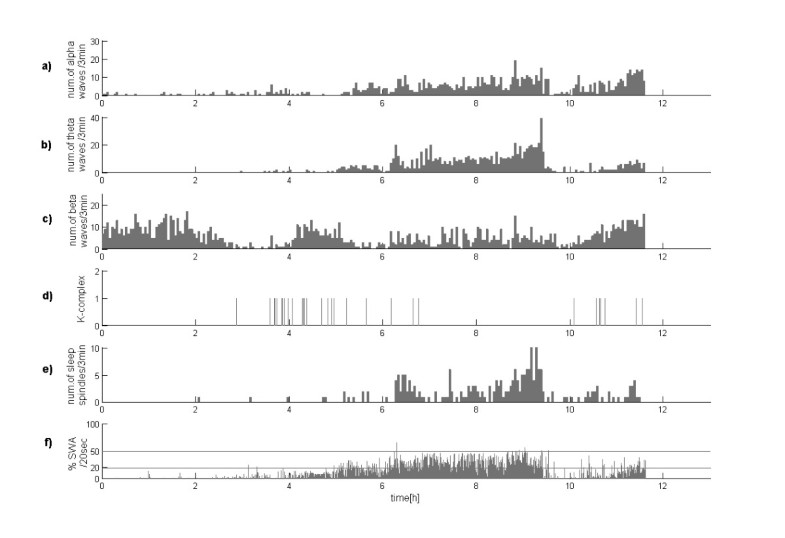 None of these profiles has shown the typical profile of normal sleep homeostatic decline. The reason for this may be that their daily cycle is not associated with the cycle of day and night.
As mentioned in the Background section, the most important in diagnosis and prognosis of DOC patients are occurrences in EEG of the sleep patterns of the occurrence of structures such as sleep spindles, slow waves, and their variability across time. Figures 2, 3, 4 and 5 present the variability of these patterns, computed for different patients. Characteristics of these profile vary from residual detection of all analyzed activity (Figure 2), through the lack of sleep spindles and poor SWA (Figure 3), but presence of alpha, theta, and beta waves—in a large proportion but continuous and not differentiated activity, characterized by abundance of sleep spindles (Figure 4), but no variation across 24 hours and correlation with the slow waves, to the case (Figure 5) where the spindles are increased in the specific intervals during the night, and their reverse relationship to slow waves and other activity corresponds to the pattern of a normal sleep profile.
Figure 4 presents 24 hours EEG profile as an example of continuous monitoring of patients' EEG activity during longer periods of time.
Assessment of predominant features of EEG profiles and statistics
Automatically constructed plots like Figures
2
,
3
,
4
and
5
provide a novel insight into the time evolution of classical EEG features, traditionally assessed via visual analysis or spectral methods with significantly lower time resolution. Apart from the elements used for sleep staging (slow waves, sleep spindles and spikes that is interictal epileptiform activity), we evaluated also other parameters, including:
1.

appearance of alternating cycles of deep and light sleep (present(+)/absent(−))

2.

degree of variability of brain activities across time ('variability':
present(+)/absent(−))
3.

presence of alpha, theta and beta waves ("other activities"): (αβθ)
These features were assessed visually for each patient, based upon plots like those presented in Figures 1, 3, 4 and 5. For each patient and each parameter, binary assessment of whether given feature is present or not was marked in columns 6–11 of Table 1. The last parameter (presence of alpha, theta and beta) was classified for further statistical analysis as present if all of them were detected, absent if none were identified in patient's EEG and partial if some of "other activity", for example only beta, or only alpha or theta were present.
Above mentioned EEG features (columns 6-11 of Table 1) were correlated with the clinical data (columns 2–5 of Table 1) available for each of the patients:
behavioral diagnosis (according to the Coma Recovery Scale-Revised, (VS/UWS)/MCS/LIS, [43]).

interval since insult: less than 1 year or chronic (> 1 year post insult).

etiology: traumatic or other non-traumatic etiology.
For statistical evaluation of these data, Pearson's chi-squared test was used. It was performed separately for pairs consisting of one of the clinical parameters describing patients' state (columns 3–5) and one of the EEG-derived parameters (columns 6–11). The results were thresholded for significance at p < 0.05 and corrected for multiple comparison (marked **). Results which proved significant only in separate comparisons are marked with "*".
Figure
6
presents statistically significant relations between patients state and EEG-derived parameters:
1.

sleep spindles are more likely found in MCS patients (p = 0.01*): they occurred in 27% of VS/UWS, but in 75% MCS and in LiS patient.

2.

delta waves were found in 36% of patients with VS/UWS and in 75% of patients with MCS and for the LiS patient, (p = 0.035*).

3.

cycles of light and deep sleep were not detected in VS/UWS, detected in 70% MCS and for the LiS patient, (p < 0.001**).

4.

"other activities" (alpha, beta, theta) was absent in all patients with VS/UWS but present in 70% if patients with MCS and for the LiS patient. Single frequency band (e.g., only beta, only alpha or theta) was present in 90% of patients with VS/UWS and in 30% of patients with MCS, (p = 0.001**).

5.

variability of detected activity across time were detected for 9% VS/UWS, 80% MCS and for the LiS patient, (p < 0.001**).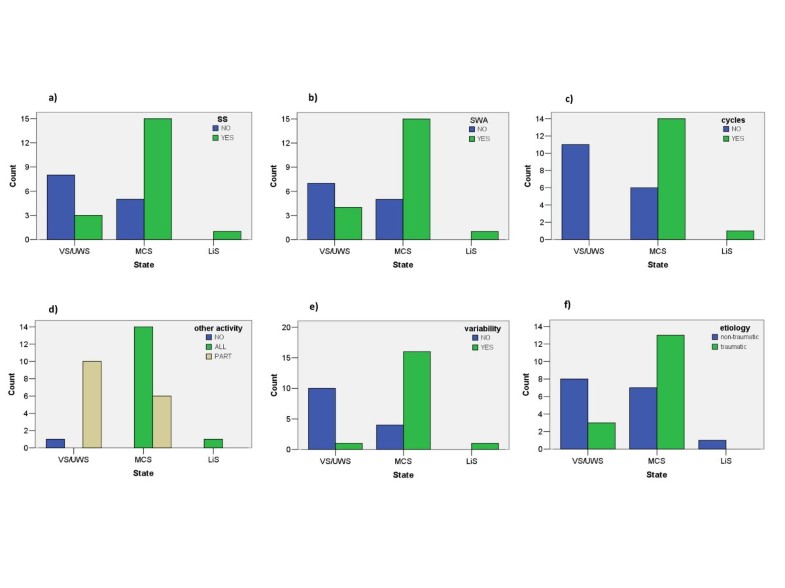 Figure
7
presents statistically significant relations between etiology and EEG-derived parameters:
1.

sleep spindles were observed in 78% of patients with traumatic etiology and only in 22% of non-traumatic etiology, (p = 0.001**).

2.

delta waves are also more common for traumatic brain injury patients - observed in 68% post-traumatic, and only in 32% non-traumatic etiology, (p = 0.018*).

3.

sleep cycles in 71% post-traumatic, and only in 29% non-traumatic etiology, (p = 0.045*).

4.

all "other activities"(alpha, beta and theta) were present in 86% of cases for traumatic and 14% of non-traumatic patients' etiology. Only some of the "other activities "were detected for 25% post-traumatic and in 75% of non-traumatic, (p = 0.002**).

5.

variability of detected activity across time were found in 71% of patients with traumatic brain injury and only in 29% in non-traumatic etiology patients, (p = 0.021*).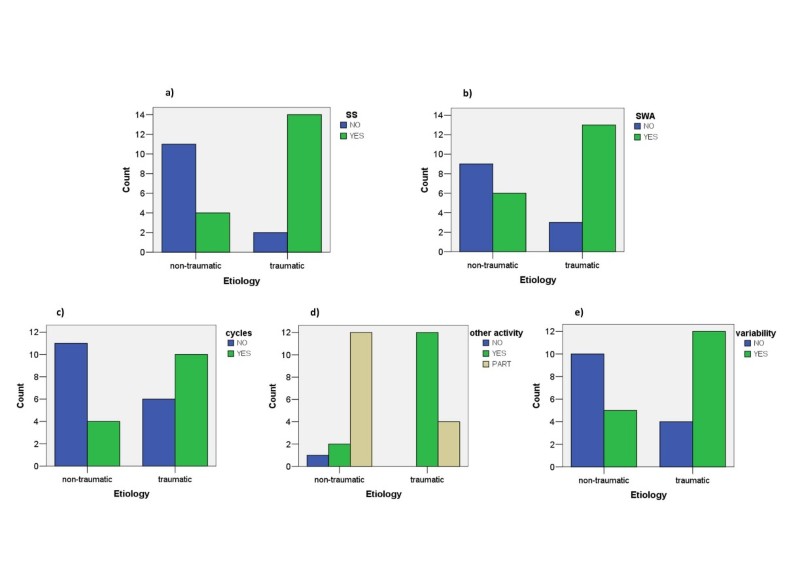 Less patients diagnosed VS/UWS were found in cases after traumatic brain injury than non-traumatic. Within the analyzed group of patients there is a significant dependence between patients diagnosed state and etiology of DOC (p = 0.044*). 27% patients in VS/UWS have traumatic etiology, 73% other. In MCS 65% of patients etiology were traumatic, 35% other. This is an important factor which will have to be taken into account in following studies, as etiology has an influence on patients' outcome and can be a confounding factor here.
Finally, discriminant analysis carried out on the basis of behavior diagnosis of patients states indicated that the most important features for MCS and VS/UWS discrimination are: occurrence of sleep cycles, variability of detected activity across time and occurrence of SS and SWA. Occurrence of interictal spikes is not significant factor. Discrimination between MCS and VS/UWS based upon prominent features of these profiles classified correctly 87% of cases, 3 diagnosed MCS were classified as VS/UWS and 1 VS/UWS as MCS. When adding etiology information as an extra parameter in the analysis of correlation between patients state and EEG-derived parameters, the same effect was observed suggesting that etiology is not a confounding factor (on the border of significance). Only separate comparison between patient's states and etiology of patient's disorders indicated p = 0.044* suggesting significant correlation.
As compared to the study from Giubilei and colleagues [21] who reported the presence of sleep patterns similar to healthy controls in 9 out of 10 traumatic acute VS/UWS, we observed poorer sleep patterns in a majority of VS/UWS as compared to MCS patients. Moreover, other studies showed the absence of a correlation between outcome and sleep pattern in VS/UWS patients [21, 22]. We observed a correlation between the level of consciousness and etiology and sleep cycles, traumatic and MCS patients being more likely to show complex sleep patterns as compared to non-traumatic and VS/UWS patients. It has been suggested in the literature that etiology and level of consciousness influence outcome in DOC patients [4, 47]; our results support the potential of automatized EEG sleep recordings as a complementary diagnostic and/or prognostic tool for assessing DOC patients at bedside.
Conclusions
This study investigates the clinical interest of an automatic sleep analyzer for assessing sleep preservation in a group of patients with DOC. Using this system, we report significant differences in the occurrene of sleep waves characteristics between conscious patients (MCS and LIS) and unconscious patients (VS/UWS). We also found an etiology effect, traumatic patients being more likely to show preserved EEG sleep-like activities, which agrees with previous literature [47, 48]. Altogether, these results highlight the applicability of an automatic sleep analyzer to study clinical population such as patients with DOC and to improve our knowledge about the diagnosis and prognosis in this population. Moreover, this would also have a major impact for clinical settings, were sleep examinations currently remain time-consuming and subjective.
Abbreviations
DOC:

Disorders of consciousness
EEG:

Electroencephalography
fMRI:

Functional magnetic resonance imaging
LiS:

Locked-in syndrome
MCS:

Minimally conscious state
VS/UWS:

Vegetative state
MP:

Matching pursuit
PET:

Positron emission tomography.
Declarations
Acknowledgements
UM and PD were supported from Polish funds for science, including grant from the Polish Ministry of Science and Higher Education (Decision 644/N-COST/2010/0). MB, CC, QN and SL were supported from the Belgian Funds for Scientific Research (FNRS), European Commission, McDonnell Foundation, Mind Science Foundation, University and University of Liège. MAB and CC are Postdoctoral Researcher and SL is Research Director at the FNRS. The authors thank Bart Aben for his help in analyzing the data.
Authors' Affiliations
(1)
Faculty of Physics, University of Warsaw, Warszawa, Poland
(2)
Coma Science Group, Cyclotron Research Centre, University of Liège, Liège, Belgium
(3)
Neurology Dept, University Hospital of Liège, Liège, Belgium
Copyright
© Malinowska et al.; licensee BioMed Central Ltd. 2013
This article is published under license to BioMed Central Ltd. This is an open access article distributed under the terms of the Creative Commons Attribution License (http://creativecommons.org/licenses/by/2.0), which permits unrestricted use, distribution, and reproduction in any medium, provided the original work is properly cited.