Antepartum fetal heart rate feature extraction and classification using empirical mode decomposition and support vector machine
BioMedical Engineering OnLine
2011
10:6
Received: 10 November 2010
Accepted: 19 January 2011
Published: 19 January 2011
Abstract
Background
Cardiotocography (CTG) is the most widely used tool for fetal surveillance. The visual analysis of fetal heart rate (FHR) traces largely depends on the expertise and experience of the clinician involved. Several approaches have been proposed for the effective interpretation of FHR. In this paper, a new approach for FHR feature extraction based on empirical mode decomposition (EMD) is proposed, which was used along with support vector machine (SVM) for the classification of FHR recordings as 'normal' or 'at risk'.
Methods
The FHR were recorded from 15 subjects at a sampling rate of 4 Hz and a dataset consisting of 90 randomly selected records of 20 minutes duration was formed from these. All records were labelled as 'normal' or 'at risk' by two experienced obstetricians. A training set was formed by 60 records, the remaining 30 left as the testing set. The standard deviations of the EMD components are input as features to a support vector machine (SVM) to classify FHR samples.
Results
For the training set, a five-fold cross validation test resulted in an accuracy of 86% whereas the overall geometric mean of sensitivity and specificity was 94.8%. The Kappa value for the training set was .923. Application of the proposed method to the testing set (30 records) resulted in a geometric mean of 81.5%. The Kappa value for the testing set was .684.
Conclusions
Based on the overall performance of the system it can be stated that the proposed methodology is a promising new approach for the feature extraction and classification of FHR signals.
Keywords
Support Vector MachineSupport Vector Machine ClassifierEmpirical Mode DecompositionFetal Heart RateIntrinsic Mode Function
Background
Cardiotocograph (CTG) is a graphical representation of fetal heart rate (FHR) and uterine activity (UA), also termed as electronic fetal monitoring, and has been an indispensable part of antepartum and intrapartum fetal surveillance [
1
] for four decades. A typical CTG is depicted in Figure
1
. Heart rate (HR) contains reliable information about the synergic activity of the autonomic nervous system (ANS) that regulates the heart beat dynamics [
2
]. Parameters from the HR signal provide interesting hints about the generation of disease conditions and hence can be used to differentiate pathological states [
3
]. The analysis of FHR signal used in monitoring the fetal well being is a powerful tool in establishing the development of the nervous system of the fetus during the last period of pregnancy, starting from the 25
th
week of gestation [
4
]. However, the current clinical practice of visual interpretation of CTG shows a high degree of inter-observer and intra-observer variability [
5
] due to its large dependency on the expertise and experience of the clinician(s) involved [
6
]. Advances in signal processing and pattern recognition techniques and skepticism over inconsistency in FHR interpretation paved the way for computerized methods [
7
]. The computerization of non-stress-test (NST) involves two principal problems namely, feature extraction and classification, and subsequent interpretation [
6
]. It is important to mention that the interpretation phase requires a contextual analysis of all the physiological, pathological and clinical aspects needed in assessing the well being of the fetus.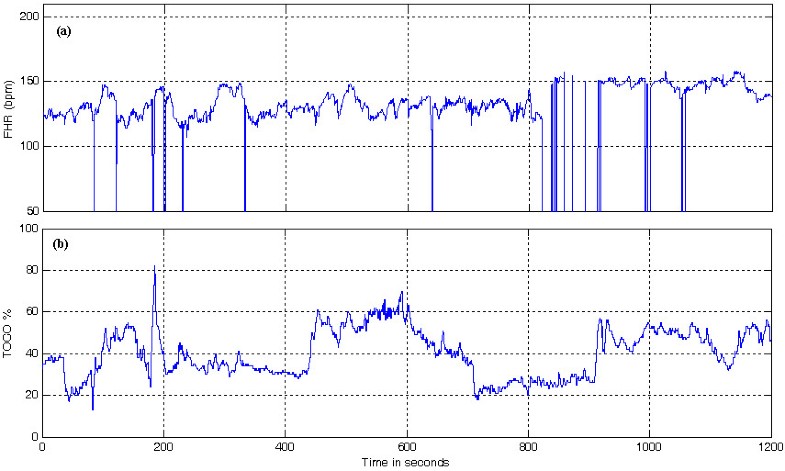 Diverse approaches have been investigated using conventional and artificial intelligence techniques for feature extraction [3, 8–13] and also to come out with diagnostic systems. Computerized CTG analysis systems were developed [14–16] adhering to the guidelines issued by the International Federation of Obstetrics and Gynecology (FIGO) [17]. A non-linear back propagation artificial neural network (ANN) was introduced for the interpretation of NST records [18] and around the same time a software program to predict fetal acidosis at birth was also developed [19]. ANN was used to distinguish between the normal and pathological fetal conditions [20, 21]. An expert system [22] capable of handling uncertainties in FHR interpretation was introduced, which was later transformed to a fuzzy system [23]. Yet again, an expert system called NST-EXPERT [24, 25] was developed and was later named computer aided fetal evaluator (CAFÉ) system [6]. A method using wavelet analysis and self organizing map was developed to diagnose fetal hypoxia based on the scale-dependent features extracted from the FHR [26]. Another method based on wavelet transform and cumulative holder exponent was proposed [27] for real-time fetal monitoring during labor. In [1] scale-dependent features extracted from wavelet components of the FHR signal were categorized using a support vector machine (SVM). SVM classifier was employed yet again to predict the risk of metabolic acidosis in newborns [28], to detect fetal distress [29, 30] and to discriminate healthy fetuses from the ones with hypoxia [31]. Recently, a new approach based on FHR variability analysis involving Lempel Ziv complexity index and multiscale entropy was proposed for the early identification of intrauterine growth-restricted (IUGR) fetuses [32].
The above discussion shows that although some approaches have shown promising results, none has been widely accepted and there is still room for improvement [1, 28] to reach the ultimate goal of a completely reliable method to assess fetal well being with minimal intervention from obstetricians. In an effort to achieve this goal we propose an innovative approach in this paper for FHR classification combining empirical mode decomposition (EMD) and SVM techniques.
EMD has been used in several biomedical applications (introduced for the study of ocean waves in 1998 [33]) such as artifact reduction in electrogastrogram and to extract the lower esophageal sphincter pressure in the gastro-esophageal reflux disease [34, 35]. There has been a noticeable contribution from EMD based methods in processing electrocardiogram (ECG) signals [36, 37]. It has also been used in the analysis of heart rate variability (HRV) [38] and high frequency FHR variability [39]. In addition to the above applications EMD has been employed for CTG signal enhancement [40].
SVM is a powerful supervised machine learning tool introduced recently in the framework of statistical learning theory [41]. It is used in a number of applications for both pattern classification and non-linear regression [42–44]. It has the ability to generalize well on unknown data without requiring the domain knowledge, and even when the sample size is small [45] which make it an attractive solution in difficult pattern recognition problems. Here, statistical features are extracted from FHR signals using EMD and later classified using the SVM classifier.
Methods
A brief explanation on the two important techniques (EMD and SVM) employed in this work is provided in the beginning of this section. Later a detailed description of the proposed methodology for the extraction of statistical features and classification of FHR signals as 'normal' and 'at risk' (Figure
2
) is given. Finally, the four important stages in this work, namely, data acquisition, preprocessing, feature extraction and classification, are defined.

Results
As a first step of validation a 5-fold cross validation method was employed using the FHR signals in the training set. This method is used for validating the systems, especially, when there is small number of data [
50
,
1
,
49
]. In this process, the training set was further divided into 5 non-overlapping subsets of 12 signals each. All the 5 sets had 4 instances that belonged to the 'normal' group and 8 from the 'at risk' group. The SVM classifier was trained with 4 subsets out of 5 and the 5
th
subset was used as the validation set and the procedure is repeated 5 times in order to find the 5-fold cross validation accuracy. The values for (C, γ) parameters are found using a systematic grid search method [
1
]. Because of the unbalanced data set used in this work the penalty parameters (C
+
/C
-
) ratio was maintained to be the inverse of the corresponding cardinalities of the classes (1/20/40). A 5-fold cross validation accuracy of 86% was obtained for the
Dataset
as shown in Figure
6
.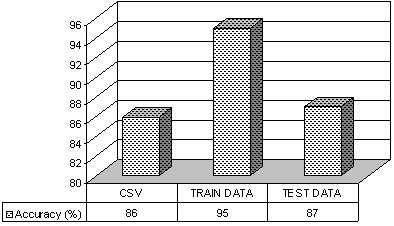 In the next stage of evaluating the system performance, we used both the testing set and the training set and estimated the accuracy of prediction. The testing data set prediction accuracy was 87% and the training set accuracy of classification was 95%. Since the data used in the work is unbalanced the accuracy of prediction may not be the best measure [1, 28].
In order to address this problem a method proposed [
51
] to estimate the geometric mean G
M
(equation (
15
)) is used, whereas,
S
T
(sensitivity) and
S
P
(specificity) are estimated using equations (
16
) and (
17
), respectively.
Where
t
p
and
f
n
stands for
true positives
and
false negatives
, respectively.
Where t n and f p stands for true negatives and false positives, respectively.
The
S
T
percentage obtained for the training data classification was 100% and
S
P
was 90%, and for the testing data set classification
S
T
was 95% and
S
P
was 70%, as shown in Figure
7
. The
t
p
,
t
n
,
f
p
, and
f
n
values used for estimating
S
T
and
S
P
of the training and the testing data sets are taken from the confusion matrix shown in Figure
8a
and Figure
8b
, respectively. From
S
T
and
S
P
values the geometric mean G
M
was estimated according to equation (
15
) [
1
,
28
], for both training and testing data: 94.87 (training set) and 81.55 (testing set).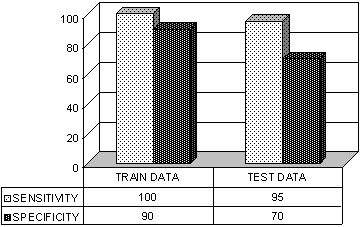 In order to eliminate any agreement arrived by chance, the results of the SVM classifier and the mutually agreed visual interpretation results from the two experienced obstetricians were compared using inter-rater agreement Kappa statistics [
50
,
52
,
6
]. The kappa value
k
is estimated using equation (
18
).
Here, p(a) is the relative observed agreement and p(e) is the hypothetical probability of agreement by chance. A 95% confidence interval (CI) is used in this work as shown in Figure 8. In Figure 8a and 8b the kappa value 0.923 with 95% CI was obtained for the training set and 0.684 for the testing set, respectively. The kappa values presented show a good agreement between the mutually agreed visual interpretation results from the two experienced obstetricians and the SVM classifier results, for both testing and training data.
Discussion
The proposed methodology showed that the statistical features extracted from the decomposed components using EMD yields good classification performance (based on kappa values). It is difficult to make direct comparison of the proposed method with others as the approaches are different. However, based on the methods employed for statistical/mathematical feature extraction and classification an indirect comparison of the proposed method with those developed by other researchers is provided. Thuner et al [53] employed wavelet transform based on the standard deviation corresponding to information contained in the coefficients 4 th and 5 th , and managed to achieve a complete separation between the class of healthy adults and adults with cardiac pathology.
Salamalekis et al [26] in their intrapartum study of diagnosing fetal hypoxia, from 10-minutes FHR patterns, used only the 2 nd , 3 rd and 4 th wavelet coefficients and obtained a sensitivity of 97.9% and specificity of 83.3%. The use of fetal pulse oximetry may have contributed for the high performance value of their methodology. Georgoulas et al [48] considered standard deviations corresponding to all the six wavelet coefficients as input features and achieved an overall classification performance of 90% for 3 minutes window. They also [1] used features based on the entropy measure of the wavelet coefficients and obtained a maximum geometric mean of 83.67% with a sensitivity of 75% and a specificity of 93.33% on 5-minutes segment. In all of these works [1, 48, 26] FHR traces were associated to umbilical artery pH values and since there is no consensus (gold standard) regarding its threshold, different values were considered to discriminate normal fetuses from those at risk. All these studies very concerned with the prediction of metabolic acidosis during the intrapartum period. More recently, Kampouraki et al [49] extracted features using statistical methods and signal analysis methods (Wavelet Transform) but from the adult heart rate and achieved an accuracy of 100%.
In our study employing statistical features extracted based on EMD, no single feature could be identified that was capable of discriminating the 'normal' from 'at risk' classes, therefore all the statistical features were considered as inputs to the SVM classifier. With 20 minutes FHR signals, a sensitivity of 100% and specificity of 90% were achieved for the training set. Whereas, the testing set classification rates showed significant difference in the value of sensitivity (95%) and specificity (70%), even though the penalty parameters were set to handle the burden on the high false positive rate because of the imbalance nature of the data set used. SVM classifier has been successfully used in FHR feature classification [1, 28, 48, 30, 29, 31], but most of the work in this field is based on extracting morphological features and providing the classification using SVM.
Conclusion
A new method of statistical feature extraction from FHR signals using EMD is proposed in this work. The features extracted from the decomposed components were further classified as 'normal' and 'at risk' by the SVM classifier.
Because of the lack of gold standards in evaluating the performance of intelligent systems [54] the proposed method was validated using the mutually agreed visual classification results from two experienced obstetricians. Validation of intelligent approaches based on the visual interpretation of a team of obstetricians has been used in evaluating several systems [6, 54, 23]. A high inter-observer and intra-observer variability in visual inspection is reported in the literature; however, it is important to note that it is largely dependent on the expertise and experience of the clinician involved [6]. Therefore, visual classification results from obstetricians with over 20 years experience were used in this study.
The inter-rater agreement kappa values obtained for the training set (0.923) and the testing set (0.684) showed good agreement of the proposed methodology with the mutually agreed visual classification results of two experts. This proved the viability of the method and its potential for further application.
The major limitations of this method are: the sifting process used in EMD is time consuming and the number of decomposed components varies with respect to the signal resulting in some empty spaces in the feature set. The preprocessing stage was helpful in removing the noisy components (IMFs). At this stage we can state that the results are quite promising. However, to be of clinical significance the proposed methodology requires extensive validation on a bigger data set.
As a future work, the proposed methodology would be applied to FHR signals of different durations and also would be extended for multi-class classification (here only two class labels were considered). Another possible extension is the classification of FHR by associating the traces to apgar scores. The effect of different sampling rates on features extracted using EMD and its effect on the SVM classifier also need further investigation.
Declarations
Acknowledgements
The authors would like to thank Universiti Kebangsaan Malaysia (Grant UKM-AP-TKP-07-2009) for supporting this work. The authors would also like to express their gratitude to Prof. Dr. Muhamad Abdul Jamil M. Yassin for his support and guidance.
Authors' Affiliations
(1)
Department of Electrical Electronic and Systems Engineering, Universiti Kebangsaan Malaysia, Bangi, Malaysia
(2)
School of Electrical Engineering, Sharif University of Technology, Tehran, Iran
(3)
Department of Obstetrics and Gynecology, Universiti Kebangsaan Malaysia Medical Center, Cheras, Malaysia
(4)
Department of Obstetrics and Gynecology, Cyberjaya University College of Medical Sciences, Cyberjaya, Malaysia
Copyright
© Krupa et al; licensee BioMed Central Ltd. 2011
This article is published under license to BioMed Central Ltd. This is an Open Access article distributed under the terms of the Creative Commons Attribution License (http://creativecommons.org/licenses/by/2.0), which permits unrestricted use, distribution, and reproduction in any medium, provided the original work is properly cited.