Automatic discrimination between safe and unsafe swallowing using a reputation-based classifier
BioMedical Engineering OnLine
2011
10:100
Received: 20 August 2011
Accepted: 15 November 2011
Published: 15 November 2011
Abstract
Background
Swallowing accelerometry has been suggested as a potential non-invasive tool for bedside dysphagia screening. Various vibratory signal features and complementary measurement modalities have been put forth in the literature for the potential discrimination between safe and unsafe swallowing. To date, automatic classification of swallowing accelerometry has exclusively involved a single-axis of vibration although a second axis is known to contain additional information about the nature of the swallow. Furthermore, the only published attempt at automatic classification in adult patients has been based on a small sample of swallowing vibrations.
Methods
In this paper, a large corpus of dual-axis accelerometric signals were collected from 30 older adults (aged 65.47 ± 13.4 years, 15 male) referred to videofluoroscopic examination on the suspicion of dysphagia. We invoked a reputation-based classifier combination to automatically categorize the dual-axis accelerometric signals into safe and unsafe swallows, as labeled via videofluoroscopic review. From these participants, a total of 224 swallowing samples were obtained, 164 of which were labeled as unsafe swallows (swallows where the bolus entered the airway) and 60 as safe swallows. Three separate support vector machine (SVM) classifiers and eight different features were selected for classification.
Results
With selected time, frequency and information theoretic features, the reputation-based algorithm distinguished between safe and unsafe swallowing with promising accuracy (80.48 ± 5.0%), high sensitivity (97.1 ± 2%) and modest specificity (64 ± 8.8%). Interpretation of the most discriminatory features revealed that in general, unsafe swallows had lower mean vibration amplitude and faster autocorrelation decay, suggestive of decreased hyoid excursion and compromised coordination, respectively. Further, owing to its performance-based weighting of component classifiers, the static reputation-based algorithm outperformed the democratic majority voting algorithm on this clinical data set.
Conclusion
Given its computational efficiency and high sensitivity, reputation-based classification of dual-axis accelerometry ought to be considered in future developments of a point-of-care swallow assessment where clinical informatics are desired.
Keywords
Support Vector MachineEosinophilic EsophagitisEntropy RateSpectral CentroidNeurogenic Dysphagia
1 Introduction
Dysphagia refers to any swallowing disorder [1] and may arise secondary to stroke, multiple sclerosis, and eosinophilic esophagitis, among many other conditions [2]. If unmanaged, dysphagia may lead to aspiration pneumonia in which food and liquid enter the airway and into lungs [3]. The video-fluoroscopic swallowing study (VFSS) is the gold standard method for dysphagia detection [4]. This method entails a lateral X-ray video recorded during ingestion of a barium-coated bolus. The health of a swallow is then judged by clinical experts according to criteria such as the depth of airway invasion and the degree of bolus clearance after the swallow. However, this technique requires expensive and specialized equipment, ionizing radiation and significant human resources, thereby precluding its use in the daily monitoring of dysphagia [5]. Swallowing accelerometry has been proposed as a potential adjunct to VFSS. In this method, the patient wears a dual-axis accelerometer infero-anterior to the thyroid notch. Swallowing events are automatically extracted from the recorded acceleration signals and pattern classification methods are then deployed to discriminate between healthy and unhealthy swallows. It is important to distinguish between swallowing vibrations and swallowing sounds, based on current evidence in the literature. Swallowing sounds have been largely attributed to pharyngeal reverberations arising from opening and closing of valves (oropharyngeal, laryngeal and esophageal valves), action of various pumps (pharyngeal, esophageal, and respiratory pumps) and vibrations of the vocal tract [6]. In contrast, in swallowing accelerometry, vocalizations are explicitly removed by preprocessing [7] and studies have implicated hyolaryngeal motion as the primary source of the acceleration signal [8, 9]. Fundamentally, both the method of transduction and the primary physiological source of these signals are different. Our focus here is swallowing vibrations and recent progress in swallowing accelerometry is reviewed below.
1.1 Automatic classification
Das, Reddy & Narayanan [10] deployed a fuzzy logic-committee network to distinguish between swallows and 'artifacts' using time and frequency domain features of single-axis accelerometry signals. Although they achieved very high accuracies, their sample of swallows and 'artifacts' was very modest. Using a radial basis classifier with statistical and energetic features, Lee et al. [11] detected aspirations from single-axis cervical acceleration signals with approximately 80% sensitivity and specificity in a large pediatric cerebral palsy population. Both of these studies only examined accelerations in the anterior-posterior anatomical direction. However, recent research has shown that there is distinct information about swallowing that is encoded in the superior-inferior vibration [12]. Further, hyolaryngeal motion associated with swallowing is inherently two-dimensional and this motion was implicated as the likely source of swallow vibrations [9].
In the first dual-axis classification study, Lee et al. [5] discriminated between no airway invasion and airway invasion past the true vocal folds in 24 adult stroke patients using a variety of classifiers (linear discriminant, neural network, probabilistic network and nearest neighbor). A genetic algorithm (GA) selected the most discriminatory feature combinations. With linear classifiers, an adjusted accuracy of 74.7% was achieved in feature spaces of up to 12 dimensions.
In the aforementioned studies, various genres of features have demonstrated discriminatory potential. These include statistical features such as dispersion ratio and normality [11], time-frequency features such as wavelet energies [12], information theoretic features such as entropy rate [13], temporal features such signal memory [14], and spectral features such as the spectral centroid [15]. Further, there is evidence to suggest that complementary measurement modalities, such as nasal air flow and submental mechanomyography [16] may enhance segmentation and classification. Given the presence of multiple feature genres and different measurement modalities, the swallow detection and classification problem lends itself to a multi-classifier approach. For example, it may be sensible to dedicate one classifier to each feature genre [17].
In this paper, we invoke a novel, computationally efficient reputation-based classifier combination to automatically categorize dual-axis accelerometric signals from adult patients into safe and unsafe swallows, as labeled via videofluoroscopic review. We consider multiple feature genres from both anterior-posterior and superior-inferior axes and examine a much larger data set than that of previous swallow accelerometry classification studies.
3 Results
The sensitivity, specificity and accuracy of the single-axis and dual-axis accelerometry classifiers are summarized in Figure
4
. The dual-axis classifier had significantly higher accuracy (80.48 ± 5.0%) than either single-axis classifier (
p
<< 0.05, two-sample t-test), specificity (64 ± 8.8%) comparable to that of the SI classifier (
p
= 1.0) and sensitivity (97.1 ± 2%) on par with that of the AP classifier (
p
= 1.0). In other words, the dual-axis classifier retained the best sensitivity and specificity achievable with either single-axis classifier.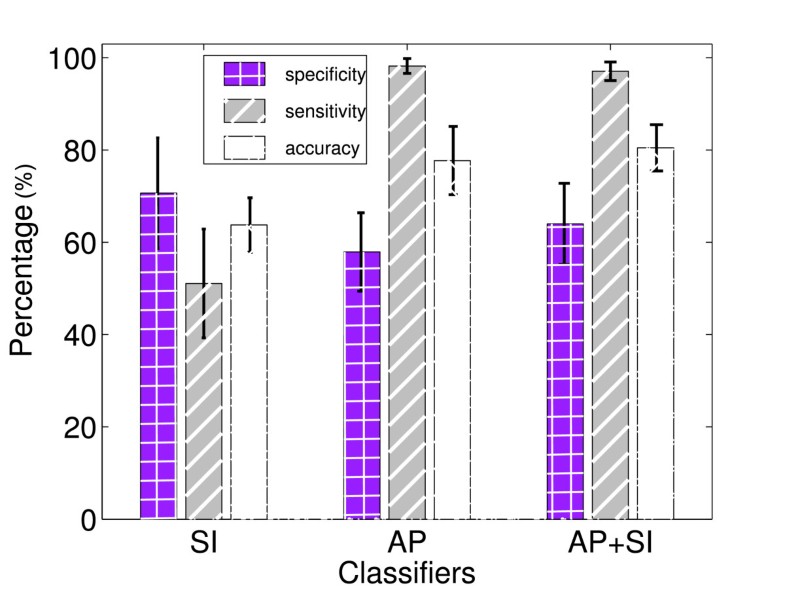 Figure
5
is a parallel axes plot depicting the internal representation of safe and unsafe swallows acquired by the reputation-based classifier. Each feature has been normalized by its standard deviation to facilitate visualization. On each axis, the median feature value is shown. The median values of adjacent axes are joined by solid (safe swallow) or dashed (unsafe swallow) lines.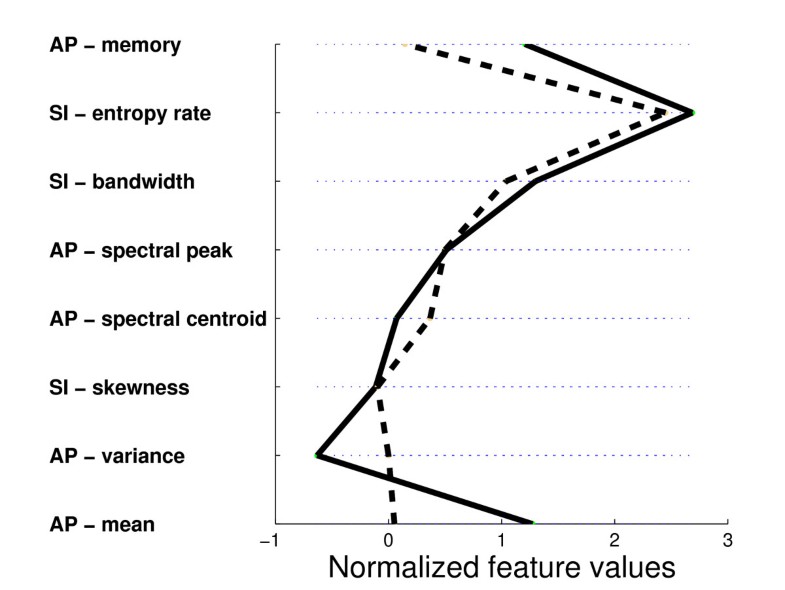 5 Conclusion
This study has demonstrated the potential for automatic discrimination between safe and unsafe (without airway clearance) swallows on the basis of a selected subset of time, frequency and information theoretic features derived from non-invasive, dual-axis accelerometric measurements at the level of the cricoid cartilage. Dual-axis classification was more accurate than single-axis classification. The reputation-based classifier internally represented unsafe swallows as those with lower mean acceleration, lower range of acceleration, higher spectral centroid, slower autocorrelation decay and weaker acceleration in the superior direction. Our results suggest that reputation-based classification of dual-axis swallowing accelerometry from adult stroke patients deserves further consideration as a clinical informatic in the management of swallowing disorders.
Declarations
Acknowledgements
This research was supported in part through funding from the Ontario Graduate Scholarship program, the Canada Research Chairs Program and the Natural Sciences and Engineering Research Council of Canada.
Authors' Affiliations
(1)
Bloorview Research Institute, Holland Bloorview Kids Rehabilitation Hospital, Toronto, Canada
(2)
Institute of Biomaterials and Biomedical Engineering, Toronto, Canada
(3)
Edward S. Rogers Sr. Dept. of Electrical and Computer Engineering, University of Toronto, Toronto, Canada
(4)
Toronto Rehabilitation Institute, Toronto, Canada
(5)
Department of Speech-Language Pathology, University of Toronto, Toronto, Canada
(6)
Department of Electrical and Computer Engineering, Swanson School of Engineering, University of Pittsburgh, Pittsburgh, USA
(7)
Institute of Biomaterials & Biomedical Engineering, University of Toronto, Toronto, Canada
(8)
Bloorview Research Institute, Holland Bloorview Kids Rehabilitation Hospital, Toronto, Canada
Copyright
© Nikjoo et al; licensee BioMed Central Ltd. 2011
This article is published under license to BioMed Central Ltd. This is an Open Access article distributed under the terms of the Creative Commons Attribution License (http://creativecommons.org/licenses/by/2.0), which permits unrestricted use, distribution, and reproduction in any medium, provided the original work is properly cited.